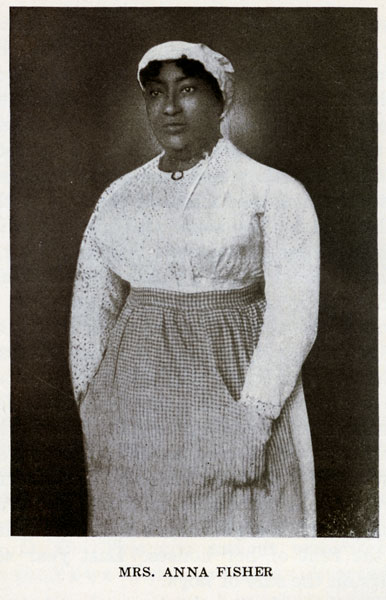 Annie Fisher
Born: December 3, 1867
Died: June 11, 1938 (age 70)
Missouri Hometown: Columbia
Region of Missouri: Central
Category: African Amercians, Entrepreneurs, Women
Annie Fisher was an accomplished cook, caterer, and businesswoman. She was born on December 3, 1867, in Boone County, Missouri, the daughter of formerly enslaved individuals, Robert and Charlotte Knowles.
From an early age, Annie worked to help support her family. She attended school when possible, but did not complete her education.
In 1904 the Louisiana Purchase Exposition was held in St. Louis. Annie Fisher entered her beaten biscuits and reportedly won a gold medal.
She worked as a cook for the George Bingham Rollins family in Columbia and the Sigma Alpha Epsilon fraternity at the University of Missouri before starting her own catering business.
People fell in love with her country ham and beaten biscuits. She catered events of all sizes and owned enough silver, linen, and china for one thousand place settings. Former Columbia residents living in New York, Denver, and Los Angeles placed orders for her biscuits and fruit cake.
Fisher claimed she was successful because she cooked "real old Missouri style," which meant she used butter instead of oleomargarine, and because she prepared all of the food herself. She could make anything from scratch, "from ice cream to roasted turkey," and could "write a menu for any occasion." Fisher freely shared her biscuit recipe, but pointed out that many people were unable to replicate it because it required "common sense."
Fisher was a shrewd businesswoman and saved much of her income. She sent her only child Lucille to college and a music conservatory. When she built her first residence, Fisher bought the building materials herself, personally hired the workmen, and lived in a tent on the property so she could oversee construction. Although she would not say how much her house cost, Fisher proudly declared she knew what it cost "to the fraction of a cent."
She also owned a small farm where she raised hogs that were used to make her famous hams. By 1919 Fisher reportedly made $500 a year from selling hams and an additional $1200 from her rental property. She told a reporter, "I am happy in my work and I try to make everyone else happy by sticking to it."
Annie Fisher died on June 11, 1938, in Columbia, Missouri.
Text and research by Kimberly Harper
References and Resources
For more information about Annie Fisher's life and career, see the following resources:
Society Resources
The following is a selected list of books, articles, and manuscripts about Annie Fisher in the research centers of The State Historical Society of Missouri. The Society's call numbers follow the citations in brackets.
"Biscuits Pay for Education." Columbia University Missourian. September 20, 1914. p. 6. [Reel # 8825]
"Her Cooking Famed Throughout States." Columbia University Missourian. February 8, 1911. p. 4. [Reel # 8818]
"Historic Annie Fisher House Torn Down." Columbia Daily Tribune. November 29, 2011. p. A1. [Reel # 54990]
"How Those Beaten Biscuits Are Made." Columbia University Missourian. March 17, 1911, p. 4. [Reel #8818]
"Mrs. Annie Fisher Dies at Home." Columbia Missourian. June 13, 1938. p. 1. [Reel # 7629]
Richardson, Clement, ed. The National Encyclopedia of the Colored Race. Montgomery, AL: National Publishing Co., 1919. p. 510. [REF 301.451 N2134 v.1]