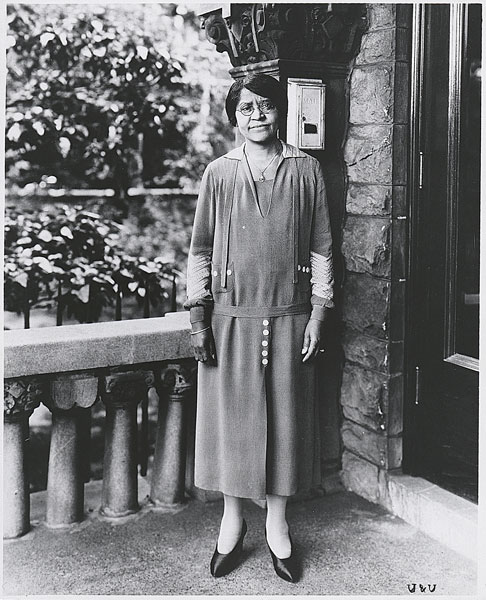 Annie Turnbo Malone
Born: August 9, 1869
Died: May 10, 1957 (age 87)
Missouri Hometown: St. Louis
Region of Missouri: St. Louis
Categories: African Americans, Entrepreneurs, Philanthropists, Scientists, Women
A chemist and entrepreneur, Annie Turnbo Malone became a millionaire by successfully developing and marketing hair products for black women in St. Louis. She used her wealth to promote the advancement of African Americans and gave away most of her money to charity.
Born on August 9, 1869, in Metropolis, Illinois, Annie Minerva Turnbo was the tenth of eleven children born to Robert and Isabella Turnbo. Her parents died when she was young, and an older sister raised her. Annie attended high school in Peoria, Illinois, but she was often sick and missed class. Though she did not graduate, she did discover she was good at chemistry.
Around the turn of the twentieth century, Annie Turnbo developed a hair product to straighten African American women's hair without damaging it like the products then available. She eventually created an entire line of hair care and beauty products specifically for black women. Recognizing she needed a larger market in which to sell her products, Turnbo moved her business to St. Louis in 1902. The city's economy was booming in preparation for the 1904 World's Fair.
As a black woman, Turnbo was denied access to regular distribution channels. To sell her products, she and her assistants went door-to-door, giving demonstrations. Business grew steadily. After a positive response at the World's Fair, Turnbo's Poro company went national.
In 1914 Annie Turnbo married Aaron E. Malone, a St. Louis school principal. By the end of World War I, she was a millionaire and one of the most successful black women of her time. Malone was extremely generous with her money and helped a variety of African American organizations and charities, including the St. Louis Colored Orphans Home.
Annie Malone established Poro College in St. Louis in 1918. The cosmetology school and training center offered black women a place to advance themselves. The facilities also housed Malone's business operations and served as a place for the African American community to gather for various civic functions.
Malone's multimillion-dollar business empire was put at risk in 1927 when her husband filed for divorce and demanded half of the business. The high-profile dispute resulted in a settlement of two hundred thousand dollars. Seeking a fresh start, Malone moved her business headquarters to Chicago in 1930. Financial troubles continued to follow her. The aftermath of the 1929 stock market crash hit the company hard, as did a series of lawsuits.
Despite these financial setbacks, Malone remained in business and had thirty-two branches of the Poro school throughout the country in the mid-1950s. She also continued to support charities in St. Louis and around the nation throughout her lifetime. She died in Chicago on May 10, 1957.
Annie Turnbo Malone's legacy as a pioneer in the African American beauty and cosmetic business has largely been overshadowed by the success of her former employee, Madam C. J. Walker. This is beginning to change, however, and Malone is now being recognized for her role in launching the industry.
Malone's charitable legacy also continues. The St. Louis Orphans Home, which was renamed after her in 1946, is now the Annie Malone Children and Family Service Center. The street on which the center is located was renamed Annie Malone Drive in her honor.
Text and research by Elizabeth E. Engel
References and Resources
For more information about Annie Malone's life and career, see the following resources:
Society Resources
The following is a selected list of books, articles, and manuscripts about Annie Malone in the research centers of The State Historical Society of Missouri. The Society's call numbers follow the citations in brackets.
"Check That Made History." St. Louis Argus. April 13, 1917. p. 1. [Reel # 41062]
"Poro College Grand Opening." St. Louis Argus. November 29, 1918. pp. 1, 4. [Reel # 41062]
"Mrs. Annie Malone, Poro Founder, Dies." St. Louis Post-Dispatch. May 12, 1957. p. 6B. [Reel # 43021]
"Mrs. Malone Buried From Chicago's Bethel." St. Louis Argus. May 17, 1957. pp. 1, 8. [Reel # 38929]
Woods, Howard B. "The St. Louis Woman." St. Louis Argus. May 17, 1957. p. 8. [Reel # 38929]
Christensen, Lawrence O., William E. Foley, Gary R. Kremer, and Kenneth H. Winn, eds. Dictionary of Missouri Biography. Columbia: University of Missouri Press, 1999. pp. 517-518. [REF F508 D561]
Trout, Carlynn. Notable Women of Missouri. Columbia, MO: Columbia, Missouri Branch of the American Association of University Women, 2005. pp. 13-14. [REF F508 T758 2005]
Whites, LeeAnn, Mary C. Neth, and Gary R. Kremer, eds. Women in Missouri History: In Search of Power and Influence. Columbia, MO: University of Missouri Press, 2004. pp. 168-70, 173, 175-179. [REF F590.2 W588]
Outside Resources
These links, which open in another window, will take you outside the Society's website. The Society is not responsible for the content of the following websites: