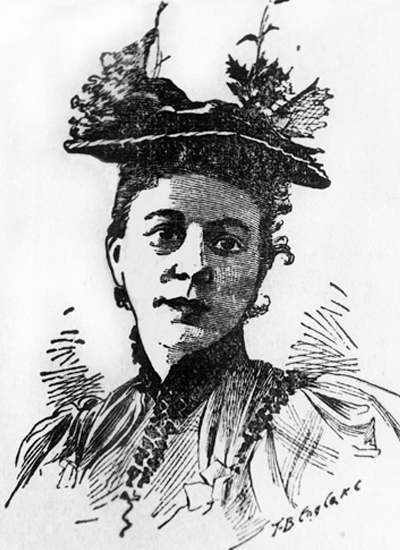 Annie White Baxter
Full Name: Anna "Annie" White Baxter
Born: March 2, 1864
Died: June 28, 1944 (age 80)
Missouri Hometown: Carthage
Region of Missouri: Southwest
Categories: Politicians, Women
Anna "Annie" White Baxter was the first woman elected to public office in Missouri and the first female county clerk in the United States.
Anna White was born on March 2, 1864, in Pittsburgh, Pennsylvania, the second of three children born to John B. and Jennie Black White. In 1876, her family moved to Carthage, Missouri, where her father operated a furniture factory.
After graduating from Carthage High School, Annie was hired as an assistant clerk by Jasper County Clerk George Blakeney. She was subsequently appointed deputy clerk by County Clerk John N. Wilson and worked for Wilson's successor, Jesse Rhoads.  Annie married Charles W. Baxter in 1888.
In 1890 the Jasper County Democratic Convention nominated Baxter for county clerk. Many questioned whether or not she could legally run for office as women were not permitted to vote. However Baxter stayed in the race and defeated her Republican opponent, Julius Fischer, by over four hundred votes.  Fischer filed an election challenge, but Baxter prevailed when the Greene County Circuit Court judge upheld the election results. During her time in office, Baxter earned a reputation as one of the best county clerks in the state, overseeing taxes, elections, and licenses.
In 1894, Republican candidates overwhelmingly won elections across the country, leaving many Democrats, including Baxter, out of office. Cornelius Roach, an acquaintance from Carthage, was elected Missouri Secretary of State in 1908. Roach, a fellow Democrat, appointed Baxter state registrar of lands. She excelled in her new position and remained there until 1916.
In 1922 Baxter was named financial secretary for the Missouri Constitutional Convention. She stayed active in Democratic politics and was a delegate to the 1936 Democratic State Convention. Annie Baxter Street in Joplin is named in her honor.
Annie White Baxter died on June 28, 1944, in Jefferson City, Missouri, and is buried in River View Cemetery. She is remembered for her role as a political trailblazer.
Text and research by Kimberly Harper
References and Resources
For more information about Annie White Baxter's life and career, see the following resources:
Society Resources
The following is a selected list of books, articles, and manuscripts about Annie White Baxter in the research centers of The State Historical Society of Missouri. The Society's call numbers follow the citations in brackets.
"Annie Baxter: First Woman Elected Official in U.S." Carthage Press. April 19, 1975. p. 3. [Reel # 5378]
"Clerk of the County Court of Jasper County." Carthage Press. January 14, 1892. p. 1, c. 2. [Reel # 5137]
"Democratic Convention." Carthage Press. September 13, 1894. p. 5, c. 3. [Reel # 5139]
"Funeral Rites Held for Mrs. Anna Baxter To Be Held Friday." Daily Capital News. June 29, 1944. p. 8, c. 5. [Reel # 15724]
Christensen, Lawrence O., William E. Foley, Gary R. Kremer, and Kenneth H. Winn, eds. Dictionary of Missouri Biography. Columbia: University of Missouri Press, 1999.  pp. 43-44.  [REF F508 D561]
Dains, Mary K., ed. Show Me Missouri Women: Selected Biographies.Kirksville, MO: Thomas Jefferson University Press, 1989. v. 1. p. 179. [REF F508 Sh82 v.1]
Priddy, Bob. "Across Our Wide Missouri, God Bless Annie Baxter! – Before Women Could Vote, She Won Elected Office." Missouri Life. v. 10, no. 1 (May-June 1982), pp. 20-22. [REF F586 M6912 v. 10]