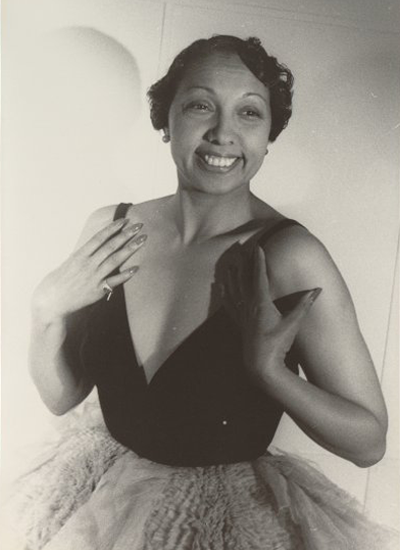 Josephine Baker
Full Name: Freda Josephine McDonald Baker
Born: June 3, 1906
Died: April 12, 1975 (age 68)
Missouri Hometown: St. Louis
Region of Missouri: St. Louis
Categories: African Americans, Entertainers, LGBTQ+ Persons, Women
Josephine Baker was an entertainer from St. Louis, Missouri, who became famous for her singing, dancing, and acting in New York City and Paris, France. She worked for the French Resistance during World War II and fought for civil rights in the United States during the 1950s and 1960s. By the end of her life, she had formally adopted twelve children of varying racial and ethnic backgrounds, calling them her "Rainbow Tribe."
Born Freda Josephine McDonald, June 3, 1906, in St. Louis, Josephine escaped a life of poverty to become a theater sensation. Her mother, Carrie McDonald, was a laundress and never married Josephine's father, Eddie Carson. Josephine dropped out of school early, and she was married at the age of thirteen to Willie Wells. That marriage ended quickly, and she married again at fifteen to Will Baker in 1921. While she left that marriage also, Josephine kept his name. Despite four marriages to men, Josephine was also known to have relationships with women, including an early mentor, the blues singer Clara Smith.
After a year of performing with the Jones Family Band and the Dixie Steppers, Josephine Baker went to New York where she eventually got a part in the chorus for Shuffle Along, the first successful black musical. She went to Paris in 1925 and became famous while singing and dancing in La Revue Negre. When that show closed, she went onto perform in La Folie du Jour at the Follies-Bergere Theater and became known for her unique dancing style and outrageous costumes.
Baker's success, in theater and in movies, continued during her time in France, and she became a French citizen after marrying Jean Lion. Her love of France was evident in her participation in the French Resistance during World War II. She was made a sublieutenant in the Women's Auxiliary of the French Air Force and earned a medal for her work on behalf of the Allies.
Baker was shocked by the racism in America when she toured in 1951. She refused to perform for segregated audiences and devoted the rest of her life to the civil rights movement. She spoke at the March on Washington on August 28, 1963-an event that peaceably brought together civil rights groups and leaders to support the passage of civil rights legislation.
Baker and her fourth husband, Jo Bouillon, lived in a French chateau they called Les Milandes with their adopted children. Baker continued to perform in order to support her large family, but she was unable to keep up with the costs of her large estate, and the bank foreclosed on her home in 1969.
This setback did not stop Baker. She continued doing what she loved: singing and dancing. A few days before her death of a cerebral hemorrhage on April 12, 1975, she had performed before a sold-out crowd in Paris. Baker was given a twenty-one gun salute at her funeral in Paris, France, and thousands of people lined the streets to honor her.
Baker became famous for her theatrical performances, but she devoted her life to the idea that people of all nationalities can live peacefully together. She fought against fascism in Europe during World War II and racism in the United States.
Text and research by Laura R. Jolley
References and Resources
For more information about Josephine Baker's life and career, see the following resources:
Society Resources
The following is a selected list of books, articles, and manuscripts about Josephine Baker in the research centers of The State Historical Society of Missouri. The Society's call numbers follow the citations in brackets.
"Josephine Baker Dies; Popular Singer in France." St. Louis Post-Dispatch. April 13, 1975, p. 19A. [Reel # 43451]
Books
Baker, Jean-Claude, and Chris Chase. Josephine: The Hungry Heart. New York: Cooper Square Press, 2001. [REF F508.1 B1737b]
Christensen, Lawrence O., William E. Foley, Gary R. Kremer, and Kenneth H. Winn, eds. Dictionary of Missouri Biography. Columbia: University of Missouri Press, 1999. pp. 24-25. [REF F508 D561]
Lahs-Gonzales, Olivia, ed. Josephine Baker: Image and Icon. St. Louis: Reedy Press, 2006. [REF F508.1 B1737La]
McMillen, Margot Ford. Into the Spotlight: Four Missouri Women. Columbia: University of Missouri Press, 2004. [REF 508 M228in]
Rose, Phyllis.

Jazz

Cleopatra: Josephine Baker in her Time. NY: Doubleday, 1989. [REF F508.1 B1737r]