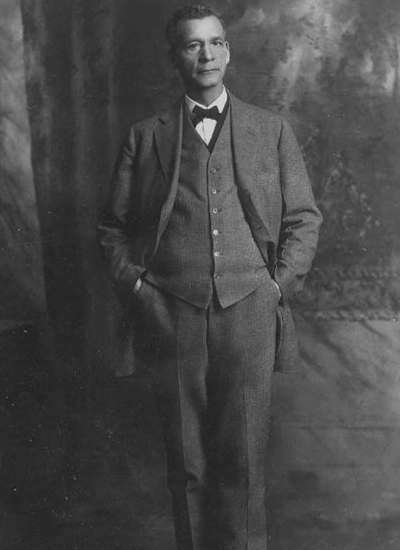 Tom Bass
Born: January 5, 1859
Died: November 20, 1934 (age 75)
Missouri Hometown: Mexico
Regions of Missouri: Central, Northeast
Categories: African Americans, Athletes
Tom Bass was a formerly enslaved person who became a world-famous rider and trainer of fine show horses. At a young age Bass became known for his skill with and knowledge of horses. Bass rode before presidents and royalty and represented Missouri at the Chicago World's Fair in 1893. He invented the "Bass bit," a horse bit that prevented the abuse of horses during training.
Tom Bass was born into slavery in Boone County, on January 5, 1859, to his enslaved mother, Cornelia Gray, and her enslaver, William Hayden Bass. He grew up on the Peter Bass plantation and was raised by his grandparents, Presley and Eliza Gray. The prosperous Bass family successfully bred and trained horses in addition to raising cattle and crops until the end of the Civil War. Bass would have frequently been exposed to horses on the Bass family plantation.
As is the case with most formerly enslaved people, the details of Bass's early life are unclear. What is certain is that at some point Bass left Boone County for Mexico, Missouri, where he likely got his start with horse buyer Joseph A. Potts. After learning the business under Potts, he eventually began his own horse training stable. Buyers from around the country brought their horses to him to break in using his gentle methods. According to Bass, "Horses are like humans."
Bass spent his life in Mexico except for a brief period in the mid-1890s when he operated a stable in Kansas City, Missouri, with his brother Jesse. We know little about Bass's personal life during this period, but he married Angie Jewell on September 20, 1882, and they had one son, Inman, born on August 10, 1897.
Over time, Bass became internationally known as a premier saddle horse trainer and a dazzling equestrian showman. He was the first African American to ride in the American Royal Horse Show, and he won numerous prizes on famous American saddle horses such as Miss Rex and Belle Beach. He was so famous in fact that he was invited to show Miss Rex at the Royal Horse Show in London, England.
Bass is also famous for inventing the Bass bit, a mechanism designed to protect a horse's mouth during training. It is still widely used today.
Bass died of a heart attack in his home on November 20, 1934. He is buried in the Elmwood Cemetery in Mexico. In 1999 Bass was inducted into the Missouri Hall of Fame at the Missouri State Capitol in Jefferson City. He gained respect for his exceptional skills at a time when African Americans were discriminated against in most areas of life. He is remembered for making Mexico, Missouri, the "Saddle Horse Capital of the World."
Text and research by Laura R. Jolley
References and Resources
For more information about Tom Bass' life and career, see the following resources:
Society Resources
The following is a selected list of books, articles, and manuscripts about Tom Bass in the research centers of The State Historical Society of Missouri. The Society's call numbers follow the citations in brackets.
"Horse Trainer Has Queen's Invitation." University Missourian. July 29, 1910. p. 1, c. 1. [Reel #8817]
"Miss Rex and Others to Have Grave Marked at Horse Show." Mexico Evening Ledger. August 3, 1951. [Reel #29416]
"Tom Bass Rides No More." Kansas City Star. November 20, 1934. p.1. [Reel #20594]
Downey, Bill Tom Bass, Black Horseman. St. Louis: Saddle and Bridle, 1975. [REF F508.1 B293]
Goodrich, James W., and Lynn Wolf Gentzler, eds. Marking Missouri History. Columbia: The State Historical Society of Missouri, 1998. p. 65 [REF F550 M691m 1998]