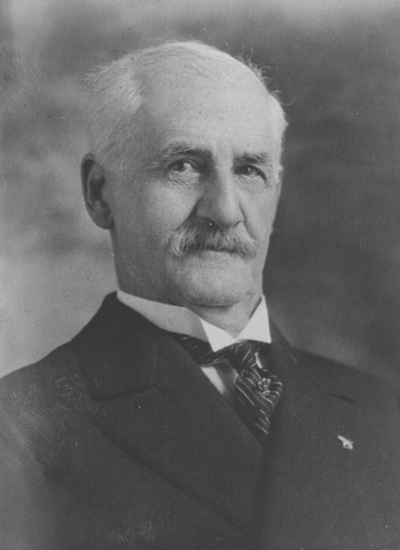 Morris Frederick Bell
Born: August 18, 1849
Died: August 2, 1929 (age 79)
Missouri Hometown: Fulton
Region of Missouri: Central
Category: Architects
Morris Frederick Bell was a prolific architect whose work can be found throughout Missouri and the Midwest. His most notable surviving accomplishment is Francis Quadrangle, which includes Jesse Hall, on the University of Missouri campus. Bell was largely an institutional architect—he built structures related to organizations or institutions such as hospitals, school buildings, correctional facilities, and monuments.
Bell was born in Hagerstown, Maryland, on August 18, 1849, the son of Frederick and Susan Tritle Bell. Morris's father was a county judge and farmer.
While not much is known about Morris's early years and education, he worked as a builder's apprentice and attended Duff's Mercantile College in Pittsburgh, Pennsylvania. For unknown reasons, Bell moved to Missouri in May 1869. He found work as a contractor on the Audrain County courthouse. Years later he remembered, "I saved enough to buy a railroad ticket from Maryland to Missouri, where I landed with $2.50 in cash, a stranger in a strange land."
Life in the Midwest agreed with Bell and in 1871 he made Fulton, Missouri, his permanent home. Two years later, he married Maria Dreps. The couple had two daughters, Katheryn and Beulah.
Even though Bell did not formally train as an architect, he was admitted to the prestigious American Institute of Architects in 1881. He received commissions for designing and remodeling buildings for Missouri state institutions including the University of Missouri; state correctional schools in Boonville, Chillicothe, and Tipton; and state hospitals in Fulton, Higginsville, and Nevada. He also designed private residences and commercial buildings.
In 1883 the University of Missouri invited architects to submit their plans for the expansion of Academic Hall. Numerous architects submitted proposals. H.W. Kirchner's design placed first and Bell's placed second. The university committee combined the two plans, made modifications, and awarded the contract to both architects. The new addition was a short-lived success. On January 9, 1892, Academic Hall was destroyed by fire. Today campus visitors can view Academic Hall's six original Ionic columns that survived the fire.
After the loss of Academic Hall, the state legislature appropriated funding for new construction. The university's Board of Curators approved a plan modeled after the University of Virginia's quadrangle (a rectangular shaped open lawn) and then asked Bell to draw up plans for the new buildings that would surround it. Bell designed the New Academic Hall (now Jesse Hall); the Law Building (now the Sociology Building); the Chemistry Building (now Pickard Hall); the Biology and Geology Building (now Swallow Hall); the Mechanic Arts Building; and the Physics and Engineering Building (now the Engineering East Building).
One of Bell's most striking accomplishments was State Hospital Number 3 in Nevada, Missouri. Built in the distinctive Second Empire style, it was completed in 1887, and remained in use until 1991. It was demolished in 1999.
Bell was a man of many interests. A Democrat, Bell was active in state and local politics. He served multiple terms on the Fulton city council. In 1893 Governor William Joel Stone appointed Bell paymaster general of the Missouri State Militia. Four years later, Governor Lon Vest Stephens appointed him adjutant general of the Missouri National Guard. Bell's true passion, however, was the telephone.
Shortly after the new invention was available to the public, Bell became smitten with the telephone. He contacted the Missouri and Kansas Telephone Company in Kansas City and established the first telephone system in Fulton in 1882. He served as general manager of the Fulton exchange for nearly fifty years.
In his later years, Bell continued to design small-scale projects such as private residences, libraries, banks, and schools. When he died on August 2, 1929, he was working on plans for William Woods College in Fulton.
Although perhaps less well known than many of his contemporaries, Morris Frederick Bell left a lasting architectural legacy in the state of Missouri.
Text and research by Kimberly Harper
References and Resources
For more information about Morris Frederick Bell's life and career, see the following resources:
Society Resources
The following is a selected list of books, articles, and manuscripts about Morris Frederick Bell in the research centers of The State Historical Society of Missouri. The Society's call numbers follow the citations in brackets.
"General Bell Left His Imprint on Missouri." Fulton Daily Sun-Gazette. April 27, 1980. p. 12. [Reel # 11876]
Christensen, Lawrence O., William E. Foley, Gary R. Kremer, and Kenneth H. Winn, eds. Dictionary of Missouri Biography. Columbia: University of Missouri Press, 1999. pp. 55-56 [REF F508 D561]
Ohman, Marian M. Initial Study of Architect M.F. Bell, 1849-1929, His Contributions to the State of Missouri. Columbia: University of Missouri, 1970. [REF F508.1 B4133]
Morris Frederick Bell Architectural Drawings (C3632)
Elevations, plans, and details for the buildings of the University of Missouri Francis Quadrangle, the Missouri Industrial Home for Girls at Chillicothe, churches, private and public schools, and domestic architecture in Missouri.
Outside Resources
These links, which open in another window, will take you outside the Society's website. The Society is not responsible for the content of the following websites: