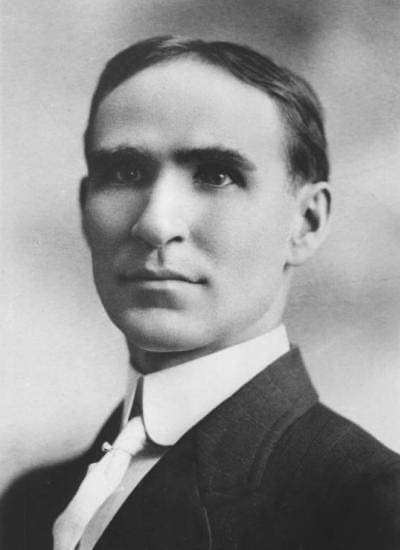 Tom Benoist
Full Name: Thomas Wesley Benoist
Born: December 29, 1874
Died: June 14, 1917 (age 42)
Missouri Hometown: Irondale
Regions of Missouri: Southeast, St. Louis
Category: Aviators
Tom Benoist was an aviation pioneer. He was involved in all aspects of the industry and helped make St. Louis a center of American aviation. He was an airplane pilot, flight instructor, designer, marketer, and manufacturer. He also operated the world's first scheduled airline. Involved in aviation for less than ten years before his untimely death, Benoist's influence on the field was significant for both Missouri and the nation.
Benoist's interest in airplanes began in 1904 after visiting the St. Louis World's Fair and taking part in the fair's aeronautical activities. Eventually, Benoist became the owner of an auto parts supply store, and within a short time, he began to stock airplane parts as well. In 1909 he co-founded what his advertising claimed was the first business devoted solely to selling aircraft parts. Once the parts business proved to be a success, Benoist went into aircraft sales, and in 1910 his sales totaled seventeen planes.
Benoist was not content to just sell airplanes and parts. He wanted to fly as well. On September 18, 1910, he made his first flight at Kinloch Field in St. Louis. It was also the first flight by a St. Louis resident. Less than a month later, he was struck on the head by a propeller, knocked to the ground, and run over by his airplane. The accident caused him to lose three toes. Undeterred, Benoist established a flying school in early 1911, and by March of that year, he was instructing students.
In addition to aircraft sales, Benoist was involved in aircraft construction. In 1909 he assembled airplanes based on the successful designs of other builders like Glenn Curtiss. By May 1910 he had constructed three rudimentary airplanes of his own design. In 1911 he designed his first production model airplane, which he called the Benoist Type XII (named because it was to be introduced in 1912). On March 1, 1912, one of his staff pilots and U.S. Army Captain Albert Berry used the Type XII to accomplish the first parachute jump from an airplane.
Benoist used his Type XII design in many other ways. With a redesigned Type XII, he introduced to the United States the "tractor biplane" configuration, which placed both the propeller and the engine in front of the pilot. He also used the Type XII as the basis for a flying boat that could take off and land on water. On January 1, 1914, Benoist started operating the St. Petersburg-Tampa Airboat Line, the world's first scheduled passenger airline service. In the three months of its existence, the company carried 1,205 passengers without a serious mishap. The price for a flight was $5, and the business operated profitably until the end of its contract on March 31, 1914.
Based upon his success with the airboat service, Benoist took on other challenges. The London Daily Mail offered a $50,000 prize for the first transatlantic flight that took less than 72 hours. Unfortunately, World War I began in August 1914, interrupting Benoist's plans to make the flight.
In 1915 Benoist moved his company first to Chicago, where city taxes were lower, and then, in 1916, to Sandusky, Ohio, where the motors for his airplanes were manufactured. While in Sandusky, Benoist sold several Type XVI flying boats to the Staten Island School of Aeronautics and also designed a land-based, steel-sided model called the Type XVII "Steel Clad."
The Type XVII was Benoist's last design. On June 14, 1917, at the age of forty-two, Benoist was fatally injured in a tragic streetcar accident near his factory in Sandusky. During his short life, Benoist greatly contributed to the field of aviation and achieved "firsts." Additionally, his aircraft manufacturing company and flight school in St. Louis at the dawn of the era of flight helped establish the city as a leader in aviation.
Text and research by Roger E. Robinson
References and Resources
For more information about Tom Benoist's life and career, see the following resources:
Society Resources
The following is a selected list of books, articles, and manuscripts about Tom Benoist in the research centers of The State Historical Society of Missouri. The Society's call numbers follow the citations in brackets.
"St. Louisian Flies Alone in Biplane." St. Louis Republic. September 19, 1910. p. 2. [Reel # 45005]
"Aviator Benoist Killed in Alighting From Streetcar." St. Louis Post-Dispatch June 15, 1917. p. 7. [Reel # 42062]
Horgan, James J. City of Flight: The History of Aviation in St. Louis. Gerald, MO: Patrice Press, 1984. pp. 275-288. [REF H235.97 H791]
Young, Andrew D., and Eugene F. Provenzo Jr. History of the St. Louis Car Company, "Quality Shops." Berkeley, CA: Howell-North Books, 1978. pp. 98-100, 108-109. [REF H235.28 Y84]
Outside Resources
These links, which open in another window, will take you outside the Society's website. The Society is not responsible for the content of the following websites: