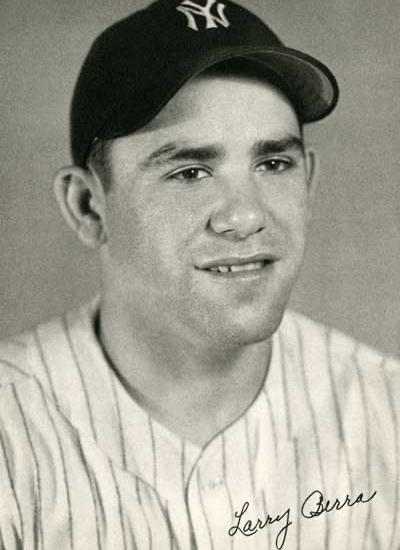 Yogi Berra
Full Name: Lawrence Peter Berra
Born: May 12, 1925
Died: September 22, 2015 (age 90)
Missouri Hometown: St. Louis
Region of Missouri: St. Louis
Category: Athletes
Introduction
Yogi Berra was a professional baseball player from St. Louis who won ten World Series championships with the New York Yankees before being elected to baseball's Hall of Fame. He is also known for his humorous sayings, called "Yogi-isms," which offered illogical but catchy observations on subjects ranging from ball games to everyday life.
Early Years and Education
"When a guy makes it to the big leagues as I did, he's usually the best player in his town, or in his school, or at least in his neighborhood. I wasn't even the best player on my block." — Joe Garagiola
On May 12, 1925, Lawrence Peter Berra was born in St. Louis, Missouri, to Italian immigrants Pietro and Paulina Berra. The Berras lived on "The Hill," a neighborhood in south St. Louis known for its Italian American community. As Lawrence's mother had difficulty pronouncing his name in English (he was originally named Lorenzo Pietro), they called him "Lawdies" or "Lawdie."
Lawdie came from a family of athletes. His three older brothers all attracted the attention of major-league baseball teams, but their father made them quit playing and get jobs. However, they passed their love of sports on to Lawdie. He spent his childhood playing on informal neighborhood teams with his best friend and neighbor, Joe Garagiola, on any field, vacant lot, or street where they could play baseball. On Saturdays, a neighborhood sponsor took the boys to see the St. Louis Cardinals play. They idolized the Cardinals players from the colorful team known as the "Gashouse Gang" that won the World Series in 1934.
Lawdie, who changed his name to Larry in his early teens, loved to play baseball so much that he could not keep his mind on schoolwork. He dropped out of Wade Grammar School when he was in the eighth grade. Afterward, he had trouble keeping jobs because he kept taking time off to play ball. Eventually, Larry's older brothers convinced their father to allow him to pursue a career as a professional ballplayer. Around this time, one of Larry's friends joked that he looked like a yogi (someone who practices yoga). From then on, Larry was called "Yogi."
Yogi and Joe Garagiola both tried out for the Cardinals in 1941. Although Yogi had always been the better player, Joe was given a nice contract and a $500 signing bonus while Yogi was only offered $250. Yogi refused the contract unless he was given the same offer as his friend. After failing to impress the St. Louis Browns, the town's other major-league baseball team at that time (they later moved to Baltimore and became the Orioles), he ended up working at a shoe factory.
From a World War to a World Series
"A bad pitch ain't a bad pitch anymore when you hit it into the seats." — Yogi Berra
Just after the Cardinals beat the New York Yankees in the 1942 World Series, Berra got the break he was looking for. One of his coaches contacted the Yankees on his behalf, and in November the team's management offered him a contract and the $500 signing bonus he had demanded from the Cardinals.
In 1943 Berra played in the minor leagues, but he was soon drafted into the military during World War II. He fired rockets and machine guns from a small landing craft support boat during the D-Day Invasion on June 6, 1944, and during an invasion of southern France two months later. Berra was eventually transferred to a naval base in Groton, Connecticut, where he joined a baseball squad that played against semiprofessional teams.
On May 6, 1946, Berra was honorably discharged from the navy. He soon reported to New Jersey to play in the minor leagues. While he struggled at fielding, he batted so well that the Yankees called him up to play his first game in the major leagues on September 22. (His friend Joe Garagiola also made it to the majors in 1946, playing for the Cardinals.) Yogi had the rare ability to hit any ball that was within reach, even ones thrown far outside the strike zone. Therefore, he was extremely difficult to strike out.
The Yankees brought in Yogi's hero, the former Cardinals' Gashouse Gang star Joe Medwick, to teach him to play outfield. Yogi did not look or move like a typical professional baseball player, especially an outfielder. His short and stocky frame, hunched shoulders, and plodding walk made him the butt of many jokes. He was teased with insulting names like "Ape," "Caveman," and "Gorilla." Yet Yogi won over his teammates and answered his critics by piling up hits, home runs, and runs batted in (RBIs). Yogi was an important piece of the Yankees team that beat the Dodgers in the 1947 World Series, hitting the first pinch-hit home run in postseason history.
A Hall of Fame Career
"Baseball is ninety percent mental, and the other half is physical." — Yogi Berra
For Yogi, 1948 proved to be an important year professionally and personally. The Yankees hired Casey Stengel as their manager, and Stengel brought in Hall of Fame catcher Bill Dickey the next season to help Yogi master the catcher position. Under Dickey's guidance, Berra became much better at throwing out runners trying to steal bases. Dickey also helped him improve his ability to call the right pitches for his pitchers and taught him to chatter constantly with opposing batters, which often disrupted their concentration. Berra was soon one of the best catchers in baseball. This led to the first of Yogi's fifteen straight All-Star seasons.
During this time he also met Carmen Short, a young woman from Salem, Missouri, who was working as a waitress at a St. Louis steakhouse. The two hit it off and were married on the Hill at St. Ambrose Catholic Church on January 26, 1949. They lived on the Hill until relocating to New Jersey in 1951. The Berras had three sons, Larry, Tim, and Dale, all of whom were later professional or semiprofessional athletes.
In 1949 the Yankees began a long string of championships, winning five straight World Series from 1949 to 1953. After falling short in 1954, they won nine of the next ten American League pennants and added four more World Series victories. Yogi Berra was one of the team's biggest stars. He was named the Most Valuable Player in the American League in 1951, 1954, and 1955. He batted well under pressure and was at his best late in the game when runners were on base. He led the Yankees in RBIs for seven straight seasons from 1950 to 1956 and routinely had more walks than strikeouts.
In 1950 Yogi became one of four catchers to have an error-free season. In 1956 he caught the only perfect game in World Series history, pitched by Don Larsen. Toward the end of the 1950s, as his body began to wear down, he rotated between playing catcher and outfield with his friend Elston Howard, who was also from St. Louis. Howard, the first African American to play for the Yankees, eventually replaced Berra as the starting catcher in the early 1960s.
Over seventeen seasons, Yogi played in fourteen World Series and won ten of them; both are records. He retired as a player after the 1963 season. In 1972, Yogi was inducted into the Baseball Hall of Fame, and his jersey number 8 was retired by the Yankees.
"It ain't over till it's over." — attributed to Yogi Berra
A few weeks after retiring, Yogi Berra was hired as the new manager for the New York Yankees. After a shaky start in the 1964 season, Yogi led the Yankees to the World Series, but he was fired after his team lost to the Cardinals. In a strange turn of events, he was replaced by Johnny Keane, the Cardinals' manager who had just defeated the Yankees.
Yogi was hired to coach for the New York Mets in 1965 and even came out of retirement to play a few games for them that season. On May 11, 1965, Yogi retired a final time, but he continued to coach with the Mets until becoming the team's manager in 1972. He led the Mets to the World Series a year later, but they were defeated by the Oakland A's. In 1975, Berra was fired. He coached for the Yankees afterward and was promoted to manager for the 1984 season. Berra's son Dale played for him in 1985, but Yogi was fired sixteen games into the season, leading to a long feud with the Yankees organization. Yogi finished his coaching career with the Houston Astros from 1986 to 1989.
Career Outside of Baseball
"I really didn't say everything I said." — Yogi Berra
Yogi was shy and often mixed up his words. Many times this resulted in funny, contradictory, or self-evident sayings that became known as "Yogi-isms." For example, after watching his teammates Mickey Mantle and Roger Maris hit back-to-back home runs several times, Yogi said, "It's like déjà vu all over again." Or, when describing how to get to his house, on a circular road, he said, "When you come to a fork in the road, take it." The press enjoyed Yogi-isms so much that they sometimes made them up or changed Yogi's words to make them sound funnier or more moving. For instance, "You're never out of it till you're out of it" became "It ain't over till it's over."
Beneath the surface, however, Yogi was a clever businessman. He renegotiated his contract annually and became one of the highest-paid players in baseball. Because of the popularity of Yogi-isms, his public persona became that of a good-natured joker. While he was in reality a serious person and not a natural comedian, Yogi used the public's perception of him to create a thriving business career outside of baseball. For many years, he co-owned a popular Yankees-themed bowling alley. During the 1950s he became a product pitchman and was often paid to make public appearances. He was an executive vice-president at the Yoo-Hoo soft drink company and got his teammates to promote the product. Yogi's popularity as a pitchman continued for the rest of his life. He promoted products as varied as shaving cream, cigarettes, toys, ice cream, beer, shoes, and insurance. He also appeared in movies and on television, and he authored a number of books.
"Always go to other people's funerals; otherwise they won't come to yours." — Yogi Berra
In 1996 Berra was given an honorary doctorate by Montclair University, near his home in Montclair, New Jersey. Two years later the campus named a baseball field after him and also opened the Yogi Berra Museum and Learning Center. In 1999, Yogi's fourteen-year feud with the Yankees ended when the team's owner, George Steinbrenner, personally apologized to him. Afterward, Yogi visited the Yankees clubhouse regularly and became a mentor to several players.
On March 6, 2014, Carmen Berra died at the age of eighty-five after suffering a stroke and experiencing a long period of poor health. Yogi was ninety when he passed away in his sleep on September 22, 2015, exactly sixty-nine years after he played his first game in the major leagues.
Yogi Berra is remembered as one of the greatest catchers in baseball history and still holds several World Series records. Besides his election to the Baseball Hall of Fame, he was also elected to Major League Baseball's All-Century Team in 1999. Many of his Yogi-isms are still in common use. On November 24, 2015, Yogi was posthumously presented with the Presidential Medal of Freedom by Barack Obama, who used a famous Yogi-ism to describe Berra's uniqueness: "If you can't imitate him, don't copy him."
Text and research by Todd Barnett
References and Resources
For more information about Yogi Berra's life and career, see the following resources:
Society Resources
The following is a selected list of books, articles, and manuscripts about Yogi Berra in the research centers of The State Historical Society of Missouri. The Society's call numbers follow the citations in brackets. All links will open in a new tab.
"Berra Beats Out Carver for Most Valuable Title in A.L." St. Louis Post-Dispatch. November 8, 1951. p. C2. [Reel # 42878]
"The Day Yogi Met a Pope." St. Louis Post-Dispatch. September 24, 2015. p. A4. [Reel # 57315]
"From Banana Sandwiches to Top Banana." St. Louis Post-Dispatch. October 25, 1963. p. C5. [Reel # 43176]
"He Rates a 'Ted Williams Defense.'" St. Louis Post-Dispatch. August 4, 1946. p. A14. [Reel # 42746]
"Nobody Has as Much Power as Plain People." St. Louis Post-Dispatch. August 10, 1947. p. E1. [Reel # 42770]
"One That Got Away: Yogi's Tryout with the Cards." St. Louis Post-Dispatch. September 24, 2015. p. B6. [Reel # 57315]
"Wherever He Went, Yogi Was at Home on the Hill." St. Louis Post-Dispatch. September 24, 2015. p. B1. [Reel # 57315]
"Yogi Berra, Native Son, American Icon. 1925-2015." St. Louis Post-Dispatch. September 24, 2015. p. A14. [Reel # 57315]
"Yogi Wouldn't Let His Manager Down." St. Louis Post-Dispatch. October 9, 1947. p. B4. [Reel # 42774]
"Yogi's Legacy: When You Mention His Name, You Smile." St. Louis Post-Dispatch. September 24, 2015. p. A1. [Reel # 57315]
Berra, Yogi, and Ed Fitzgerald. Yogi: The Autobiography of a Professional Baseball Player. Garden City, NY: Doubleday, 1961. [REF IJ B458y]
Berra, Yogi, and Tom Horton. Yogi: It Ain't Over… New York: McGraw-Hill, 1989. [REF F508.1 B4583b3]
Berra, Yogi, and Dave Kaplan. Ten Rings: My Championship Seasons. New York: HarperCollins, 2003. [REF F508.1 B4583b 2005]
Berra, Yogi, and Dave Kaplan. You Can Observe a Lot by Watching. Hoboken, NJ: John Wiley & Sons, Inc., 2008. [REF F508.1 B4583b2]
Devito, Carlo. Yogi: The Life and Times of an American Original. Chicago: Triumph Books, 2008. [REF F508.1 B4583]
Robinson, Ray. The Greatest Yankees of Them All. New York: Putnam, 1969. [REF IJ R566g]
Peters, Charlotte, Papers, 1930-1977 (S0679)
Charlotte Peters was the first woman on television in St. Louis. She hosted a one-hour show on St. Louis television stations for twenty-three years. Box 8 in this collection contains a video interview of Yogi Berra, Stan Musial, Tim McCarver, Lou Brock, Orlando Cepeda, Casey Stengel, and Mike Shannon at the 1968 spring training camp of the St. Louis Cardinals.
Vickery, Margaret Ray (1914-1971), Papers, 1887-1974 (R0366)
Margaret Ray Vickery was a newspaperwoman and author from Carmen (Short) Berra's hometown of Salem, Missouri. There is a small biographical file on Carmen Berra in Folder 60 of this collection.
Outside Resources
These links will take you outside the Society's website. The Society is not responsible for the content of the following sites:
Academy of Achievement: Yogi Berra
This page on the Academy of Achievement website contains video clips and an interview conducted with Yogi Berra on June 1, 2005, for the Baseball Hall of Fame.
National Baseball Hall of Fame: Yogi Berra
This page from the Baseball Hall of Fame is devoted to Yogi Berra, a Hall of Fame inductee. It provides a short biography, career statistics, and some pictures.
Yogi Berra Museum & Learning Center
This is the official website of the Yogi Berra Museum & Learning Center, which was inspired by "Yogi Berra's values, extraordinary accomplishments and lifelong commitment to the education of young people." The site contains biographical information on Yogi Berra, pictures, career statistics, and a list of Yogi-isms. The museum's tag line is "We're open 'til we close."