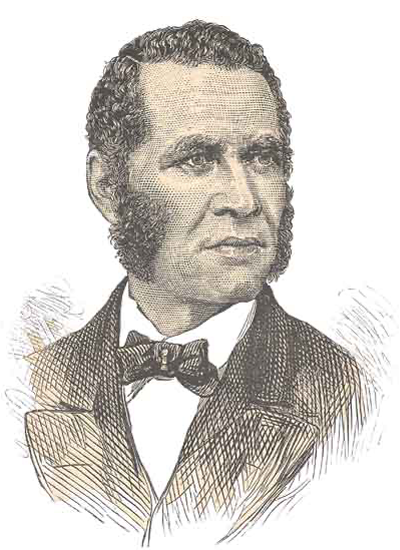 William Wells Brown
Born: 1814?
Died: November 6, 1884 (age 70?)
Missouri Hometown or County: Montgomery County, St. Louis
Region of Missouri: St. Louis
Categories: African Americans, Writers
An author, playwright, and lecturer, William Wells Brown is considered one of the first significant African American writers and antislavery activists. His autobiography, Narrative of William W. Brown, A Fugitive Slave, documents his life as an enslaved person in Missouri and is one of most widely published and influential slave narratives.
William Wells Brown was born enslaved around 1814 near Lexington, Kentucky. He was one of seven children by his mother, Elizabeth. His father was likely a male relative of his enslaver, Dr. John Young. In 1816, Dr. Young took William and his family to Missouri territory and they settled on a farm along the Missouri River in what is now Montgomery County. In 1827 they moved again, this time to a farm outside of St. Louis, where William was frequently hired out to local merchants and sometimes steamboat captains, including slave traders. During this time, William was exposed to many people and learned a great deal about life in America outside of the Young household.
In 1832 William attempted to escape slavery with his mother, but they were both caught and taken back to St. Louis. William was sold to a merchant and his mother was put on a boat to New Orleans. It was the last time he ever saw her. Soon, he was sold to riverboat captain Enoch Price, the last man to be his enslaver. On January 1, 1834, while docked in Cincinnati, Ohio, William finally escaped. He was helped by a Quaker man named Wells Brown, and William took his name.
Brown made his way to Cleveland, where he spent years working on a Lake Erie steamboat to help others escape slavery into Canada. While in Cleveland, Brown met and married Elizabeth Schooner. The couple had two daughters, Clarissa and Josephine. While working to help free enslaved people, Brown's zeal for abolition increased and he became more involved in the slavery issue. The family moved to Buffalo and then to Farmington, New York, where the abolitionist movement was very strong. Between 1843 and 1847 Brown worked on behalf of the Western New York Anti-Slavery Society as a lecturer. Brown's constant traveling on the lecture circuit led to a divorce from Elizabeth in 1847. Brown kept custody of his daughters and they moved to Boston. At this same time he wrote Narrative, his first book. The slave narrative, which documents the harshness of enslaved life on the plantation and in St. Louis, sold ten thousand copies in two years.
In 1849 Brown went to England to lecture and stayed for five years due to the passage of the Fugitive Slave Act of 1850. While there, he wrote several more books, including Three Years in Europe and Clotel, the earliest known African American novel. Friends purchased his freedom from Enoch Price in 1854, and Brown returned to Boston to work for the New England Anti-Slavery Society. In 1855 he published The American Fugitive in Europe and in 1858 he wrote the first play by an African American, The Escape; or, A Leap for Freedom.
On April 12, 1860, Brown married Anna Elizabeth Gray. The couple had a son, William Wells Brown Jr., in 1861, who died as an infant of cholera, and a daughter named Clotelle on May 8, 1862, who died in 1870 of typhoid fever.
For the remainder of his life, Brown continued to write and lecture. He also became a physician in his later years. He wrote plays, speeches, fiction, and history, and he rewrote his autobiography several times. His final book, My Southern Home; or, The South and Its People, was published in 1880. With both his actions and his words, Brown worked tirelessly on behalf of the abolition movement. His writings brought attention to the plight of enslaved people and later to free Blacks everywhere. Brown died of complications from "tumor of the bladder" on November 6, 1884, and is buried in the Cambridge Cemetery in Chelsea, Massachusetts.
Text and research by Laura R. Jolley
References and Resources
For more information about William Wells Brown's life and career, see the following resources:
Society Resources
The following is a selected list of books, articles, and manuscripts about William Wells Brown in the research centers of The State Historical Society of Missouri. The Society's call numbers follow the citations in brackets.
Andrews, William L., ed. From Fugitive Slave to Free Man: The Autobiographies of William Wells Brown. Columbia: University of Missouri Press, 2003. [REF 921 B815br]
Brown, William Wells. My Southern Home, or The South and Its People. Boston: A.G. Brown, 1880. [REF I B816m]
Christensen, Lawrence O., William E. Foley, Gary R. Kremer, and Kenneth H. Winn, eds. Dictionary of Missouri Biography. Columbia: University of Missouri Press, 1999. Pp. 125–127. [REF F508 D561]
Farrison, William Edward. William Wells Brown: Author and Reformer. Chicago: University of Chicago Press, 1969. [REF 921 B815]
Greenspan, Ezra, ed. William Wells Brown: A Reader. Athens: University of Georgia Press, 2008. [REF 921 B815g]
Outside Resources
These links, which open in another window, will take you outside the Society's website. The Society is not responsible for the content of the following websites: