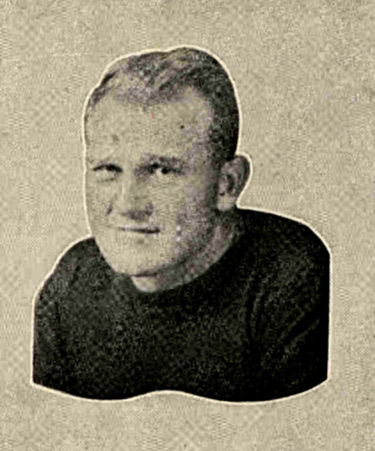 Cal Hubbard
Full Name: Robert Calvin Hubbard
Born: October 31, 1900
Died: October 17, 1977 (age 76)
Missouri Hometown: Keytesville
Region of Missouri: Northeast
Category: Athletes
Cal Hubbard is the only man to be named to the College and Pro Football Halls of Fame as well as the Baseball Hall of Fame. In football, he was famous as both an offensive and defensive lineman, while in baseball he made his mark as an umpire.
Robert Calvin Hubbard was born on October 31, 1900, in Keytesville, Missouri. His parents were Robert P. Hubbard and Sarah "Sallie" Ford. His father was a farmer. Cal attended a small school in Keytesville with thirty other students and graduated from Keytesville High School. He attended one year at nearby Glasgow High School because his local school had no football team. Hubbard loved football, and he was big. At the age of fourteen, he weighed nearly 200 pounds. Since he could not attend West Point because of his flat feet, Hubbard looked for a college that had a promising football program near home. He decided to enroll in Chillicothe Business College.
In 1922 Hubbard met Alvin "Bo" McMillan, a college All-American quarterback and the coach of Centenary College in Shreveport, Louisiana. Impressed with the coach, Hubbard decided to accept McMillan's invitation to attend Centenary. He played at the school from 1922 to 1924 and was a star player. At 6′4″ tall and 250 pounds, Hubbard was large for a player in the 1920s. He was also very fast for his size and could run a hundred yards in eleven seconds.
Unlike modern football players who specialize in either an offensive or defensive position, Hubbard played both sides of the line. He also usually played the full sixty minutes of a game. On offense, he played very wide on the line and swept in to hit the defensive line on its side, knocking down multiple players like dominoes. On defense, he chose to step back from his tackle position on the line of scrimmage so that he could better see what the offense was doing. This allowed him to react quickly to the play. Thus, Hubbard created the linebacker position that has become a defensive standard position today.
When Bo McMillan moved to Geneva College in Beaver Falls, Pennsylvania, Hubbard went with him. He had to sit out a year under Geneva's eligibility rules. In 1926 he returned to play and helped Geneva in its historic win over Harvard University (16-7). After graduating with a BA in 1927, Hubbard took his skills to the National Football League and played with New York, Green Bay, and Pittsburgh. He played professional football from 1927 to 1936 and was one of the most feared linemen of his day. He also had experience as a football coach, leaving the NFL for one season (1934) to coach at Texas A&M University. After retiring from playing football, Hubbard was the head coach of his former school, Geneva College, from 1941 to 1942.
In 1928 Hubbard started another professional sporting career. He began to spend his off-season time umpiring minor league baseball games. His 20-10 vision and imposing size made him very effective as an umpire. In 1936 he was called up to umpire games in the American League. He spent sixteen years as an umpire in the majors and during that time officiated in four World Series and three All-Star games. During a hunting trip in 1951, a ricocheting pellet from another hunter's shotgun injured one of his eyes. The injury ended his career as an umpire and devastated him; however, the American League quickly rehired him as an assistant supervisor of league umpires, and he soon became the supervisor of umpires for the league. He served in that position from 1953 to 1969.
Even in retirement, Hubbard continued to attract attention for his sporting achievements. In 1962 he was inducted into the College Football Hall of Fame. The Pro Football Hall of Fame was established the following year, and Hubbard was named as one of the seventeen charter members of the organization. In 1976 Hubbard was voted into the National Baseball Hall of Fame, the fifth of only nine umpires admitted to date.
While Cal Hubbard was a national figure in sports, he maintained his Missouri roots. He returned to the state often to visit family and to hunt and fish. He made his home in Milan, Missouri, from 1948 until his death. He died of cancer on October 17, 1977, in St. Petersburg, Florida.
Hubbard remains the only man inducted into three major sports halls of fame. Speaking of his achievements, Hubbard said, "I'm just a big old country boy who hated to sit on the sidelines; I wanted to be in the middle of the action."
Text and research by Roger E. Robinson
References and Resources
For more information about Cal Hubbard's life and career, see the following resources:
Society Resources
The following is a selected list of books, articles, and manuscripts about Cal Hubbard in the research centers of The State Historical Society of Missouri. The Society's call numbers follow the citations in brackets.
Burns, Robert L. "Missouri's Great Cal Hubbard." St. Louis Globe-Democrat. August 14-15, 1976. [Reel # 40779]
"Keytesville Native Cal Hubbard Remembered at Price Museum." Chariton Courier. July 15, 1993. [Reel # 24645]
Rudloff, Steve. "[Cal Hubbard] Two Claims to Fame." Rural Electric Missourian. August 1976. [REF F560 R88 MICRO]
"Services Sat. for Cal Hubbard." Milan Standard. October 20, 1977. [Reel # 29774]
Dictionary of American Biography. New York: Scribner's, 1995. Supplement 10, pp. 350-351. [REF 920 D561 Suppl. 10]
Goodrich, James W., and Lynn Wolf Gentzler, eds. Marking Missouri History. Columbia: The State Historical Society of Missouri, 1998. p. 59 [REF F550 M691m 1998]
Hubbard, Mary Bell Calvin. Strike 3! And You're Out!! Or, The Cal Hubbard Story. Marceline, MO: Walsworth, 1976. [REF F508.1 H861]
Outside Resources
These links, which open in another window, will take you outside the Society's website. The Society is not responsible for the content of the following websites: