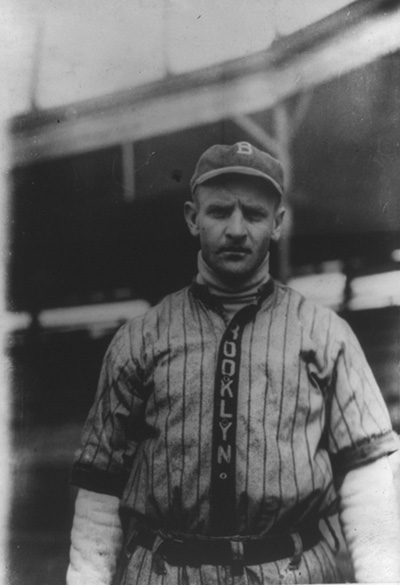 Casey Stengel
Full Name: Charles Dillon "Casey" Stengel
Born: July 30, 1890
Died: September 29, 1975 (age 85)
Missouri Hometown: Kansas City
Region of Missouri: Kansas City
Category: Athletes

Casey Stengel was a twentieth-century professional baseball player and manager who is best known for managing the New York Yankees to ten American League pennants and seven World Series championships from 1949 to 1960. Today he is recognized as one of baseball's greatest managers.
He was born Charles Dillon Stengel on July 30, 1890, in Kansas City, Missouri, the youngest child of Louis and Jennie Stengel. His father was a German immigrant and insurance salesman who operated the city's street sprinkler, which controlled dust on the unpaved streets. This allowed young Charles, who was known as "Dutch" to his friends, to grow up in a moderately middle-class neighborhood.
A naturally gifted athlete, Stengel excelled at a variety of sports while attending Central High School. He had aspirations to become a dentist but ultimately chose baseball. He dropped out of high school in 1909 and joined the minor-league Kansas City Blues before signing with another minor-league team in Kankakee, Illinois. He soon left that team, returning to Kansas City to study dentistry at Western Dental College. The pull of baseball was too strong, however, and he quit dentistry to continue his career in baseball.
Stengel, who was given the nickname "Casey" as a tribute to his Kansas City roots, made his major-league debut late in the 1912 season for the Brooklyn Dodgers.  In 1916 he took part in his first World Series with Brooklyn. He left baseball briefly in 1918 to serve in the U.S. Navy during World War I, but was back in baseball the following year. He played in two more World Series, both with the New York Giants, helping them to win championships in 1922 and 1923 and even managing to outhit legendary New York Yankee Babe Ruth during the 1923 contest.
During his playing days, Stengel began developing a reputation for making people laugh. In one game, he famously responded to heckling from the crowd by hiding a sparrow under his baseball cap so that it would fly away when he sarcastically tipped his hat to them. Later, as a manager, he became known for giving rambling, colorful interviews in a language sportswriters referred to as "Stengelese." Stengel remains widely quoted within baseball for comic statements such as "Good pitching will always stop good hitting and vice versa."
Stengel married Edna Lawson in 1924. They were together for more than fifty years, but had no children.
Stengel's career as a major-league baseball player ended in 1925. He became a minor-league manager and continued to play occasionally in the minors. In 1931 he returned to the major leagues as manager of the Dodgers.  After three seasons in which the Brooklyn team struggled to win games, he was fired. He managed the Boston Braves from 1938 to 1943, but the Braves did not win either, and Stengel went back to the minor leagues to manage teams in Milwaukee, Kansas City, and Oakland (all cities that now have major-league teams).
Despite his lack of previous success as a major-league manager, Stengel was hired in 1949 to manage the most successful team at that time, the New York Yankees. His hiring caught the baseball world by surprise. Thanks to the talents of legendary players such as Yogi Berra, Mickey Mantle, and Joe DiMaggio, Stengel led his team to five straight World Series victories from 1949 to 1953. Stengel remains the only man in history to lead a team to five consecutive World Series championships.
Under Stengel, the Yankees also won the World Series in 1956 and 1958. They competed in, but lost, the series in 1955, 1957, and 1960. After losing to the underdog Pittsburgh Pirates in the 1960 World Series, the Yankees hired a new manager for the 1961 season. Stengel resurfaced in 1962 as manager of the New York Mets, a National League expansion team widely regarded as one of the least talented teams in major-league history. Stengel left the Mets during the 1965 season, announcing his retirement on August 30, 1965. An official ceremony was held a few days later, on September 2. He was elected to the National Baseball Hall of Fame in Cooperstown, New York, on March 8, 1966.
Casey Stengel died from cancer on September 29, 1975, at the age of 85. In his biography, Stengel: His Life and Times, author Robert W. Creamer wrote, "In baseball, [Stengel] had the kind of understanding of a situation that is often described as intuitive…a rapid-fire, computer-speed deduction derived from long experience." Stengel is best remembered for this type of understanding, as well as his comedic antics, hard-nosed managing style, and passion for the game.
Text and research by Jeremy Hulshof
References and Resources
For more information about Casey Stengel's life and career, see the following resources:
Society Resources
The following is a selected list of books, articles, and manuscripts about Casey Stengel in the research centers of The State Historical Society of Missouri. The Society's call numbers follow the citations in brackets.
Books and Articles
Christensen, Lawrence O., William E. Foley, Gary R. Kremer, and Kenneth H. Winn, eds. Dictionary of Missouri Biography. Columbia: University of Missouri Press, 1999.  pp. 716-717.  [REF F508 D561]
Creamer, Robert W.  Stengel: His Life and Times.  New York: Simon and Schuster, c. 1984.  [REF F508.1 St423c]
Dictionary of American Biography. New York: Scribner's, 1994. Supplement 9, pp. 762-765. [REF 920 D561 Suppl. 9]
Feldmann, Doug.  El Birdos: the 1967 and 1968 St. Louis Cardinals.  Jefferson: McFarland & Co., 2007. [REF H235.131 F333eL]
Garraty, John A., and Mark C. Carnes, eds. American National Biography. New York: Oxford University Press, 1999. v. 20, pp. 653-655. [REF 920 AM37 v. 20]
Missouri Biographical Dictionary: People of All Times and All Places Who Have Been Important to the History and Life of the State. New York:Somerset, 1995. pp. 434-435. [REF F508 M6916 1995]
Priddy, Bob. "The Bird." Across Our Wide Missouri. Independence, MO: Independence Press, 1982. v. 1, pp. 328-330. [REF F550 P932 v. 1 (1982)]
Zeldin, Stan. "A Clown Named Casey: Casey Stengel's Love of People and Baseball is Brilliantly Brought to Life in His 'Life and Times.'" Kansas City Town Squire Magazine. v. 16, no. 3 (May 1984), p. 83. [REF H128.04 K133t]
Outside Resources
These links, which open in another window, will take you outside the Society's website. The Society is not responsible for the content of the following websites:
Casey Stengel Baseball Center
Named in Stengel's honor, the baseball center is a nonprofit educational organization that promotes the ideas, ideals, character, and values of America's premier pastime.