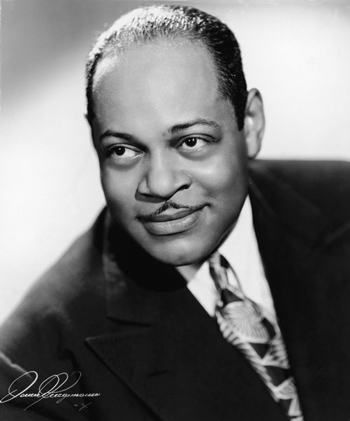 Coleman Hawkins
Full Name: Coleman Randolph Hawkins
Born: November 21, 1904
Died: May 19, 1969 (age 64)
Missouri Hometown: St. Joseph
Regions of Missouri: Kansas City, Northwest
Categories: African Americans, Musicians
Coleman Randolph Hawkins was a musician whose innovative playing style helped bring the saxophone to prominence in jazz music. He was born in St. Joseph, Missouri, on November 21, 1904, to William and Cordelia Hawkins. His mother, a pianist and organist, gave him piano lessons at age five, then started him on the cello. However, the sound of the saxophone had a special place in Coleman's heart. For his ninth birthday, his parents bought him a C-melody saxophone, which he practiced so much that he often forgot to come in at mealtime.
When Coleman was about twelve, he was hired to perform with a group at a local dance. He played so well that he was soon offered several other gigs. Coleman then attended a segregated school for blacks in Topeka, Kansas, called the Kansas Industrial and Educational Institute. He became well known for his performances with groups from nearby Washburn College. During school breaks, he was invited to play with local groups and theater orchestras in Kansas City. It was there that he got his first big break in the music industry.
By 1920 jazz was becoming very popular. On tour after the success of her hit song "Crazy Blues," jazz and blues singer Mamie Smith stopped for a performance in Kansas City in 1921. Hawkins was asked to sit in for the night with Smith's band, the Jazz Hounds. Smith was so impressed with the sixteen-year-old that she asked him to join her band. His mother allowed him to join the next year after Smith agreed to act as his legal guardian. In 1922 Hawkins toured the country with the Jazz Hounds and played on his first recording, "Mean Daddy Blues." He played various saxophones, including the baritone and alto sax, before settling on the tenor sax as his instrument of choice.
In 1923 Hawkins moved to New York City during the Harlem Renaissance. When not playing paid gigs, he honed his talent by taking part in long, informal late-night jam sessions with other musicians. In 1924 he married a dancer named Gertie and joined the band of pianist Fletcher Henderson, a swing music pioneer. Henderson adopted the improvisation and instrumental solos common in jazz groups from New Orleans, finding highly skilled technical players like Hawkins to perform them. Hawkins's playing reached new heights after the highly acclaimed trumpeter Louis Armstrong joined the band, although the two musicians did not get along well and only played together for a year.
The trumpet, trombone, clarinet, bass, and piano historically were much more prominent than the saxophone in jazz music. Tenor saxophones were usually played in short, rhythmic bursts, which reduced the quality of tone, and sax solos were normally only played on the beat. Hawkins worked to change this. Over time, he developed a unique, full-bodied tone and started employing long, rich, smoothly connected sets of notes that he often played independently of the beat. Henderson recognized Hawkins's innovative talent and gradually gave him a more prominent place in the band's performances. Hawkins's new style was fully developed by 1933. Three of his recordings from that year, "It's the Talk of the Town," "The Day You Came Along," and "I've Got to Sing a Torch Song," are now considered jazz classics.
When he was not playing with Henderson, other acts, including Benny Goodman's group, which was one of the most popular bands in America, sought Hawkins out for recording sessions. Hawkins also led a band alongside trumpeter Henry "Red" Allen. He spent so much time away from home performing, recording, and playing in late-night jams that it led to the breakdown of his marriage.
Hawkins left Henderson's group in 1934. For the next five years he toured and recorded with several acts in western Europe. His most notable collaborations were with pianist Jack Hylton and guitarist Django Reinhardt. After returning to New York in 1939 to escape World War II, Hawkins formed his own big band. That year, Coleman Hawkins's Orchestra recorded a cover version of a popular song, "Body and Soul." This recording is widely regarded as the most innovative masterpiece of Hawkins's career. He played almost independently of the melody throughout his performance, improvising, playing off the beat, and harmonizing in a manner that influenced the emerging bebop style.
In 1941, Hawkins married Dolores Sheridan, with whom he had three children. His big band disbanded the same year. However, unlike many other early jazz musicians, Hawkins was able to change his playing to fit the times. He was a bebop pioneer in the 1940s, and still had a successful recording and touring career in the 1960s in both America and Europe. During this period, Hawkins regularly worked with the most talented and influential jazz musicians of the era, such as trombonist J. J. Johnson, percussionist Max Roach, saxophonists Charlie Parker, John Coltrane, and Lester Young, pianists Thelonious Monk and Duke Ellington, and trumpeters Miles Davis, Roy Eldridge, Fats Navarro, and Dizzy Gillespie.
After years of heavy drinking, Hawkins's playing and health began to decline by the mid-1960s. A bout of pneumonia claimed his life on May 19, 1969, about a month after he played his last show. Coleman Hawkins helped take the tenor saxophone from the sidelines to the center stage of jazz music. He left behind many classic recordings, and his original playing style has influenced generations of jazz musicians. An annual jazz festival in Hawkins's honor is held in St. Joseph every June in a park bearing his name, near a statue erected in his honor.
Text and research by Todd Barnett
References and Resources
For more information about Coleman Hawkins's life and career, see the following resources:
Society Resources
The following is a selected list of books, articles, and manuscripts about Coleman Hawkins in the research centers of The State Historical Society of Missouri. The Society's call numbers follow the citations in brackets.
"Crowd of Five Hundred Hears Fletcher Henderson." Kansas City Call. December 22, 1933. p. 11. [Reel # 18740]
"Celebrating the Hawk." St. Joseph News-Press. November 13, 2004. p. 11. [Reel # 38541]
Dicaire, David. Jazz Musicians of the Early Years, to 1945. Jefferson, NC: McFarland & Company, Inc., 2003.  [REF 920 J339]
Driggs, Frank. Kansas City Jazz: From

Ragtime

to Bebop—A History. New York: Oxford University Press, 2005. [REF H128.71 D832]
Hodeir, André. Jazz: Its Evolution and Essence. New York: Da Capo Press, 1975. [REF 785.42 H66 1975]
Russell, Ross. Jazz Style in Kansas City and the Southwest. Berkeley: University of California Press, 1971. [REF H128.71 R917]
Outside Resources
These links, which open in another window, will take you outside the Society's website. The Society is not responsible for the content of the following websites: