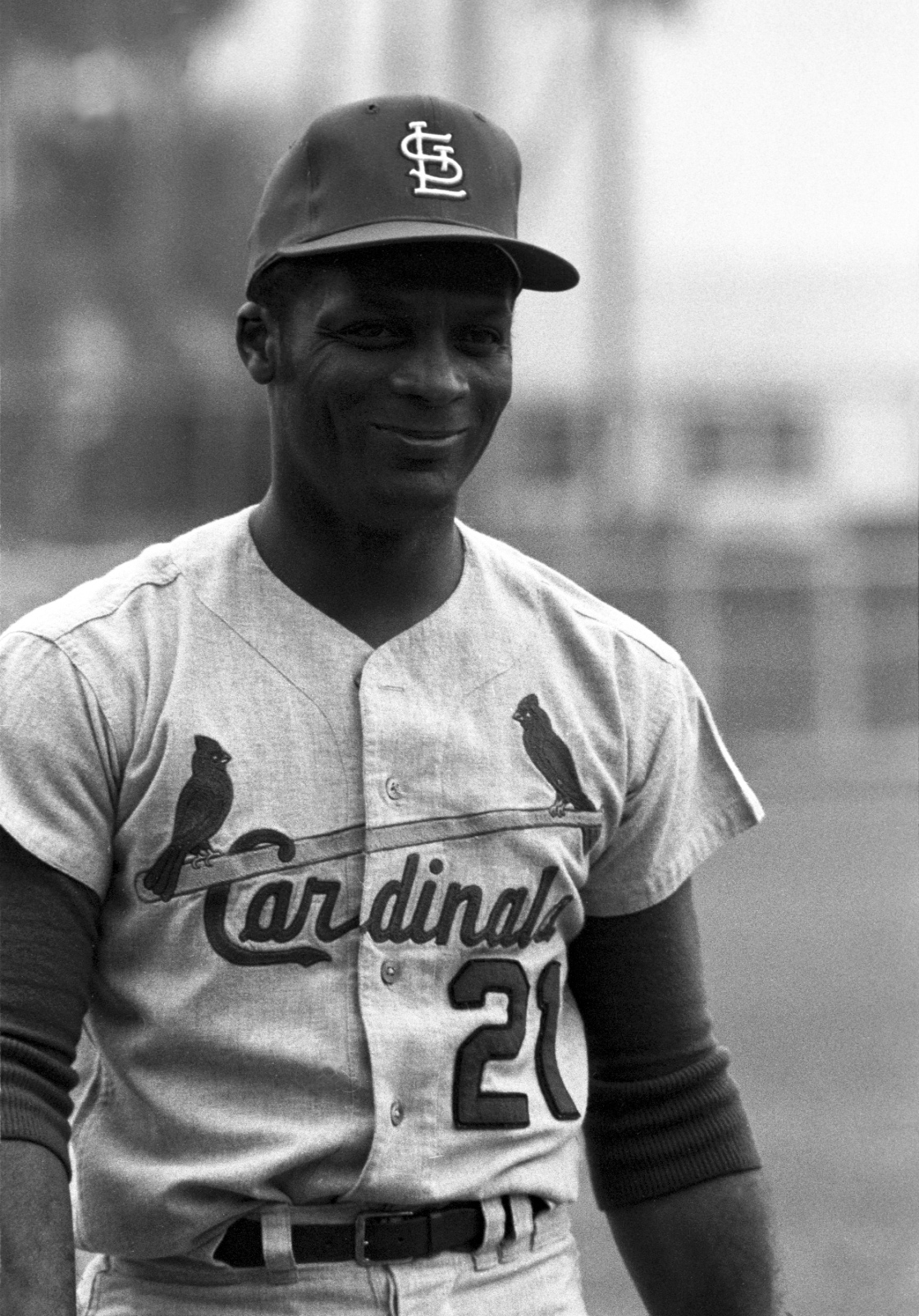 Curt Flood
Full Name: Curtis Charles Flood
Born: January 18, 1938
Died: January 20, 1997 (age 59)
Missouri Hometown: St. Louis
Region of Missouri: St. Louis
Categories: African Americans, Athletes, Leaders and Activists
Curt Flood spent most of his baseball career with the St. Louis Cardinals, playing center field for them from 1958 to 1969. A three-time All-Star and seven-time Gold Glove winner, he played on three National League championship teams, two of which also won World Series titles. Flood is best remembered, however, for his 1970 lawsuit challenging Major League Baseball's reserve clause. Although he lost his case before the US Supreme Court, Flood paved the way for player free agency, which radically changed baseball and other professional sports.
Early Years and Education
Born on January 18, 1938, in Houston, Texas, Curt Flood grew up in Oakland, California, as the youngest of Herman and Laura Flood's six children. Far from wealthy, his parents worked long hours in low-paying jobs to keep the family out of poverty, and they supported Flood when he showed early talent for both athletics and art. When he was not in school or playing baseball, Flood often spent time at home with his family drawing, making art, and playing music. His junior high school art teacher and his high school baseball coach became important mentors, and continued to inspire him long after he had left Oakland.
From the Minor Leagues to the Majors
Flood signed his first baseball contract with the Cincinnati Reds at age seventeen and reported in 1956 for spring training at Tampa, Florida, deep in the Jim Crow South. Expecting a room in the Reds' fancy hotel, he was instead hurried out a side door and driven to a boardinghouse in the city's African American community, where the team's black players were forced to live in segregated housing. Other painful experiences with racism awaited him during his minor-league seasons in North Carolina and Georgia. He faced hostile crowds even at his home ballparks and was not allowed into restaurants or gas station restrooms when the team bus stopped during road trips. Despite this, Flood showed he was a good player, earning late-season call-ups to Cincinnati in 1956 and 1957 to play in his first few major-league games.
After the 1957 season, the Reds traded Flood to St. Louis. Although he was upset by the unexpected trade, he went to spring training the following season with the Cardinals, a struggling team that had not won a pennant since 1946. Among the reasons for the team's decline was that it had been slow to begin signing African American players. Jackie Robinson had broken baseball's color line in 1947, but the Cardinals did not field their first black player until 1954, and still did not have an exceptional black player by the time Flood arrived in 1958. Meanwhile, teams with black stars—the Dodgers with Robinson and Roy Campanella, the Giants with Willie Mays, and the Braves with Hank Aaron—had won every National League pennant since 1951. In earning a spot on St. Louis's major-league roster, Flood, joined a year later by pitcher Bob Gibson and first baseman Bill White, would be among the first African Americans to succeed with the Cardinals.
Over the next few seasons the team got better, and Flood established himself in center field. In 1964 the Cardinals, sparked by a midseason trade for another talented black outfielder, Lou Brock, finally returned to the top of the National League standings. After winning a dramatic pennant race by erasing the Philadelphia Phillies' six-and-a-half-game lead with just twelve games left to play, the Cardinals went on to defeat the New York Yankees in the World Series. They reached the World Series again in 1967, beating the Boston Red Sox, and 1968, falling to the Detroit Tigers.
Flood was at his peak as a player in these years. Listed at just five feet, nine inches tall and 165 pounds, he did not hit many home runs, but he regularly batted over .300 and became known as perhaps the best defensive center fielder in baseball. Other Cardinals credited him with being a model teammate, and he was named a team co-captain starting in 1966. Flood, they said, was one of the Cardinals who did the most to ensure that the team's players, whether white, African American, or Latino, got along well together. Their closeness may have helped them finish ahead of other teams that did not have the same kind of unity within their clubhouses.
Flood's civic conscience grew alongside his career during the political and social unrest of the stormy 1960s. With other black athletes, he spoke at an NAACP civil rights conference in Mississippi in 1962. He fought a personal battle against racism two years later when he and his wife, Beverly, met opposition in integrating a northern California suburb, Alamo, where the Floods wanted to live in the off-season.
The decade's winds of change swept even into the slow-moving culture of professional baseball. While the sport thrived, the typical player's salary was not keeping pace with team owners' profits. Seeking a stronger leader for their union, the Major League Baseball Players Association, the players hired Marvin Miller, a lawyer with years of experience leading the United Steelworkers in labor disputes, in 1966. Under Miller's guidance, the players' union began to win more of its battles with team owners, but conflict grew between the two sides.
The Break-Up of a Championship Team
By 1968, Flood and the Cardinals were on top of the baseball world. Defending their 1967 championship, they cruised to a second straight pennant, and then won three of the first four games in the 1968 World Series to stand one victory away from repeating as champions. But Detroit rallied in the next two games to tie the series, forcing a winner-take-all Game Seven. The seventh game reached the seventh inning with the two teams locked in a scoreless pitcher's duel when Flood uncharacteristically misplayed a ball in center field. It proved to be one of the costliest mistakes in the Cardinals' history, allowing the deciding runs to score in a 4–1 Tigers win.
Hopes of bouncing back in 1969 fell flat as St. Louis flopped to a fourth-place finish. Flood blamed the Cardinals' owner, August "Gussie" Busch, for getting the season off to a bad start by making an angry speech to his players at the beginning of spring training. Busch's fury had been brought on by demands from the players and their union for better pay and other changes. The strong-willed beer executive, who had insisted that the Cardinals become racially integrated after his company, Anheuser-Busch, bought the team in 1953, held less sympathy for labor issues concerning his players. His team was the highest-paid in baseball, and he resented the salary demands of several Cardinals, including Flood, whose $90,000 salary was second on the roster only to superstar Bob Gibson's.
Flood had a solid season in 1969, winning his seventh Gold Glove, but at thirty-one he had reached an age when many players' physical abilities soon start to fade. Off the field, he was burdened by growing problems in his private life. He was now divorced from Beverly, and in following his love for art, Flood had started an off-season portrait painting business and a photography studio that were both losing money. One of his biographers later offered evidence that the portrait business was a fraud—paintings that Flood claimed to have made himself may actually have been the work of another artist.
His troubles grew after the 1969 season when, having worn out his welcome with Busch, he was traded along with three other Cardinals to the Philadelphia Phillies. Flood had been traded once before, but he had changed in the twelve years since he first came to St. Louis. He had put down roots in the city, and his growing social conscience would not let him accept being forced to leave it for a place he had not chosen. This time he would not go quietly. Rejecting the trade, Flood instead approached Marvin Miller and the players' union, which agreed to support him in a lawsuit against Major League Baseball.
In Flood, the player's union found what it had been looking for: someone willing to challenge baseball's reserve clause in court. A standard part of every player's contract, the clause allowed each owner to reserve players for his own team, and then to renew their contracts for another season each time the current contracts expired. A player therefore could never bargain with other teams: he accepted his owner's offer, or no offer at all. The reserve clause was a special exemption from antitrust law. The owners had won it in a 1922 case in which the US Supreme Court upheld their argument that tight control over the movement of players was necessary to prevent the wealthiest teams from outbidding everyone else for the best players. Later court challenges had exposed weaknesses in that argument, but the reserve clause remained in place.
Flood's lawsuit, filed on January 16, 1970, contended that baseball's reserve clause violated the US Constitution by putting unfair restraints on his freedom to choose his own employer. Flood controversially compared his situation to slavery, arguing that like a slave, he was not free to choose where or for whom he would work. His comments caused a backlash among many baseball fans and sportswriters whose idea of a slave did not include someone making $90,000 a year to play baseball. But supporters saw the case as an extension of battles fought by the civil rights movement.
Lower federal courts ruled against Flood in 1970 and 1971, but his attorneys continued to appeal the case. Meanwhile, he sat out the 1970 season. With no baseball salary and his other businesses failing, Flood was going broke. His contract rights were traded by the Phillies to the Washington Senators, and Flood, in need of money, signed to play for the Senators in 1971. But his return to the field was a disaster: his skills had rusted, and after playing in just thirteen games, Flood quit the team, ending his major-league career.
In 1972 the Supreme Court heard Flood's case, but its June 19 decision upheld the lower court rulings. Yet the majority opinion in Flood v. Kuhn (named for Bowie Kuhn, baseball's commissioner) rested merely on reluctance to overturn previous court decisions. The Supreme Court justices all but invited the US Congress to make new laws to settle the growing conflicts between players and owners over the reserve clause and other issues, which had led to a players' strike that delayed the start of the 1972 season. To prevent any such laws from being made, the owners were forced to accept independent arbitration—decisions made by someone who represented neither the owners nor the players—in settling contract disputes. In 1973 the two sides also agreed to a compromise, later known as the "Curt Flood Rule," which protected players who had been with their current team for at least five years and in the major leagues for at least ten from being traded without their consent.
The final blow to the reserve clause came in 1975 when an independent arbitrator ruled in favor of two players who had again challenged it. A federal appeals court upheld the ruling, and in 1976 Andy Messersmith became baseball's first free agent, able to sign a contract with any team that wanted him to play for them. Baseball players had won a basic freedom held by workers in other professions: the right to choose where they would work.
Despite fears that free agency would harm the sport, Major League Baseball remained broadly competitive in the years that followed, with twelve different teams winning the World Series in the fifteen seasons from 1976 to 1990. Attendance at games increased and broadcasting revenues expanded, more than covering the rising cost of player salaries, which grew nearly twenty-five times larger over the first twenty years of the free agency era.
For Flood, who did not personally share in these gains, the victory came at a price. Cut loose from baseball, he struggled to make a living and became addicted to alcohol. Yet after a lost decade in the 1970s, Flood steadied himself, undergoing treatment for alcoholism, remarrying, and finding work promoting youth baseball in his hometown of Oakland.
By his death on January 20, 1997, Flood had lived long enough to begin receiving tributes that had been slow in coming. "Too late to benefit him," wrote columnist George Will in 1993, "his cause prevailed. The national pastime is clearly better because of that. But more important, so is the nation, because it has learned one more valuable lesson about the foolishness of fearing freedom." Although he is not in the National Baseball Hall of Fame, Flood was inducted into the Missouri Sports Hall of Fame in 2013 and the St. Louis Cardinals Hall of Fame in 2015.
Text and research by John Brenner
References and Resources
For more information about Curt Flood's life and career, see the following resources:
Society Resources
The following is a selected list of books, articles, and manuscripts about Curt Flood in the research centers of The State Historical Society of Missouri. The Society's call numbers follow the citations in brackets.
"Baseball's Task Clear: Modify Reserve Clause." St. Louis Post-Dispatch. June 20, 1972. p. 1C. [Reel # 43386]
Burnes, Robert L. "Supreme Court Action Puzzling." St. Louis Globe-Democrat. June 21, 1972. p. 2D. [Reel # 40692]
Eisenbath, Mike. "An Artist: Flood Brought Range of Talent to Game, and Life." St. Louis Post-Dispatch. January 26, 1997. p. 12F. [Reel # 44280]
"Flood Files Antitrust Suit." St. Louis Post-Dispatch. January 16, 1970. pp. 1C, 4C. [Reel # 43328]
Goold, Derrick. "A Huge Price." St. Louis Post-Dispatch. December 22, 2006. pp. D1, D3.
Gross, Nell. "The Rembrandt of Baseball." St. Louis Globe-Democrat. March 31, 1968. Sunday Magazine, pp. 4-7. [Reel # 40587]
Herman, Jack. "Bing Grabs Broom, Starts to Clean House." St. Louis Globe-Democrat. October 9, 1969.   pp. 1E, 4E. [Reel # 40628]
Herman, Jack. "Fans Praise, Blast Flood for Lawsuit." St. Louis Globe-Democrat. January 24-25, 1970. pp. 1E, 3E. [Reel # 40639]
Hummel, Rick. "Cardinals Recall Flood Excelling On, Off the Field." St. Louis Post-Dispatch. January 21, 1997. pp. 1C, 5C. [Reel # 44279]
O'Neill, Dan. "Court of Appeal: Flood, the Pro, Shouldn't Be Lost in Deluge of Anti-Memories." St. Louis Post-Dispatch. January 24, 1997. p. 3D. [Reel # 44280]
Timmermann, Tom. "'Curt's 9th Inning'—Flood's Final Tribute." St. Louis Post-Dispatch. January 28, 1997. pp. 1C, 4C. [Reel # 44280]
Wilks, Ed. "Player Opinion Divided over Flood's Crusade." St. Louis Post-Dispatch. January 27, 1970. p. 3B. [Reel # 43328]
Flood, Curt, with Richard Carter. The Way It Is. New York: Trident Press, 1970. [REF 508.1 F659]
Rains, Rob. The St. Louis Cardinals: The 100th Anniversary History. New York: St. Martin's Press, 1992. [REF H235.131 R136]
Outside Resources
These links, which open in another window, will take you outside the Society's website. The Society is not responsible for the content of the following websites: