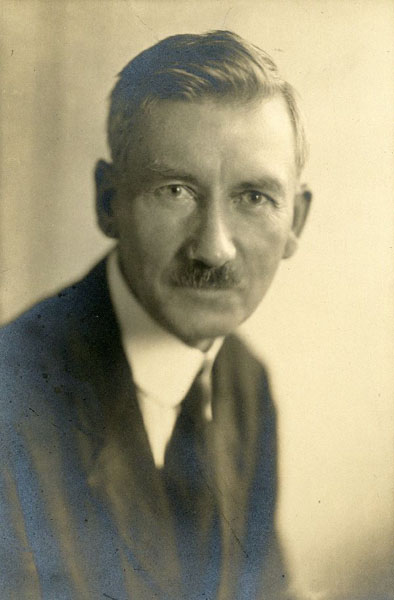 Curtis F. Marbut
Full Name: Curtis Fletcher Marbut
Born: July 19, 1863
Died: August 25, 1935 (age 72)
Missouri Hometown: Cassville
Region of Missouri: Central
Categories: Educators, Scientists

Introduction
Dr. Curtis Fletcher Marbut was a university professor and a pioneer in modern soil science. His work contributed to advancements in soil classification, agriculture, and geography.
Curtis Fletcher Marbut was born on July 19, 1863, near Verona, Lawrence County, Missouri, to Nathaniel Marbut and Jane Browning Marbut. He was the couple's third child, but the first to survive to adulthood. Curtis's father was a farmer.
Curtis grew up on his family's farm in Barry County, Missouri. He later said that he learned to "plow and sow, to reap and to mow, and to be a farmer's boy."
Although he worked on the farm, his parents expected Curtis to attend school every day. Curtis's mother, Jane, encouraged his love of learning. He later said of her, "I owe more to her steady guidance in times of hesitation and doubt than to any other single influence."
As a child, Curtis was curious about the world. He often asked his grandmother if he could look at her sugar bowl decorated with illustrations of life in China. Curtis told his siblings that one day he would visit China and see the weeping willows there.
After finishing school, Marbut attended Professor Noah Lee Maiden's Collegiate Institute in Cassville, Missouri. Maiden encouraged his students to explore the surrounding countryside and then tell him about the rocks and geological features they discovered to encourage their interest in the natural world.
At age seventeen, Marbut began to teach school for $150 per semester. He planned to attend Drury College in Springfield, but after looking at a University of Missouri course catalog, he changed his mind. Once he saved enough money, Marbut enrolled at the University of Missouri. He later admitted that he was "still a raw, uncouth country boy" when he arrived.
One of his classmates later recalled that Marbut's acquaintances believed "he'd never amount to anything as he was too thick-headed. He had to stay in his room and study all the time." Marbut persevered and graduated with a bachelor's degree in geology.
After graduation, Marbut was appointed to the Missouri State Geological Survey as a field geologist. On December 17, 1891, he married Florence L. Martin, a childhood friend. They had five children: Louise, Thomas, William, Helen, and Frederick.
In 1893 Marbut enrolled at Harvard University. He completed his master's degree in geology and began work on a Ph.D. but did not complete it. He later received an honorary doctorate in 1916 from the University of Missouri.
In 1895 Marbut became an instructor of geology and mineralogy at the University of Missouri. It was during this time that he published his first paper, "Physical Features of Missouri," which analyzed the physical geography of his home state. This was followed by an article, "The Geographic Development of Crowley's Ridge, Missouri-Arkansas."
Within a few years of joining the faculty at Missouri, Marbut was promoted to full professorship. In addition to his duties as a professor, Marbut served as the director of the Soil Survey of Missouri.
In 1909 Marbut's life changed when his wife Florence unexpectedly died of double pneumonia. He took a leave of absence from the university and joined the Bureau of Soils, United States Department of Agriculture (USDA) as a soil scientist. He would spend the rest of his life conducting fieldwork, delivering guest lectures, serving on committees, and attending conferences all over the world.
During his time with the Bureau of Soils, Marbut began to study the work of foreign soil scientists. The work of Russian soil scientist K.D. Glinka inspired Marbut to pursue new methods of conducting field work. He experimented with a Russian soil sampling device that allowed the user to retrieve layers of soil in a single column. This way a researcher could study a range of geological, physical, and biological changes over a period of time.
After reading Glinka's work, Marbut realized that Russian soil science was far more advanced and decided to translate the Russian scientist's work into English. Marbut's translation brought new methods of soil study to the United States and helped American scientists stay up-to-date with international developments in the field of soil science.
Marbut did not limit himself to studying the work of other scientists. Over the next few decades, he conducted field work across the Great Plains, Central and South America, and Canada. Marbut published his findings in scientific journals and government reports. Perhaps his most important contribution to soil science was the development of the Great Soil Groups Map of the United States.
Marbut's efforts to advance the field of soil science did not go unnoticed. The American Geographical Society awarded him the Cullum Medal in 1935 "for services of a special distinction in the field of exploration and geographic research." It was thought more than half of the agricultural land in the United States had been surveyed during Marbut's time as head of the Bureau of Soils by the time he received the award.
In 1935 Marbut accepted an offer to assist the Soils Division of the National Geological Survey of China. Tragically, he contracted a severe cold on the train ride through Russia and Siberia. On August 25, 1935, Marbut died from pneumonia in Harbin, China, having been in the country for only a few days. He was buried in Oak Hill Cemetery in Cassville, Missouri.
Throughout his life, Marbut sought to advance man's understanding of the natural world. His work in the classroom helped foster appreciation for and interest in soil studies and soil geography. Marbut's personal field work contributed new information about the natural landscape to science and geography. His tenure as head of the Bureau of Soils contributed to advancements in a variety of disciplines and to the mapping of much of the agricultural land in the United States. Shortly after his death, Fortune magazine heralded Marbut as "the world authority on soil classification and a man whose services to his country must rank among the greatest in our time."
Text and research by Kimberly Harper
References and Resources
For more information about Curtis Marbut's life and career, see the following resources:
Society Resources
The following is a selected list of books, articles, and manuscripts about Curtis Marbut in the research centers of The State Historical Society of Missouri. The Society's call numbers follow the citations in brackets.
"100th Anniversary of the Birth of the Famous Soil Specialist." Carthage Evening Press. August 23, 1963. [Reel # 5339]
"Member of Bureau of Soils, Department of Agriculture." Columbia Missourian. March 2, 1927. p. 2 [Reel # 7602]
"Member of Geology Department – University of Missouri, accepts position with U.S. Bureau of Soils." Columbia University Missourian. May 16, 1910. p. 1 [Reel # 8816]
"Noted Scientist Passes Away While Doing Soil Research Work in China." Cassville Republican. August 29, 1935. [Reel # 5794]
Brasfield, James F., ed. Soil Survey Horizons. Madison, WI: North Central Soil Survey, Newsletter Publication Committee. v. 26, no. 1 (Spring 1985), pp. 2-40. [REF F508.1 M329so v.26, no.1, Spring 1985]
Christensen, Lawrence O., William E. Foley, Gary R. Kremer, and Kenneth H. Winn, eds. Dictionary of Missouri Biography. Columbia: University of Missouri Press, 1999. p. 518. [REF F508 D561]
Krusekopf, Henry H. Life and Work of C.F. Marbut: Soil Scientist, Professor of Geology, 1895-1910, University of Missouri, Soil Scientist, 1910-1935, U.S.D.A. Bureau of Chemistry and Soils. Columbia, MO, 1942. [F508.1 M329]
Marbut, Curtis F. Soil Reconnaissance of the Ozark Region of Missouri and Arkansas. Washington, D.C.: Govt. Print. Office, 1911. [REF F548 M329s]
Marbut, Curtis F. The Evolution of the Northern Part of the Lowlands of South-Eastern Missouri. Columbia: University of Missouri, 1902. [REF UMC 378.778 M14 v.1, no.3 (1902)]
Marbut, Curtis F. The Physical Features of Missouri. Jefferson City, MO: Tribune Printing Company, 1896. [REF F548 M329p]
Morrow, Lynn. "An Ozarks Landmark: The Curtis Fletcher Marbut House." White River Valley Historical Quarterly. v. 7, no. 9 (Fall 1981), pp. 6-9. [REF Vertical File]
Curtis Fletcher Marbut Papers (C3720)
The personal and professional papers of Curtis F. Marbut, a geology professor at the University of Missouri, 1895-1910, and soil scientist for the U.S. Department of Agriculture, 1910-1935, include correspondence, estate and financial records, photographs, publications, manuscripts, and maps.
Marbut, Curtis F. A Sketch Map of Missouri: Shaded to Show Areas of Lead, Zinc, and Coal Lands. The Missouri Commission

Louisiana Purchase

Exposition, St. Louis, 1904. New York: Julius Bien & Co., Lith., 1904. [MAP 850 M329s 1904]
Outside Resources
These links, which open in another window, will take you outside the Society's website. The Society is not responsible for the content of the following websites:
Curtis F. Marbut Collection (M014)
This collection is held by the Special Collections and Archives at Missouri State University. The collection contains personal and professional papers of Curtis F. Marbut, including memorabilia, photographs, personal correspondence, lectures, and financial receipts.