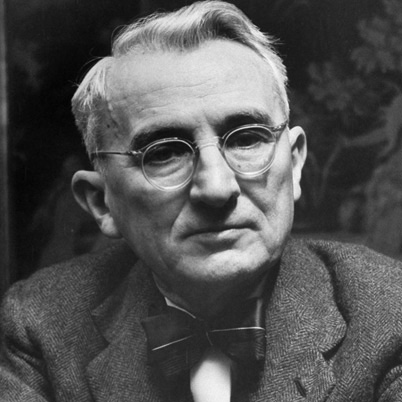 Dale Carnegie
Born: November 24, 1888
Died: November 1, 1955 (age 66)
Missouri Counties: Johnson, Nodaway
Region of Missouri: Northwest
Category: Writers
Dale Carnegie was a best-selling author who became a pioneer in the field of self-improvement.
Born Dale Carnagey on November 24, 1888, in Maryville, Missouri, he grew up on his family's farm outside of town. He enjoyed public speaking events and participated on the high school debate team. When Carnegie was sixteen, his family moved to a farm outside of Warrensburg, Missouri.
He enrolled at the local college, Missouri State Normal School (now the University of Central Missouri). An ambitious student, Carnegie was not athletically gifted, but realized "that I could at least stand up and speak with a little more vitality and enthusiasm than the average speaker." He joined the school's debate team but was initially unsuccessful. The son of a poor farmer, Carnegie was shunned by fellow students because of his shabby, ill-fitting clothes.
After watching a Chautauqua speaker give a lecture in Warrensburg, Carnegie adopted the man's speaking style and mannerisms with great success. He became a popular student and gave public speaking lessons to his fellow students. But when he failed Latin, Carnegie left college in 1908 without finishing his bachelor's degree.
Carnegie worked a series of jobs as a salesman, but quit to attend the American Academy of Dramatic Arts in New York City in 1911. He had a brief stint as an actor before realizing he could use his speaking skills to launch a new career. He began teaching public speaking classes at a YMCA in New York City. Carnegie's classes were very popular, leading him to establish public speaking classes at YMCAs in other major cities.
In 1915 he and J. Berg Esenwein wrote The Art of Public Speaking. The following year, after speaking to a sold-out crowd at Carnegie Hall in New York City, he changed the spelling of his name to "Carnegie" after the famous businessman and philanthropist Andrew Carnegie, who had donated the funds to build Carnegie Hall.
During World War I, Carnegie served in the U.S. Army. After he was discharged from the military he continued his speaking career. While on a lecture tour in London, Carnegie visited the city's famed Speaker's Corner in Hyde Park where lively orators voice their opinions and speak on a wide variety of topics. After Carnegie observed that the most enthusiastic speakers drew the largest audiences, he made enthusiasm an integral part of his professional philosophy and incorporated it into his popular "Dale Carnegie Course." Numerous corporations, including General Motors and IBM, sent employees to take Carnegie courses to help them become more confident, successful individuals.
While in Europe, Carnegie met and married Lolita Baucaire in 1921. The childless marriage was an unhappy one and the couple divorced in 1931.
In the midst of the Great Depression Carnegie published How to Win Friends and Influence People. It was an instant success and remained on the best-seller lists for a decade. The book's popularity made Carnegie an internationally known author and financial success.
The message of the book was simple: be considerate, show sincere interest in others, be a good listener, consider other points of view, cooperate with others, be positive, and avoid criticizing others. Carnegie used examples of famous, successful people to illustrate his points. Following up on his success, Carnegie wrote an additional best-seller, How to Stop Worrying and Start Living, first published in 1948.
On November 5, 1944, Carnegie married Dorothy Vanderpool, his former secretary. In 1951 the couple's only child, Donna Dale Carnegie, was born.
In light of his achievements, Carnegie was honored by his alma mater and the state of Missouri. In 1955 Central Missouri State College (now the University of Central Missouri) gave Carnegie an honorary doctorate. In 2006, a bust of Dale Carnegie was installed in the Hall of Famous Missourians in the Missouri State Capitol in Jefferson City.
Dale Carnegie died of Hodgkin's disease and kidney failure on November 1, 1955, in Forest Hills, New York. He is buried in Belton Cemetery in Belton, Missouri.
Text and research by Kimberly Harper
References and Resources
For more information about Dale Carnegie's life and career, see the following resources:
Society Resources
The following is a selected list of books, articles, and manuscripts about Dale Carnegie in the research centers of The State Historical Society of Missouri. The Society's call numbers follow the citations in brackets.
"Dale Carnegie Dies After Short Illness." Maryville Daily Forum. November 1, 1955. p. 1. [Reel # 28632]
Carnegie, Dale. How to Win Friends and Influence People. New York: Simon and Schuster, 1937. [REF 158.1 C215]
Carnegie, Dale. How to Stop Worrying and Start Living. New York: Simon and Schuster, 1948. [REF 131.33 C215]
Carnegie, Dale. Little Known Facts about Well Known People. New York: Greenberg, 1934. [REF 920 C215]
Christensen, Lawrence O., William E. Foley, Gary R. Kremer, and Kenneth H. Winn, eds. Dictionary of Missouri Biography. Columbia: University of Missouri Press, 1999.  pp. 150-152. [REF F508 D561]
Watts, Steven. Self-Help Messiah: Dale Carnegie and Success in Modern America. New York: Other Press, 2013. [REF F508.1 C215]
Young Men's Christian Associations. Public Speaking: The Standard Course of the United Y.M.C.A. Schools. New York: Association Press, 1920. [REF I C215p]
Croy, Homer (1883-1965), Papers, 1905-1965 (C2534)
Homer Croy, a Missouri native, was the author of numerous books, short stories, plays, and articles. The collection contains research and manuscripts for published and unpublished work, business and personal correspondence, financial records, contracts, photographs, and scrapbooks. Folders 621, 624, 642, 650-652, 661, 664, 667, and 670 contain references to Croy's friend Dale Carnegie.