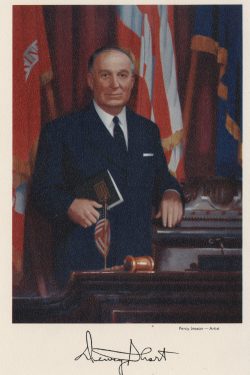 Dewey Short
Full Name: Dewey Jackson Short
Born: April 7, 1898
Died: November 19, 1979
Missouri Hometown: Galena
Regions of Missouri: Southwest
Categories: Politicians
Introduction
Dewey Jackson Short, the famed "Orator of the Ozarks," was a church minister and a politician who served twelve terms as a US congressman from Missouri. He was also an assistant secretary of the army under President Dwight D. Eisenhower. During his time in Congress, Short, a Republican, was best known for supporting the construction of Table Rock Dam in the Missouri Ozarks, and for arguing against government programs sponsored by Democrats such as President Franklin D. Roosevelt.
Early Years and Education
Dewey Jackson Short was born on April 7, 1898, in Galena, Missouri, to Jackson Grant Short and Permelia Cordelia Long. He was the seventh of ten children born to the couple in their small town in Stone County in the southwestern part of the state. Short attended public schools and graduated from Galena High School at the age of seventeen. While a teenager, he worked to pay for his dreams of attending college, driving a team of donkeys and hauling ice from the James River for the People's Ice Company. With the money he earned, he was able to go to college and earn degrees He then went to graduate school and earned a master's degree in theology at Boston University.
World Travels, Politics, and Religion
Short's interest in politics started with watching his father participate in local political matters. By the time Dewey had turned fifteen, his father realized he was a gifted public speaker and often sent him to nearby towns to give speeches on behalf of Republican candidates. People began coming from all over the Ozarks to hear the young man from Galena speak.
Although he was attracted to politics, Short also considered becoming a pastor.  Following his service in the US Army during World War I, he set his sights on traveling to England, Scotland, Germany, India, and Egypt to become more well-rounded and to discover whether his true calling was politics or religion.
From 1923 to 1928, Short explored religion, education, and politics. In 1923, he accepted a job as a professor teaching Philosophy and Psychology at Southwestern College in Winfield, Kansas. He held this job until 1927 when he became pastor at Grace Methodist Church in Springfield, Missouri. He found that all three paths gave him the chance to practice his speaking skills; but in the end, he chose to follow a career in politics. Upon returning home to Galena, Dewey announced he was running as a Republican in the 1928 election for the Missouri Fourteenth District's seat in the US House of Representatives.
US Representative from Missouri
Though he had never held public office before, the young and already well-known orator did not have any problems attracting big crowds to hear his campaign speeches. Invitations to speak at dinners, churches, and commencements kept Short busy, but also gave him the opportunity to gain new supporters after every event. Dewey Short was elected to Congress on November 6, 1928, carrying eleven of the sixteen counties in the Fourteenth District over incumbent James Fulbright. The Orator of the Ozarks was on his way to the national stage in Washington, DC.
"I am not going to mistake mere change for progress."
When Dewey Short took office in March of 1929, there was a Republican president and Republican majorities in both the House and the Senate. That changed, however, after the Great Depression struck later in the year and began putting many people out of work. Democrats soon gained the upper hand in the House and the Senate, and President Herbert Hoover lost the White House to Democrat Franklin Delano Roosevelt in 1932. Dewey Short was among the Republicans who were not reelected during the 1930 election cycle.
For the next four years, Short stayed involved in public life. He was a delegate to the Republican National Convention in 1932 and ran an unsuccessful campaign for a seat in the US Senate in that same year. He was able to return to public office when he was elected to Congress again in 1934, this time as the representative of Missouri's Seventh District. He would be reelected ten more times, remaining in office until 1957. While in office, he married Helen Hughes in 1937 and remained wedded to her until his death. The couple had no children.
Short famously voted "No" on all New Deal legislation except for Social Security, which he decided to support because, as he said, "we need to take care of our old folks." The New Deal was the name given to the government programs that President Roosevelt and Democrats in Congress wanted to pass to help the American economy recover from the Great Depression. Many of these programs were aimed at putting people back to work, making it harder for banks to fail, and building new public works such as airports, bridges, dams, roads, and schools. Short argued against these programs because of their expense and the ways they would expand the role of government.
Short's dedication to the issue of flood control, disaster prevention, and recovery led him to push for a major water project in Missouri: a dam on the White River. The White River flows north from Arkansas through southwest Missouri and back into Arkansas before draining into the Mississippi River. Short achieved his goal when Congress passed the Flood Control Act of 1941, which authorized the funding and building of Table Rock Dam. But just three and a half months later, Pearl Harbor was attacked by Japan and the United States went to war. Construction on the dam was delayed until the 1950s by US involvement in World War II and then the Korean War.
The US Army Corps of Engineers finally began building the dam eight miles southwest of Branson, Missouri, in 1954. Its construction took four years and cost $65 million by the time it was completed in August of 1958. The dam created Table Rock Lake, which stretches across three Missouri counties as well as into Arkansas and covers more than 43,000 acres.
Built for flood control, the dam also created hydroelectric power that supplied electricity to many people in the surrounding region. The lake attracted tourists who spent money at local businesses for recreation such as boating and fishing. A fish hatchery was established at the base of the dam to support wildlife conservation. But there were some who did not want the dam. Many area farmers protested, but they were not able to stop the dam from being built. The federal government paid them for their land, but their farms were seized and ended up under Table Rock Lake after the dam was built.
Assistant Secretary for Civil-Military Affairs, 1957–1961
Short ran for the Missouri Seventh District's seat in Congress for the twelfth time in 1956, but this time he lost the election to Charles H. Brown, a Democrat from Springfield. Following his loss, he was appointed by President Dwight D. Eisenhower to be the assistant secretary of the army for civil-military affairs. Short at first had doubts about accepting the position.  He had spent his career in Congress fighting against mandatory military training. Also, until Pearl Harbor was bombed, Short had made it clear that he did not believe America should enter another world war and even joined the Committee to Keep America Out of War.
But deciding he did not want to turn down President Eisenhower, Short accepted the appointment. In his new position he drew upon his experience on the House Military Affairs Committee to serve the army as a civilian official. Short traveled around the world and the United States inspecting military bases, meeting with military leaders, and speaking to citizens, servicemen, and public officials.
Dewey Short retired from public office in 1961 when his job as assistant secretary of the army ended. He spent the rest of his life with his wife, Helen, in their home in Washington, DC. He died of a heart attack on November 19, 1979, and was buried in Galena. The "Orator of the Ozarks" is remembered today for his "silver tongued" public speaking and the completed Table Rock Dam. Since 2012 the US Army Corps of Engineers, which oversees the dam, has operated the Dewey Short Visitor Center in memory of a man whose impact on Missouri and Missourians is still felt today.
Text and research by Hali Allen
References and Resources
For more information about Dewey Short's life and career, see the following resources:
Society Resources
The following is a selected list of books, articles, and manuscripts about Dewey Short in the research centers of The State Historical Society of Missouri. The Society's call numbers follow the citations in brackets.
Articles from the Newspaper Collection
"Clears Way for Dewey Short." Springfield News-Leader. July 12, 1928. p. 8.
"Dewey Short Assails Proposal to Broaden Powers of President." Pineville Herald. January 25, 1935. p. 2.
"Dewey Short, Orator-Congressman, Dies." Springfield Leader and Press. November 20, 1979. p. 1.
"It's Vote Begging Time in the Ozarks—and Dewey Out-Shouts Them All." Springfield Leader and Press. October 17, 1938. p. 3.
"Nomination of Dewey Short Gets Approval." Moberly Monitor-Index. March 7, 1957. p. 2.
"Rep. Dewey Short—How He Holds Voters in His Ozarks District." St. Louis Star and Times. July 10, 1942. p. 11.
"Short Wins by a Big Majority." Stone County News-Oracle. November 7, 1928. p. 1.
Wiley, Robert S. Dewey Short: Orator of the Ozarks. Cassville, MO: Litho Printers and Bindery, 1985. [REF F508.1 Sh81]
Dewey Short Papers (C4515)
The personal and political papers of a Republican U. S. Representative from Missouri's Seventh Congressional District include education and personal papers, correspondence, campaign materials, speeches, press releases, audiovisual material, photographs, subject files, and committee records.
Outside Resources
These links, which open in another window, will take you outside the Society's website. The Society is not responsible for the content of the following websites: