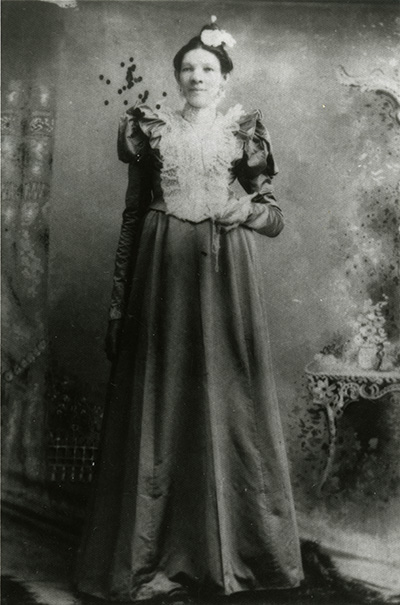 Ella Ewing
Full Name: Ella Kate Ewing
Born: March 9, 1872
Died: January 10, 1913 (age 40)
Missouri Hometown: LaGrange
Region of Missouri: Northeast
Categories: Entertainers, Women
Ella Ewing holds the distinction of being the tallest woman of her generation. She was known for her kind and gentle demeanor. Although people made fun of her unusual size, Ella Ewing used her height to her advantage, making an estimated $30,000 during her lifetime.
Ella Kate Ewing was born in LaGrange, Missouri, on March 9, 1872, the only child of Benjamin and Anna Herring Ewing. Shortly after Ella's birth, the Ewing family moved to a farm in Scotland County, Missouri. At the age of seven, Ella began to grow rapidly, and by age fourteen, she was reportedly six feet, two inches tall. It is believed she suffered from pituitary gigantism, a medical condition caused by the overproduction of growth hormones.
While many in the local community accepted Ella, people from nearby towns often gawked and stared because they had never seen anyone as tall as her. They made fun of her appearance, but Ella ignored them, even though their cruelty hurt her feelings.
In 1890 Ella was asked if she would appear at a Chicago museum for a month. At first her parents were angry and upset at the thought of their daughter being put on public display, but friends reportedly convinced them, "If people were going to gawk—make them pay." Ella agreed to go on exhibit and earned $1,000 for her first appearance.
Ella knew that her parents struggled to make a living, so she chose to continue to exhibit at select events to help them financially. She was always accompanied by family members or a friend when on exhibit. In 1893 Ella exhibited at the Chicago World's Fair, which was attended by more than 27 million people. She was well on her way to becoming known as the "Missouri Giantess."
By age twenty-two Ewing stood eight feet, four inches tall. An everyday dress required twenty-four yards of fabric, an amazing seventy-two feet of material. An elaborate gown Ella wore during exhibitions was made out of eighty yards of cloth, equivalent to 240 feet. She wore a size 24 shoe that required over three pounds of leather to make.
Already well known in the Midwest, Ewing became world famous in 1897 when she joined the Barnum & Bailey Circus on a nationwide tour.  When the circus arrived in St. Louis, Ewing was interviewed by a reporter from the St. Louis Post-Dispatch. When asked what she thought of circus life, Ewing responded, "I am delighted with it and find it quite different from what I expected before I entered it…I have always received the best treatment from all the people in the show, and enjoy traveling about and seeing the country…It was terribly embarrassing to me at first but I have almost gotten used to it now and enjoy the traveling and excitement." At the end of her six-month contract, Ewing received $3,250, much more than the average American made in an entire year.
Ewing used her earnings to make her life at home comfortable. She bought a farm and built a house to her exact specifications. To accommodate her height, the doorways were eight feet, eight inches tall and the windows were six feet tall so that she could look outside without bending down. She purchased custom-made furniture large enough for her, but also had regular furniture for visitors. Ewing installed one of Scotland County's first residential telephones, which she shared with neighbors. She also purchased a farm for her parents within walking distance of her residence.
Ewing enjoyed traveling, but she always returned home for rest and relaxation out of the spotlight. A faithful member of Harmony Grove Baptist Church, Ewing studied the Bible, attended Sunday school, and participated in the local Christian Endeavor Society. She always made time to visit with friends who eagerly listened to her stories about life on the road and the interesting things she saw during her travels.
For the rest of her life, Ewing continued to do tours at county fairs and international exhibitions, including the 1904 Louisiana Purchase Exposition in St. Louis and the Lewis and Clark Centennial Exposition of 1905 in Portland, Oregon.
When her health began to decline, Ewing retired from show business.  After contracting tuberculosis, she died at age forty on January 10, 1913. Ella Ewing is buried in Harmony Grove Cemetery near South Gorin, Missouri. The Ella Ewing Lake Conservation Area in Scotland County, Missouri, is named in her honor.
Text and research by Kimberly Harper
References and Resources
For more information about Ella Ewing's life and career, see the following resources:
Society Resources
The following is a selected list of books, articles, and manuscripts about Ella Ewing in the research centers of The State Historical Society of Missouri. The Society's call numbers follow the citations in brackets.
"Death Notice." Daily Democrat Tribune. January 13, 1913. p. 4. [Reel # 16322]
"A Gentle Prisoner of Anatomy." Columbia Daily Tribune. February 23, 1986. pp. 29-30. [Reel # 8507]
"Giantess, 8′ 4″, Buys Residence at Gorin." Jefferson City State Tribune. September 19, 1899. p. 1. [Reel # 17259]
"Item on Missouri Claiming Tallest Woman and Smallest Couple." Jefferson City Missouri State Tribune. December 19, 1899. p. 2. [Reel # 56114]
"Miss Ella Ewing Dead." Memphis Democrat. January 16, 1913. p. 1. [Reel # 29029]
"Recalling the Story of the Missouri Giantess Ella Ewing." Memphis Democrat. September 13, 1973. pp. 1, 7. [Reel # 29055]
Buford, Joseph L. "Ella Ewing, World's Tallest Woman." Nemoscope. v. 16, no. 3 (Spring 1962), pp. 5-6. [REF 378.778N8 J8 v. 14-23, 1959-1969]
Chasteen, Barbara. Ella K. Ewing, Missouri Giantess: 1872-1913. Memphis, MO: Scotland County Public Library, 1977. [REF F508.1 Ew542]
McEowen, Bob. "A Towering Spirit." Rural Missouri. v. 55, no. 3 (March 2003), pp. 22, 23, 27. [REF  F560 R88]
Outside Resources
These links, which open in another window, will take you outside the Society's website. The Society is not responsible for the content of the following websites:
Downing House Museum
Many items that belonged to Ella Ewing are on display at the Downing House Museum in Memphis, Missouri.
Ella Kate Ewing
This website has information and photographs of Ella Ewing.