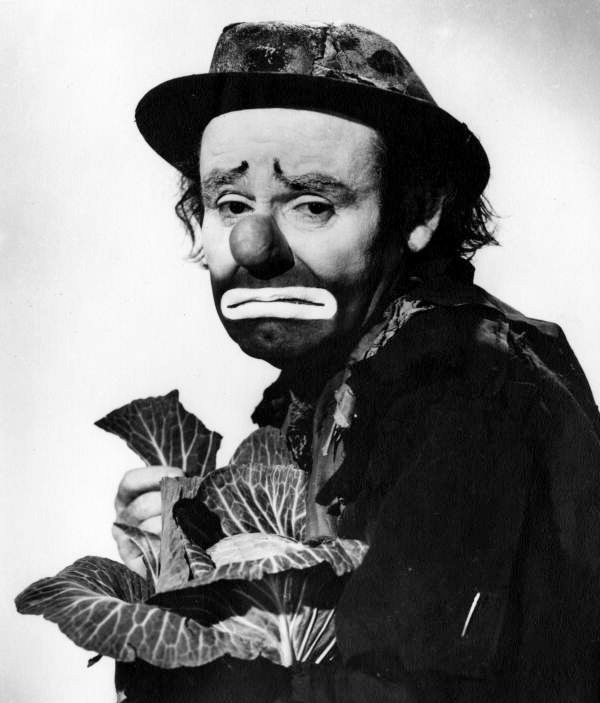 Emmett Kelly
Full Name: Emmett Leo Kelly Sr.
Born: December 9, 1898
Died: March 28, 1979 (age 80)
Missouri Hometowns: Cabool, Houston, Kansas City
Regions of Missouri: Kansas City, Southwest
Category: Entertainers
Emmett Kelly was a clown widely recognized for his hobo character "Weary Willie." While most clowns were known for their funny antics, Kelly's sad clown character became popular during the Great Depression because he connected with the many downtrodden and poor people who struggled during this difficult time.
Emmett Leo Kelly was born on December 9, 1898, in Sedan, Kansas, to Thomas and Molly Kelly. Thomas worked for the Missouri Pacific Railroad. In his autobiography, Emmett wrote, "One of my early recollections, no doubt forecasting my wanderlust, is of being hauled out from under a string of freight cars after I had climbed our fence and run the short distance to the railroad siding."
The family later moved to a farm in Texas County, Missouri, near Houston and Cabool. It was there that Emmett's artistic side emerged. His mother encouraged him by enrolling him in a correspondence course in cartooning. At around the same time he became interested in "chalk talks," a type of performance that involved drawing humorous sketches and caricatures while speaking to an audience.
Kelly left his family's farm in 1917 to move to Kansas City to look for work. He hoped to become a cartoonist at one of the city's newspapers, but they did not need one. Emmett worked a variety of odd jobs while he figured out what to do next. He rolled large milk cans off train cars for the Meridian Creamery Company and painted signs and kewpie dolls.
Kelly soon became interested in carnival and circus work. He worked as a "roustabout" or laborer and also drew caricatures of people before training to become a trapeze performer. During this time, he began working on a sad tramp clown cartoon character that would one day become "Weary Willie."
Years later, Kelly recalled, "at that time I had no idea of making a career out of clowning. I was either a trapeze artist or a cartoon artist, and I did not see myself as a clown at all." On July 23, 1923, Kelly married fellow trapeze artist Eva Moore. The pair performed as a double act called the Aerial Kellys. They had two sons, Emmett Jr. and Thomas.
During the 1920s, Kelly also began performing as a clown, having been told to "start clowning or else" by circus management. He worked on bringing his hobo clown character to life, but it was not a success at first. Kelly kept refining his character to make it better.
Circus life eventually took a toll on his marriage, and the Kellys divorced in 1935. After his divorce, his sadness worked its way into his clown act. Kelly said, "I was determined to make something of myself with this character…Where other clowns were white and neat, I was unshaven and ragged. They were active; I gave the appearance of doing almost nothing, and what I did accomplish was geared to a tempo so relaxed that it would make a snail seem jet-propelled."
During the Great Depression, when many people were poor and struggling, Kelly's "Weary Willie" started gaining popularity with circus audiences. People down on their luck could identify with Willie and were able to laugh about their own unhappy situations. He brought them hope that they could outlast the bad times. One of his most famous routines involved sadly chomping on a cabbage while he watched the rest of the circus from the sidelines.
In 1942 Kelly joined the Ringling Brothers and Barnum and Bailey Circus, known as "The Greatest Show on Earth." He spent the next fourteen years touring with them and becoming the world's most famous clown.
While touring with the circus in 1944, a devastating fire occurred during a show in Hartford, Connecticut. Kelly rushed to help but quickly realized the bucket he had was useless and began helping children get out of the Big Top circus tent. More than 700 people were injured and about 170 people were killed trying to reach safety. While he rarely talked about it, the tragedy stayed with Kelly for the rest of his life and most certainly influenced his Weary Willie character.
Kelly wrote in his autobiography, "I couldn't say that life with the circus is the softest deal in the world, but it has rewarded this country boy and I would far rather live out my life in the 'alley' than in a marble palace."
During the 1950s, Kelly acted in film and television, including playing Weary Willie in the 1952 movie The Greatest Show on Earth. He married again to Elvira Gebhardt on April 20, 1955, and the couple had two daughters, Stasia and Monika.
Kelly continued to work as a clown until his death from a heart attack on March 28, 1979, at his home in Sarasota, Florida. He was buried in Rest Haven Memorial Park in Lafayette, Indiana.
For many years, Houston, Missouri, held an annual Emmett Kelly Clown Festival in his honor, before ending it in 2008. Kelly was inducted into the International Clown Hall of Fame in 1989, the International Circus Hall of Fame in 1994, and the Hall of Famous Missourians at the Missouri State Capitol in 1998. Kelly's son and grandson, Emmett Jr. and Joey Kelly, followed in his footsteps by becoming clowns as well.
Emmett Kelly remains the most famous clown in the world. By mirroring the pain and struggles of his audience, he endeared himself to the American public and transformed circus performing.
Text and research by Elizabeth E. Engel
References and Resources
For more information about George Caleb Bingham's life and career, see the following resources:
Society Resources
The following is a selected list of books, articles, and manuscripts about George Caleb Bingham in the research centers of The State Historical Society of Missouri. The Society's call numbers follow the citations in brackets.
"Born to the Big Top: Son of Famous Clown Keeps Legacy Alive." Houston [MO] Herald. Souvenir Section. May 3, 2001. p. 11. [Reel # 14520]
"Emmett Kelly Expresses His Thanks to Community for Happy Homecoming." Houston Herald.  August 23, 1956. p. 1. [Reel # 14482]
"The Emmett Kelly Story." Houston Herald. August 2, 1956. p. 11. [Reel # 14482]
"Famed Emmett Kelly, King of Clowns, Dies." Columbia Missourian. March 29, 1979. p. 3A, col. 5-6. [Reel # 7810]
"Fire Destroys Businesses in Houston."  Columbia Daily Tribune. April 5, 1999. p. 2A, col. 4. [Reel # 8665]
"Frowning Glory." Columbia Daily Tribune. May 12, 1996. p. 1C. [Reel # 8630]
"Newsmakers." Columbia Missourian. June 21, 1975. p. 2, col. 1-2. [Reel # 7768]
"Reflections on Emmett and Willie." Houston Republican. April 5, 1979. pp. 4-5. [Reel # 14563]
"Sad-Faced Emmet Kelly Too Busy for Homecoming." Columbia Missourian. June 21, 1967. p. 9, col. 1-2. [Reel # 7724]
"So-Long, Emmett." Houston Republican. March 29, 1979. p. 1, col. 5. [Reel # 14563]
"Town Sets Tribute to Emmett Kelly." Blue Springs Examiner. May 5, 1990. p. 13, col. 4-5. [Reel # 54141]
"Willie Loses Spotlight to Emmett Kelly." Houston Herald. August 16, 1956. p. 1. [Reel # 14482]
American National Biography. New York: Oxford University Press. 1999–2002. pp. 516-517.  [REF 920 AM37 v. 12]
Brockgeiters, Mary O. "Missouri's Clown—Emmett Kelly." Missouri Magazine. Spring 1992. v. 18, no. 2. pp. 32-38]
Christensen, Lawrence O., William E. Foley, Gary R. Kremer, and Kenneth H. Winn, eds. Dictionary of Missouri Biography. Columbia: University of Missouri Press, 1999. p. 452. [REF F508 D561]
Culhane, John. "Unforgettable Emmett Kelly." Readers Digest. December 1979. pp. 134-138. [REF Vertical File]
Durant, John, and Alice Durant. Pictorial History of the American Circus. New York: A.S. Barnes and Company, 1957. [REF 791.3 D932]
Goodrich, James W., and Lynn Wolf Gentzler. Marking Missouri History. Columbia: State Historical Society of Missouri, 1998. p. 251. [F550 M691M 1998]
Kennon, Leslie G. "Emmett Kelly: Famous Circus Clown Comes Home." Missouri News Magazine. Jefferson City, MO: Missouri Division of Resources and Development, October 1956. pp. 14-17. [REF M338 M691 v1 1956]
Smith, Sharon L., and Stephen J. Fletcher. Life in a Three Ring Circus. [Indianapolis]: Indiana Historical Society, 2001. pp. 63-64. [REF 791.3 Sm65]
Texas County Heritage. Texas County Missouri Genealogical and Historical Society, 1992. pp. 305-307. [REF F707 T312 V3]
Quackenbush, Robert. The Man on the Flying Trapeze: The Circus Life of Emmett Kelly, Sr. Told with Pictures and Song. Philadelphia, PA: J.B. Lippincott Company, 1975.  [REF IJ Q21m]
Wood, Larry. "Weary Willie: The Story of Emmett Kelly." Gateway. Spring 2005. v. 25, no. 4. pp. 43-46. [REF F550 M69gh]
Outside Resources
These links, which open in another window, will take you outside the Society's website. The Society is not responsible for the content of the following websites:
Browning, William. "Tears of a Clown." The Paris Review. July 6, 2016.
Emmett Kelly Museum
Emmett Kelly's birthplace, Sedan, Kansas, is home to a museum honoring the famous clown at the Sedan Opera House.
Famous Clowns
This website devoted to the history of clowns and clowning includes a biography of Emmett Kelly.
From the Darkroom: Springfield's Historic Newspaper Photographs
This digital collection hosted by the Missouri Digital Heritage website includes a number of photographs of Emmett Kelly, including some taken during his visit to Houston, Missouri, in 1956.
JoeyKelly.com
This website created by Emmett Kelly's grandson includes a short biography on the famous clown.
Kansaspedia
The Kansas Historical Society has a brief biographical sketch on Emmett Kelly on its Kansaspedia website.
Kelly, Emmett, with F. Beverly Kelley. Clown. New York: Prentice-Hall, 1954.
Kriebel, Bob. "Famous clown called Lafayette Home." Journal and Courier. July 22, 2016.
McManus, Donald. Emmett Kelly: The Greatest Clown on Earth. Kirksville, MO: Truman State University Press, 2014.