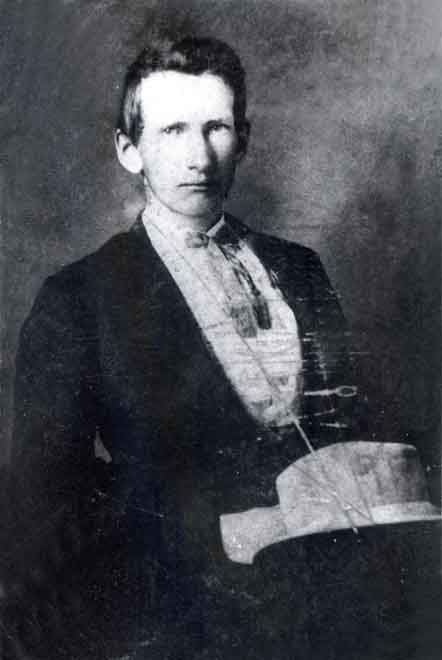 Frank James
Full Name: Alexander Franklin James
Born: January 10, 1843
Died: February 18, 1915 (age 72)
Missouri County: Clay
Region of Missouri: Northwest
Category: Folk Legends
Alexander Franklin James was the older brother of Jesse James. He was born January 10, 1843, to Robert and Zerelda James. Frank, like the rest of his family, was a Confederate sympathizer. He joined a unit of Governor Claiborne Fox Jackson's Home Guard on May 4, 1861, and fought at the Battle of Wilson's Creek under General Sterling Price. Because he came down with measles and was left behind, Frank was captured by Union forces. After taking the oath of allegiance to the United States, he was allowed to go home. Afterwards, Frank joined the infamous guerrilla raiders William Clarke Quantrill and William "Bloody Bill" Anderson and participated in various assaults on Union troops.
After the Civil War, Frank James returned to the family farm in Clay County. He was an avid reader and enjoyed the works of William Shakespeare. By 1869, however, the James brothers were involved in a series of bank robberies and murders. For the next decade, Frank lived the life of an outlaw, alternating between committing crimes and falling out of sight.
Following a failed bank robbery in Northfield, Minnesota, on September 7, 1876, the James brothers settled in Nashville, Tennessee, where they lived under false names. Frank called himself "B. J. Woodson." He lived with his wife, Ann Ralston, and son, Robert, and took up raising hogs and racing horses. By this point, Frank wanted to lead a respectable life and put his criminal past behind him. He was pressured by Jesse, however, to commit more robberies.
Frank finally turned himself in to Governor Thomas T. Crittenden in Jefferson City, Missouri, six months after Jesse was killed. He was tried for crimes in Missouri and Alabama, but was found not guilty. He spent the rest of his life working menial jobs and struggling with his past. Frank returned to the Clay County family farm after his mother's death in 1911. He died there on February 18, 1915.
Text by Carlynn Trout with research assistance by Elizabeth E. Engel
References and Resources
For more information about Frank James's life and career, see the following resources:
Society Resources
The following is a selected list of books, articles, and manuscripts about Frank James in the research centers of The State Historical Society of Missouri. The Society's call numbers follow the citations in brackets.
"Frank James Appeal for Mercy." Missouri Statesman. October 13, 1882. p. 2, c. 5-6. [Reel # 7555]
"He Came In. Frank James, the Chief of the Missouri Robber Band Surrenders Unconditionally to Gov. Crittenden." Missouri Statesman. October 13, 1882. p. 2, c. 5. [Reel # 7555]
"Missouri's Gay Bandits: The Genuine James Boys and One of the Youngers." Lexington Weekly Caucasian. September 5, 1874. p. 1. [Reel # 26459]
"A Real Reformation: Frank James Kept the Faith and Died a Most Highly Respected Citizen." Auxvasse Review. March 11, 1915. p. 2. [Reel # 717]
Christensen, Lawrence O., William E. Foley, Gary R. Kremer, and Kenneth H. Winn, eds. Dictionary of Missouri Biography. Columbia: University of Missouri Press, 1999. pp. 428-429. [REF F508 D561]
Garver, E.E. "The Surrender of Frank James." St. Louis Republic. February 7, 1915. [REF Vertical File]
Koblas, John. The Great Cole Younger and Frank James Historical Wild West Show. St. Cloud, MN: North Star Press of St. Cloud, 2002. [REF F508.1 Y89ko2]
Love, Robertus. "The Frank James I Knew." St. Louis Republic. February 7, 1915. [REF Vertical File]
McGrane, Martin Edward. The James Farm: Its People, Their Lives and Their Times. Pierre, SD: Caleb Perkins Press, 1982. [REF F508.1 J234mc2]
Petrone, Gerard S. Judgment at Gallatin: The Trial of Frank James. Lubbock, TX: Texas Tech University Press, 1998. [REF F563.5 P448]
Vaughn, Columbus, Sarah Snow, and Lester Snow. This Was Frank James. Philadelphia, PA: Dorrance, [1969]. [REF F508.1 J232v]
Yeatman, Ted P. Frank and Jesse James: The Story Behind the Legend. Nashville, TN: Cumberland House, 2000. [REF F508.1 J234y2]
Crittenden, Thomas Theodore (1832-1909), Proclamation, 1881 (C2875)
Governor's proclamation offering rewards for the arrest of express and train robbers Frank and Jesse James.
Edwards, John Newman (1839-1889), Letters, 1882-1885 (C1531)
Letters to Frank James, giving him information and advice about public opinion, reward for his capture, and negotiations for his surrender to Governor Crittenden.
Settle, William A., Jr. (1915-1988), Papers, c. 1920-1987 (C3896)
William Settle was known as an authority on Jesse James. This collection includes his research notes on the James family.
Outside Resources
These links, which open in another window, will take you outside the Society's website. The Society is not responsible for the content of the following websites: