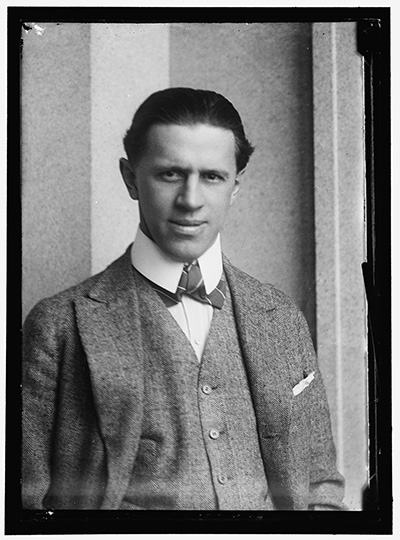 George Creel
Full Name: George E. Creel
Born: December 1, 1876
Died: October 2, 1953 (age 76)
Missouri County: Lafayette
Regions of Missouri: Kansas City, Northwest
Categories: Journalists, Politicians, Writers
George E. Creel was a journalist, politician, and author. As chairman of the Committee on Public Information during World War I, Creel sought to influence public opinion and gain support at home and abroad for the war effort.
George Creel was born on December 1, 1876, in Lafayette County, Missouri. He was the second of three sons born to Henry and Virginia Fackler Creel. The privileged son of southern enslavers, Henry Creel was unable to adapt to life as a farmer after the Civil War. He squandered his inheritance on failed attempts at farming and became an alcoholic. Virginia Creel ran a boardinghouse in Kansas City to support the family, but after it failed the Creels moved to Odessa, Missouri.
Years later Creel wrote in his autobiography, "Our poverty brought us close, for love was all we had to give one another, and the determination to justify [my mother's] sacrifices and hopes developed ambitions and energies." Creel's admiration of his mother's hard work and sacrifice led him to support women's suffrage later in life because, he wrote, "I knew my mother had more character, brains, and competence than any man that ever lived."
Even though he did not finish high school, Creel joined the Kansas City World as a reporter in 1898. He was later fired for refusing to write a story that would publicly embarrass a prominent businessman after the man's daughter eloped with a family employee.
Creel briefly moved to New York City but returned to Kansas City when his friend Arthur Grissom suggested they publish their own paper, the Independent. Shortly after the paper launched in 1899, Grissom left and Creel became sole editor and publisher. He used the Independent to promote political reform and the rights of women and labor. In 1909 Creel sold the Independent and moved to Denver, Colorado, where he worked for the Denver Post and later the Rocky Mountain News as an editorial writer.
Just as he had in Kansas City, Creel pushed for reform in Denver. Mayor Henry J. Arnold appointed Creel city police commissioner, but Creel's aggressive campaign to rid Denver of crime made many people upset and he was fired.
In 1912 Creel married actress Blanche Bates and the couple had two children: George, Jr. and Frances. Five years later, when the United States entered World War I, President Woodrow Wilson asked Creel to serve as chairman of the Committee on Public Information (CPI), a temporary independent federal agency.
The purpose of the CPI was to influence the American public's views about the war through the use of propaganda in magazines, movies, newspapers, radio broadcasts, posters, press releases, and public speakers. Creel and the CPI were criticized by journalists for releasing exaggerated accounts of events and for hiding bad or unflattering news about the war by censoring the press.
After World War I ended in 1918, the CPI was disbanded and Creel returned to private life. He moved to California and wrote several books in the 1920s.
In 1934 Creel reentered politics with a failed run against author Upton Sinclair in the Democratic primary for California governor. The following year President Franklin D. Roosevelt appointed him chairman of the National Advisory Board for the Works Progress Administration (WPA). Creel also served as the U.S. commissioner for the 1939 Golden Gate International Exposition in San Francisco and helped Mexico establish its own Ministry of Public Information and Propaganda.
After Blanche died in 1941, Creel married Alice May Rosseter. Creel continued to write books in retirement, including his memoir Rebel at Large: Recollections of Fifty Crowded Years. On October 2, 1953, he died in San Francisco, California. He is buried in Mount Washington Cemetery in Independence, Missouri.
Text and research by Kimberly Harper
References and Resources
For more information about Kimberly Harper's life and career, see the following resources:
Society Resources
The following is a selected list of books, articles, and manuscripts about Kimberly Harper in the research centers of The State Historical Society of Missouri. The Society's call numbers follow the citations in brackets.
"George Creel Is Dead." Kansas City Times. October 3, 1953. [Reel # 20909]
Christensen, Lawrence O., William E. Foley, Gary R. Kremer, and Kenneth H. Winn, eds. Dictionary of Missouri Biography. Columbia: University of Missouri Press, 1999.  pp. 216-17.  [REF F508 D561]
Creel, George. Men Who Are Making Kansas City: A Biographical Directory. Kansas City: Hudson-Kimberly Publishing Co., 1902. [REF F508 C861]
Creel, George. Rebel at Large: Recollections of Fifty Crowded Years. New York: G. P. Putnam's Sons, 1947. [REF F508.1 C861]
Mock, James R. Words that Won the War: The Story of the Committee on Public Information, 1917-1919. Princeton, NJ: Princeton University Press, 1939. [REF F508.1 C861m]
United States Committee on Public Information. U.S. Official Bulletin.  Washington, DC: Committee on Public Information, 1917-1919. [REF 940.314 Of2]
Outside Resources
These links, which open in another window, will take you outside the Society's website. The Society is not responsible for the content of the following websites:
George Creel Papers
George Creel's personal papers are located at the Library of Congress in Washington, DC.