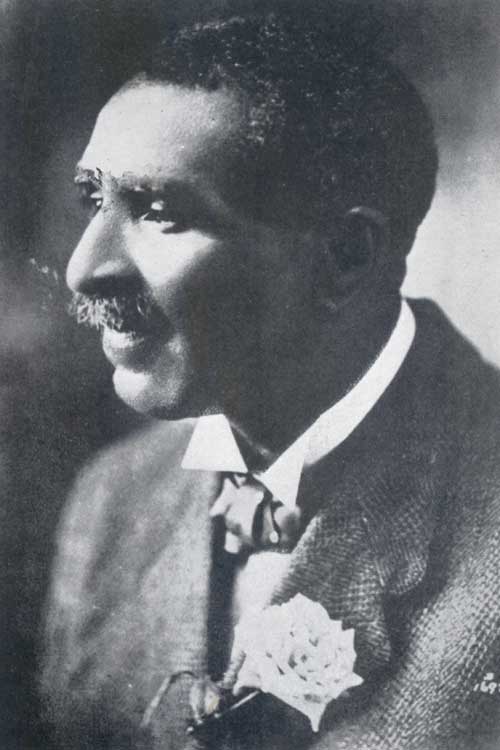 George Washington Carver
Born: Around 1865
Died: January 5, 1943 (age 79)
Missouri Hometown: Diamond
Region of Missouri: Southwest
Categories: African Americans, Scientists

Introduction
George Washington Carver was a world-famous chemist who made important agricultural discoveries and inventions. His research on peanuts, sweet potatoes, and other products helped poor southern farmers vary their crops and improve their diets. A monument showing George as a boy was the first national memorial erected in honor of an African American.
George Washington Carver was born on a farm near Diamond, Missouri, in Newton County about 1865. His mother, Mary, was enslaved by Moses and Susan Carver. His father, who was enslaved on a neighboring farm, died before George was born. When George was just a few months old, he and his mother were kidnapped from the Carver farm by a band of men who roamed Missouri during the Civil War era. These outlaws hoped to sell George and his mother elsewhere. Young George was recovered by a neighbor and returned to the Carvers, but his mother was not. George and his older brother, Jim, were raised by Moses and Susan Carver.
While Jim helped Moses Carver with farm work, George, who was frail and sickly, spent much of his time helping Susan Carver with chores around the cabin. He learned how to perform many domestic tasks such as cooking, mending, and doing laundry. He also tended the garden and became fascinated with plants.
Susan Carver taught George to read and write at home. When he was about eleven, George went to Neosho to attend a school for African Americans. There he boarded with Andrew and Mariah Watkins, a childless Black couple. He stayed in Neosho for at least two years until the late 1870s, when he decided to move to Kansas with other African Americans who were traveling west.
Over the next ten years, George traveled from one midwestern town to another, working and attending school. He often used his domestic skills to make money. By the late 1880s, George moved to Winterset, Iowa. George was befriended by a white couple, John and Helen Milholland. They encouraged George to enroll in nearby Simpson College where he studied piano and art. After a year, however, George transferred to the State Agricultural College at Ames, Iowa, to study agriculture. He earned his bachelor's degree in 1894 and a graduate degree in 1896.
In 1896, George Washington Carver left Iowa to take a job with Booker T. Washington at Tuskegee Institute in Alabama. There he conducted agricultural research and taught students until his death. George's research and instruction helped poor southern farmers, both white and Black, change their farming practices and improve their diets. He stressed the importance of planting peanuts to upgrade the quality of the soil, which had been depleted from years of planting cotton. George found many practical uses for peanuts, sweet potatoes, and other agricultural products. He also created and tested many recipes in his laboratory. George's ideas and discoveries helped farmers improve their lives. His work also helped revitalize the depressed southern economy.
As George worked tirelessly in his laboratory from 1900 to 1920, his fame grew. He became widely known for his agricultural experiments. He also became known as a promoter of racial equality. People who wanted to improve race relations in America asked for George's help. George was a deeply religious man and agreed to share his belief in racial equality. During the 1920s and 1930s, he traveled throughout the South delivering his message of racial harmony.
George drew more public attention during the mid-1930s when the polio virus struck in America. George offered a treatment of peanut-oil massages that he believed helped many people, especially children, gain relief from the painful and paralyzing effects of polio. As word of George's treatment spread, people flocked to the Tuskegee campus for George's "cure."
George Washington Carver's reputation also grew larger during the 1930s because of the Great Depression. This was a period of great economic decline caused partly from generations of poor farming practices and years of drought. People from all over the world asked George for agricultural advice because he was able to show farmers how to maximize plant production and improve the soil at very little cost.
George lived a simple and industrious life. A skilled artist and musician who never married, George lived out his life in a dormitory at Tuskegee Institute. He became friends with many people, some of whom were quite rich and famous. One of his closest friends was the automobile manufacturer Henry Ford. Ford made sure that an elevator was installed in George's dormitory so that George could get to his laboratory more easily in his later years.
George Washington Carver changed the agricultural and economic life of many poor farmers. From ordinary peanuts he made hundreds of useful products, including milk, cheese, soap, and grease. He also made over a hundred products from sweet potatoes. Though he was offered positions at many other laboratories, George always declined, preferring to continue his work among his own race at Tuskegee.
George died on January 5, 1943, at Tuskegee Institute. He is buried on that campus near the grave of Booker T. Washington. The George Washington Carver National Monument in Diamond was created soon after his death. Established by legislation sponsored by Senator Harry S. Truman, it was the first national memorial to an African American. It stands on the farm where George was born.
Text by Gary R. Kremer and Carlynn Trout with research assistance by Valerie Kemp and Jillian Hartke
References and Resources
For more information about George Washington Carver's life and career, see the following resources:
Society Resources
The following is a selected list of books, articles, and manuscripts about George Washington Carver in the research centers of The State Historical Society of Missouri. The Society's call numbers follow the citations in brackets.
"The Carver Story." The Missouri Times. p. 10. February 4, 1983. [Reel # 16386]
Obituary. Saint Louis Post-Dispatch. January 6, 1943, p. C3, c. 5. [Reel # 42664]
"Missouri History Sparkles in Diamond." Fulton Sun. Page 1. September 3, 1994. [Reel # 11916]
Albus, Harry James. The Peanut Man: The Life of George Washington Carver in Story Form. Grand Rapids, MI: W. B. Eerdmans Publishing Co., 1948. [REF F508.1 C256a]
American National Biography. New York: Oxford University Press, 1999. v. 4, pp. 513-514. [REF 920 Am37 v4]
Burchard, Peter Duncan. George Washington Carver: For His Time and Ours. "Special History Study: Natural History Related to George Washington Carver National Monument, Diamond, Missouri." George Washington Carver National Monument, National Park Service, United States Department of the Interior. 2005. [REF F508.1 C256bu]
Burchard, Peter Duncan. Carver: A Great Soul. Fairfax, CA: Wise as Serpents Harmless as Doves. 1998. [REF F508.1 C256bu2]
Christensen, Lawrence O., William E. Foley, Gary R. Kremer, and Kenneth H. Winn, eds. Dictionary of Missouri Biography. Columbia: University of Missouri Press, 1999. pp. 154-155. [REF F508 D561 c2]
Coil, Suzanne M. George Washington Carver. New York: F. Watts, 1990. [REF F508.1 C256co]
Dictionary of American Biography. New York: Charles Scribner's Sons, 1973. Supplement 3 (1941-1945) pp. 145-147. [REF 920 D561 supple. 3]
Elliott, Lawrence. George Washington Carver: The Man Who Overcame. Englewood Cliffs, NJ: Prentice-Hall, 1966. [REF F508.1 C256e]
Holt, Rackham. George Washington Carver: An American Biography. Garden City, NY: Doubleday, Doran and Company, 1943. [REF F508.1 C256h]
Kremer, Gary R. George Washington Carver: A Biography. Santa Barbara, CA: Greenwood, 2011. [REF F508.1 C256kr2 ]
Kremer, Gary R. ed. George Washington Carver in His Own Words. Columbia: University of Missouri Press, 1987. [REF F508.1 c256kr]
McMurry, Linda O. George Washington Carver, Scientist and Symbol. New York: Oxford University Press, 1981. [REF F508.1C256mc]
Merritt, Raleigh H. From Captivity to Fame, or the Life of George Washington Carver. Boston: Meador Publishing Company, 1929. [REF F508.1 C256m]
Thomas, Henry. George Washington Carver. New York: G. P. Putnam's Sons, 1958. [REF F508.1 C256th]
Who Was Who In America. Chicago: A. N. Marquis Company. v. 2 (1943-1950) p. 106. [REF 920 W6201 v2]
Donnelly, Phil M. Donnelly (1891-1961), Papers, 1944-1957 (C2151)
This collection contains papers relating to Donnelly's two terms as Democratic governor of Missouri. Folder 306 includes a four-page "Programme of Carver Day Exercises" for a memorial honoring Carver at Tuskegee Institute, January 5, 1948.
McReynolds, Allen (1877-1960), Papers, 1842-1970 (C3605)
Folder 269 contains correspondence from 1942 between Richard Pilant, English professor at Lindenwood College, and McReynolds, a Missouri state senator and trustee of the State Historical Society of Missouri, regarding the possible purchase of the Carver birthplace.
Outside Resources
These links, which open in another window, will take you outside the Society's website. The Society is not responsible for the content of the following websites: