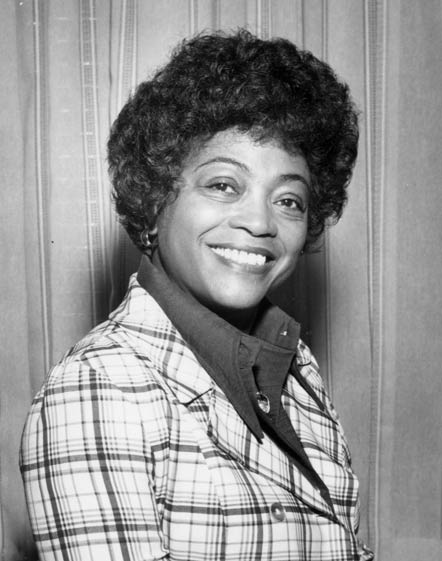 Gwen B. Giles
Full Name: Gwen Burdette Giles
Born: May 14, 1932
Died: March 26, 1986 (age 53)
Missouri Hometown: St. Louis
Region of Missouri: St. Louis
Categories: African Americans, Leaders and Activists, Politicians, Women
Gwen B. Giles was the first African American woman to serve in the Missouri Senate. She was also the first woman and the first African American to be appointed St. Louis city assessor. Giles was active in Democratic politics and the civil rights movement and worked to improve the quality of life for African Americans in St. Louis.
Gwen Burdette Giles was born in Atlanta, Georgia, to Dennis and Irene Burdette, May 14, 1932. The family moved to St. Louis in 1935. Gwen was educated in St. Louis Catholic schools, attending St. Rita Academy and graduating from St. Alphonsus Ligouri High School on Grand Avenue. She also attended St. Louis and Washington Universities. She married Eddie E. Giles in 1955 and they had two children, Karl and Carla. Giles's second marriage was to John W. Holmes, Jr. in 1980.
Giles began her career in politics in 1968 as the campaign manager for U.S. Representative William L. Clay, Missouri's first black congressman. Under mayors Alfonso J. Cervantes and John Poelker, she was appointed executive secretary of the St. Louis Council on Human Relations and the Director of the Civil Rights Enforcement Agency. In these positions, Giles worked to eliminate discrimination in employment of minorities by companies who had contracts with the city. In later years, Giles also worked to end discrimination in housing and public accommodations, and before her death, she was honored by the St. Louis Committee for Freedom of Residence for her efforts in fighting housing discrimination.
When Democrat Franklin Payne resigned his Fourth District Senate seat to become a U.S. marshal in 1977, Giles was asked to run in the December 6 special election to replace him, and she won. She ran for a full term in 1978 and won with 92 percent of the vote. While a senator, Giles was on the Bi-State Development Agency, where she looked for discrimination in hiring policies, and served as co-chairman of the Legislative Black Caucus. In 1981 Giles resigned from her senate seat when Mayor Vincent Schoemehl, Jr. appointed her as the first woman and first black to lead the St. Louis City Assessor's Office. Schoemehl said that Giles "guided the city through state-ordered property reassessment 'fairly and efficiently.'"
Tragedy struck the Giles family in 1984 when on the afternoon of July 19, her husband, John W. Holmes, Jr. shot and killed her daughter, Carla, and injured Carla's husband, Mark Odom. Holmes then killed himself. The incident occurred in Giles's home in the West End while she was away at the Democratic National Convention in San Francisco.
Gwen Giles devoted her life to public service. She worked steadfastly to secure civil rights and improve living conditions for the citizens of St. Louis. After a six-month battle with lung cancer, Giles died March 26, 1986, at the age of 53. She is buried in St. Peter's Cemetery in Normandy, Missouri. At her funeral, Mayor Schoemehl said, "She was an early and active proponent of civil rights and worked tirelessly to help those in need. Her intelligence, independence and dedication earned her the respect of the entire community." In her honor, the Wellston Post Office in St. Louis was renamed the Gwen B. Giles Post Office Building. Catalpa Park in the West End, where she lived, was also renamed for her.
Text and research by Laura R. Jolley
References and Resources
For more information about Gwen B. Giles' life and career, see the following resources:
Society Resources
The following is a selected list of books, articles, and manuscripts about Gwen B. Giles in the research centers of The State Historical Society of Missouri. The Society's call numbers follow the citations in brackets.
"City Assessor Gwen B. Giles Dies After Long Illness." St. Louis American. March 27–April 2, 1986. p. 1. [Reel # 38700]
"City Assessor Gwen Giles Dies of Cancer at 53." St. Louis Post-Dispatch. March 27, 1986. p. 3A. [Reel # 43756]
"Two in Gwen Giles' Family Dead After Quarrel; One Hurt." St. Louis Post-Dispatch. July 20, 1984. pp. 1, 7. [Reel # 43684]
Wilson, Farley. "Gwen B. Giles: A Great Loss." St. Louis American. April 3–9, 1986. p. 8B. [Reel # 38700]
Christensen, Lawrence O., William E. Foley, Gary R. Kremer, and Kenneth H. Winn, eds. Dictionary of Missouri Biography. Columbia: University of Missouri Press, 1999. pp. 337–338. [REF F508 D561]
Outside Resources
These links, which open in another window, will take you outside the Society's website. The Society is not responsible for the content of the following websites:
AAUW Columbia (MO) Branch: Gwen B. Giles
The American Association of University Women works to improve the lives of people through scholarship, vocational guidance, child welfare work, and educational activities. A brief biography of Giles can be found on their website.