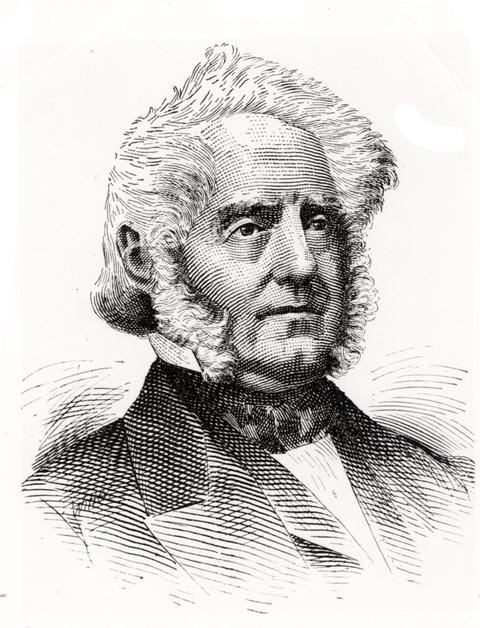 Hamilton Rowan Gamble
Born: November 29, 1798
Died: January 31, 1864 (age 65)
Missouri Hometown: St. Louis
Regions of Missouri: Central, St. Louis
Category: Politicians
On November 29, 1798, Hamilton Rowan Gamble was born in Winchester, Virginia. He was the seventh and youngest child born to Joseph and Anne Hamilton Gamble. In 1812, at the age of thirteen, Gamble began attending Hampden-Sidney College in Virginia. After leaving college, he studied law. By 1819 Gamble was licensed to practice law in Virginia, Tennessee, and Missouri.
Gamble lived briefly in St. Louis before moving to Howard County, Missouri, in 1819 where he worked as a lawyer. The next year he received an appointment as circuit attorney for the St. Louis Circuit Court. Gamble's older brother, Archibald, a clerk of the court, likely used his influence to help his brother obtain the appointment. Gamble developed a drinking problem during this time that almost ended his career. He resigned from his position in 1823, but was able to overcome his issue with alcohol, and in 1824 Governor Frederick Bates appointed Gamble secretary of state.
Gamble resigned two years later and returned to practicing law in St. Louis. There he met Caroline J. Coalter, a native of South Carolina, who was likely visiting her brother in St. Louis. Hamilton and Caroline married in South Carolina in 1827, and returned to live in St. Louis. They had three children named Hamilton Jr., Mary, and David.
In 1846 Gamble was elected to the Missouri General Assembly. He was then elected to the Missouri Supreme Court (1851). While a member of the court, Gamble wrote the dissenting opinion in the important Dred Scott case. This meant that he disagreed with the decision made by the majority of judges on the court. Gamble thought that Scott and his wife, Harriet, should have been awarded their freedom. He believed the court was undermining the judicial system by ignoring past decisions that freed enslaved people in similar cases. He resigned from the court in 1854 and retired to Pennsylvania.
In early 1861 Gamble returned to Missouri at the insistence of his brother-in-law, Edward Bates, who was appointed attorney general in President Lincoln's administration. Bates wanted Gamble to attend the state convention being held to determine whether or not Missouri should secede. At the convention, Gamble became the main proponent for Missouri to remain in the Union, and delegates elected him chairman of the Committee on Federal Relations. In June of 1861, Gamble was appointed provisional governor after Governor Claiborne Fox Jackson, a Southern sympathizer, fled the capital with fellow supporters.
As provisional governor, Gamble remained committed to keeping Missouri from seceding from the Union, as well as to maintaining law and order. He sought to restore peace and issued special orders to kill guerrillas in Missouri. Guerrillas were civilian combatants who worked to sabotage Union military efforts. During the Civil War, Gamble supported a gradual system of emancipation rather than an immediate end to slavery.
Gamble's health failed as the toll of the war wore on him. After suffering a fall on ice, he came down with pneumonia and died on January 31, 1864. He had fought successfully to keep Missouri in the Union.
Text and research by Elizabeth E. Engel
References and Resources
For more information about Hamilton Rowan Gamble's life and career, see the following resources:
Society Resources
The following is a selected list of books, articles, and manuscripts about Hamilton Rowan Gamble in the research centers of The State Historical Society of Missouri. The Society's call numbers follow the citations in brackets.
Announcement. (Gamble determined to quell lawlessness). Liberty Weekly Tribune. July 17, 1863. p. 2, c. 5. [Reel # 26664]
"Death of Gov. Gamble." Daily Missouri Republican (St. Louis). Feb. 1, 1864. p. 2, c. 1. [Reel # 41403]
"The Funeral of Gov. Gamble." Daily Missouri Republican (St. Louis). Feb. 4, 1864. p. 2, c. 1. [Reel # 41403]
"Hamilton Rowan Gamble. This gentleman has consented to become a candidate for the Bench of the Supreme Court." Liberty Weekly Tribune. April 25, 1851. p. 2, c. 1. [Reel # 26694]
"Honors to Gov. Gamble." Daily Missouri Republican (St. Louis). Feb. 4, 1864. p. 2, c. 2-5. [Reel # 41403]
"Judge of the Supreme Court." Liberty Weekly Tribune. October 27, 1854. p. 2, c. 3. [Reel # 26695]
"A Levy En Mass to Exterminate the Guerillas of Missouri! Special Orders, No. 101." Liberty Weekly Tribune. July 25, 1862. p. 2, c. 3. [Reel # 26701]
"The State Convention." (Gamble elected governor). Daily Missouri Republican (St. Louis). August 15, 1861. p. 2, c. 6. [Reel # 41387]
Boman, Dennis K. Lincoln's Resolute Unionist: Hamilton Gamble, Dred Scott Dissenter and Missouri's

Civil War

Governor. Baton Rouge: Louisiana University Press, 2006. [REF F508.1 G143bo]
Christensen, Lawrence O., William E. Foley, Gary R. Kremer, and Kenneth H. Winn, eds. Dictionary of Missouri Biography. Columbia: University of Missouri Press, 1999. pp. 329-330. [REF F508 D561]
Outside Resources
These links, which open in another window, will take you outside the Society's website. The Society is not responsible for the content of the following websites: