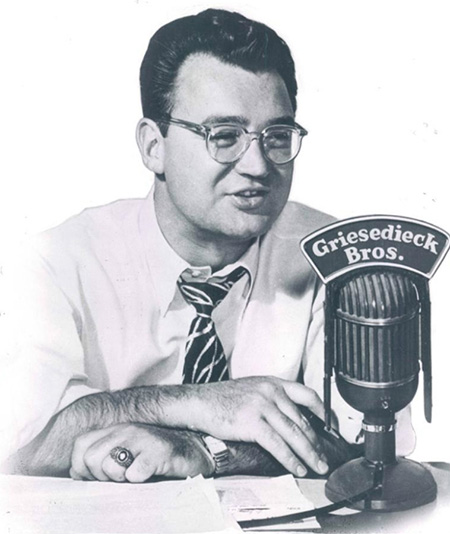 Harry Caray
Full Name: Harry Christopher Carabina
Born: March 1, 1914
Died: February 18, 1998 (age 83)
Missouri Hometown: St. Louis
Region of Missouri: St. Louis
Category: Journalists
Introduction
Harry Caray was one of the most famous professional baseball announcers in the history of the sport. For more than twenty-five years, he called St. Louis Cardinals baseball games on radio and television. Later in his career, thanks to new television technology, he became recognized all over the country as the announcer for the Chicago Cubs. His colorful personality made Caray a star broadcaster.
Early Years and Education
Harry Christopher Carabina was born on March 1, 1914, in St. Louis. Harry knew very little of his childhood. In his autobiography, Holy Cow!, he claims to be half Italian. However, census records indicate both his parents were Albanian. His father, Christopher Carabina, was a waiter who served in the military during the First World War and likely never rejoined the family after the war. Harry had no memories of his father. His mother, Daisy Argint (originally Tasica Argintaru), was a seamstress who died when he was around fourteen years old. Harry claimed being much younger when his mother remarried and passed away, but public records show she married Sam Capuran in 1926 and then died from pneumonia on April 2, 1928.
After his mother passed, Harry lived with his maternal uncle, John Argint, his aunt, Doxie, and their four children at 1909 LaSalle Avenue. In 1930 the family moved to Selma Avenue and Harry attended Webster Groves High School.
Whenever he could, young Harry would go to Sportsman's Park to watch the National League's St. Louis Cardinals play baseball. It became his escape from an unhappy life. "For as long as I could remember, baseball had been the most important thing in my life," Caray said in his autobiography. "It filled a lot of emptiness for me. It filled a great void in my life. And I loved it. There were times I probably loved it a little too much, loved it more than I loved anything else."
Caray always wanted to play professional baseball. He played in high school and was even good enough to be offered a chance to join the baseball team at the University of Alabama. However, he had to say no because a college education was too expensive for him or his family. He tried to join the military instead, but was rejected because of his bad eyesight. With few other options available, he turned to radio. He thought if he could not play baseball, there might be another way he could still be a part of the sport. Carey began pestering local station owners, hoping to get a position calling area games.
Voice of the Cardinals
Believing their current Cardinals baseball announcer was too boring, he tried getting a job at the KMOX radio station in St. Louis. They said no at first, but Carey was eventually offered a job as an announcer in Illinois. He soon moved on to another station in Michigan and then came back to St. Louis, where he hosted his own talk show. By this time he had also shortened his name, dropping the Carabina for Caray.
In 1945, after several years of announcing for various St. Louis stations, he was finally hired at KMOX and became the official voice of the St. Louis Cardinals. He called his first game on April 17, 1945, in which the Cardinals faced the Cubs at Wrigley Field in Chicago. He became very popular due to his intensity, his genuine love for his job, and the station's fifty-thousand-watt signal, which could be picked up throughout the Midwest. In 1954 he was given a partner, Jack Buck, who would become another Cardinals broadcasting legend. Together they made history. They even got to call the Cardinals' 1964, 1967, and 1968 World Series games on NBC television. When he was not calling baseball games, Caray also announced for the St. Louis Hawks (now the Atlanta Hawks) professional basketball team and the University of Missouri Tigers.
During his twenty-five years with the Cardinals, Caray was twice named the Missouri Sportscaster of the Year (1959, 1960) by the National Sportscasters and Sportswriters Association.
After he was fired by the Cardinals in 1969, Caray left St. Louis and worked for the Oakland Athletics. A year later, in 1971, he moved to Chicago and began announcing for the Chicago White Sox. In 1982 he transferred to the Chicago Cubs. It was with the Cubs that he enjoyed his greatest popularity. Since the Cubs' games were broadcast on WGN-TV, a new cable "superstation," Caray's broadcast was carried to homes in all fifty states, making him a household name throughout America.
Honors
On July 23, 1989, Caray received the Ford C. Frick Award for "major contributions to baseball," which included induction into the broadcaster's wing of the National Baseball Hall of Fame in Cooperstown, New York. He was also inducted into the National Radio Hall of Fame in 1990. Carey was given his own star on the St. Louis Walk of Fame in 1993.
Death and Legacy
Caray's career and his popularity continued until 1998. For the rest of his life, he continued announcing professional baseball and using his popular catchphrase, "Holy Cow!"
He was married three times and had five children. His longest marriage was to Dolores Goldman, whom he married on May 19, 1975.
Harry Caray passed away on February 18, 1998, in Rancho Mirage, California, at the age of eighty-three. He is buried in All Saints Cemetery in Des Plaines, Illinois. On April 10, 1998, a seven-foot-tall bronze statue of Caray was placed outside Chicago's Wrigley Field.
Caray will forever be remembered for his love of baseball, as well as for his passion, intensity, and the way he never stopped being a fan of the sport. He passed on his love of baseball to his family. His son, Skip Caray, became an announcer for the Atlanta Braves. Grandson Josh Caray worked briefly as a TV announcer for the Gwinett Braves. Another grandson, Chip Caray, took over Chicago Cubs announcing duties after Harry Caray's death. In fact, Harry, Skip, and Chip once broadcast together in the same booth, during a game between the Cubs and the Braves.
As St. Louis Cardinal great Stan Musial once said, Caray truly was "baseball's greatest salesman."
Text and Research by Jeremy Hulshof
References and Resources
For more information about Harry Caray's life and career, see the following resources:
Society Resources
The following is a selected list of books, articles, and manuscripts about Harry Caray in the research centers of The State Historical Society of Missouri. The Society's call numbers follow the citations in brackets.
"Caray to Present Award at Hall of Fame Dinner." Columbia Missourian, October 19, 1966. [Reel # 7720]
"Holy Cow Hattie! He's in Chicago." Columbia Missourian. January 10, 1971. [Reel # 7747]
Betz, Paul, and Carnes, Mark.  American National Biography.  New York: Oxford University Press, 2002.  pp. 96–98.  [REF 920 Am37 Supple. 1]
Broeg, Bob.  "Starting with His First Show Here in '44, Caray Was Unique." St. Louis Post-Dispatch. February 22, 1998. [REF Vertical File]
Caray, Harry. Holy Cow!  New York: Villard Books, 1989. [REF F508.1 C176]
"Fans and Friends and Family Say Goodbye to Caray." Chicago Tribune.  March 1, 1998. [REF Vertical File]
Feldmann, Doug. El Birdos: the 1967 and 1968 St. Louis Cardinals. Jefferson, NC: McFarland & Co., 2007. [REF H235.131 F333eL]
"Harry Caray, 1914–1998." St. Louis Post-Dispatch. February 19, 1998, p. 1, A8, A9.
Hoffman, Larry. "Harry Caray Was Radio Sports Personality." St. Louis Journalism Review. v. 28, no. 204 (March 1998), p. 6. [REF Micro H235.05 Sa242]
"King of Diamonds: Rowdy, Raucous, Baseball's Harry Caray Was First and Foremost a Fan." People.  March 9, 1998. [REF Vertical File]
Luecking, David. "Harry Caray 1914–1918." St. Louis Post-Dispatch. February 19, 1998. [REF Vertical File]
McGuire, John M. "Caray's Resonant Voice Still Has Strong Echo Here." St. Louis Post-Dispatch. February 22, 1998. [REF Vertical File]
Outside Resources
These links, which open in another window, will take you outside the Society's website. The Society is not responsible for the content of the following websites: