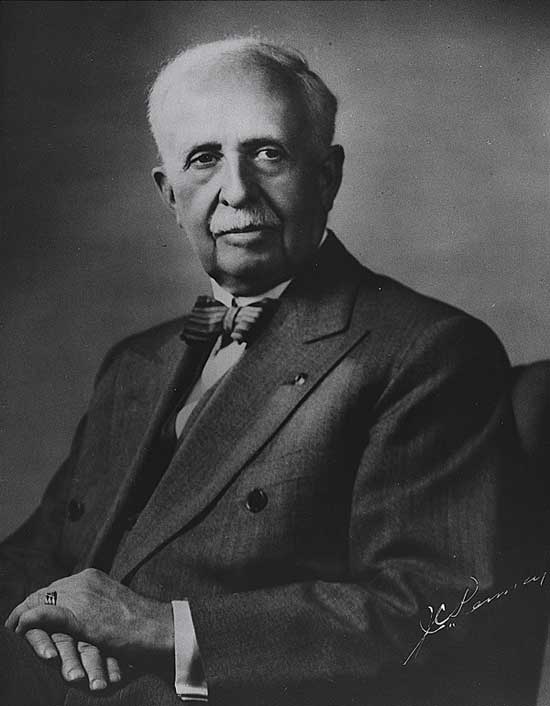 J. C. Penney
Full Name: James Cash Penney
Born: September 16, 1875
Died: February 12, 1971 (age 95)
Missouri Hometown: Hamilton
Region of Missouri: Northwest
Categories: Entrepreneurs, Philanthropists

Introduction
J. C. Penney was a successful retail businessman from Missouri. He founded the J. C. Penney Company, a nationwide chain of stores that sells a wide variety of products. Penney strongly believed that stores should be run with honesty and a deep respect for the customer.
James Cash Penney was born on September 16, 1875, on a farm in Caldwell County, near Hamilton, Missouri. He was the seventh of twelve children born to James Cash Penney and Mary Frances Paxton Penney. Jim's father was a poor farmer and a Baptist minister. The Penneys raised their large family to believe in the Golden Rule, self-reliance, self-discipline, honor, and education. The Penneys—though they still worked the farm—moved to a house in Hamilton so the older children could attend high school.
Jim spent his childhood doing farm work and attending school. When he was eight, he had to pay for his own clothing because money was scarce and his father wanted him to learn the value of money. To do so, Jim raised and sold livestock until neighbors complained of the noise and smell.
In 1893, Jim graduated from Hamilton High School. He continued to work on the family farm though he really wanted to become a lawyer. Six weeks before he died, Jim's father helped him get a job as a store clerk at the J. M. Hale and Brothers dry goods store in Hamilton. Jim began his training as a salesman on February 4, 1895. The day before he died, Jim's father said, "Jim will make it. I like the way he has started out." His father's confidence in him was a great source of strength and inspiration throughout his life.
J. C. Penney worked hard at both Hale's store and the farm. Other salesmen often bullied Penney and took customers away from him. Penney learned that he had to stand up for himself. Even as he gained confidence in himself and developed his skills as a salesman, Penney started feeling ill. He was diagnosed as being susceptible to tuberculosis. His doctor told him to move to a drier climate. In 1897, Penney moved to Denver, Colorado, and found work in a dry goods store. Then he bought a butcher shop with all his savings. This first business failed, however, because Penney wouldn't give special favors to a powerful customer.
In 1898, Penney went to work for Thomas Callahan and Guy Johnson, who owned dry goods stores called Golden Rule stores in Colorado and Wyoming. Callahan liked Penney's honesty and strong work ethic. In 1899, he sent Penney to Evanston, Wyoming, to work with Johnson in another Golden Rule store. That same year, Penney married Berta Alva Hess. Then Callahan and Johnson asked Penney to join them in opening a new Golden Rule store. Using money from savings and a loan, Penney joined the partnership and moved with his wife and infant son to Kemmerer, Wyoming, to start his own store.
The store J. C. Penney opened on April 14, 1902, was a one-room wooden building. He and his family lived in the attic above the store. Penney stocked quality products at fair prices for mining and farm families. He accepted "cash only" for his goods, rather than credit. Penney's store was successful because his customers liked the merchandise and good service.
Within a year, Penney was managing two more stores. Soon, he had a one-third ownership in three stores in Wyoming. By 1907, Callahan and Johnson sold their shares of the chain to Penney who dreamed of starting more Golden Rule stores throughout the West. The store name represented his religious beliefs and gave him a business motto.
The number of men Penney hired and trained grew larger each year and formed the basis of his company. Penney always called his employees "associates." These men became manager-partners in new stores and also shared in the profits. One of the manager's jobs for each store was to find another honest and hardworking man and train him as manager for another new store. Penney's goal was not to have a chain of stores, but to have a chain of good men. By 1909, Penney established his headquarters office in Salt Lake City.
In 1910, tragedy hit. Penney's wife, Berta, died of pneumonia and left him with two sons, Roswell Kemper Penney and James Cash Penney Jr. Penney was devastated and later wrote that with Berta's death, his "world crashed" around him. Despite his grief, Penney's business continued to prosper. In 1912, there were thirty-four Golden Rule stores with sales surpassing $2 million. The chain name was changed in 1913, becoming the J. C. Penney Company. By 1914, Penney relocated his headquarters to New York City to be closer to the major sources of merchandise.
The J. C. Penney Company flourished under the company motto, "Honor, Confidence, Service, and Cooperation." As new stores appeared across the country, illustrated announcements in newspapers let people know that a J. C. Penney store would soon open in their community. Smart advertising, just treatment of customers, and good products at affordable prices made Penney very wealthy. He opened the first J. C. Penney Store in his home state of Missouri on April 15, 1918, in Moberly.
In 1919, Penney married Mary Hortense Kimball. Sadly, Mary died in 1923, leaving him with another son, Kimball. After Penney's first employer, J. M. Hale, retired in 1924, Penney opened his 500th store in his hometown of Hamilton. Penney bought the same building where he had started his retail career and selected fourteen citizens from Hamilton as his partners in the store. Two years later, Penney married his third wife, Caroline B. Autenreith. Together they had two daughters, Mary Frances and Caroline Marie. Their marriage lasted until his death.
Berta Alva Hess (1875–­1910)
Berta Alva Hess was J. C. Penney's first wife. She was born on September 25, 1875. She and Penney met in Salt Lake City, Utah, and married in 1899. She contracted pneumonia in 1910 and died later that year in Salt Lake City on December 26.
Mary Kimball Penney (1875–1923)
Mary Kimball Penney was J. C. Penney's second wife. She and Penney had one son, Kimball.
Caroline B. Autenreith Penney (1895–­1992)
Caroline B. Autenreith Penney was J. C. Penney's third wife. She and Penney had two daughters, Mary Frances and Caroline Marie. Their marriage lasted until his death in 1971.
Throughout his life, Penney acted in ways that were useful and productive. In the 1920s, the quality of America's dairy and beef cattle was generally poor. Penney wanted to improve the livestock. He purchased the Emmadine Farm in New York and established a purebred Guernsey herd there. That dairy herd, the Foremost Guernsey Association herd, was given to the University of Missouri in 1952. Penney had also purchased his father's farm near Hamilton in the 1920s. On it he established a purebred Aberdeen Angus herd. In addition to establishing farms for cattle, Penney built a residential community for retired clergy. In 1954 he set up the J. C. Penney Foundation. This foundation still supports organizations that address important issues such as community renewal, the environment, and world peace.
In the last decades of his life, Penney was a popular speaker and a respected author. Although Penney was not a college graduate, he received honorary degrees from a variety of colleges and universities, including the University of Missouri and Stephens College, both in Columbia. James Cash Penney died in New York City on February 12, 1971, at the age of ninety-five. He is buried at Woodlawn Cemetery in the Bronx. On April 14, 2002, the J. C. Penney Company celebrated one hundred years in business. The company is still one of America's largest retailers.
Text by Alice Anna Reese and Carlynn Trout with research assistance by Jillian Hartke
References and Resources
For more information about J. C. Penney's life and career, see the following resources:
Society Resources
The following is a selected list of books, articles, and manuscripts about J. C. Penney in the research centers of The State Historical Society of Missouri. The Society's call numbers follow the citations in brackets.
"1,500 at Funeral for J. C. Penney." The Hamilton Advocate-Hamiltonian. February 24, 1971. pp. 1-2. [Reel # 12941]
Booth, Bertha. "Brief Sketch of the Life of J. C. Penney." The Hamilton Advocate-Hamiltonian. April 7, 14, and 28, 1938. p. 7 (all dates). [Reel # 12923]
"Dedication of the J. C. Penney Memorial Library and Museum." The Hamilton Advocate-Hamiltonian. April 7, 1976. pp. 1B-24B. [Reel # 12946]
"J. C. Penney, 95, Dies Following December Fall." The Hamilton Advocate-Hamiltonian. February 17, 1971. pp. 1-2. [Reel # 12941]
"J. C. Penney Company Opens 500th Store in Hamilton, Mo." The Hamilton Advocate-Hamiltonian. April 17, 1924. p. 8. [Reel # 12918]
"James C. Penney Dead." St. Louis Post-Dispatch. February 15, 1971. p. 2A. [Reel # 43353]
Lastelic, Joe. "Progressive at 89 – J. C. Penney Alert to Changes." Kansas City Star. June 27, 1965. pp. 20G-21G. [Reel # 21437]
"The Penney Store Opens This Week." Boonville Weekly Advertiser. May 15, 1925. p. 9. [Reel # 1776]
American National Biography. New York: Oxford University Press. 1999-2002. v. 17, pp. 297-299. [REF 920 AM37]
Bruere, Robert W. J. C. Penney: The Man With A Thousand Partners. New York: Harper & Brothers, 1931. [REF F508.1 P383pj]
Christensen, Lawrence O., William E. Foley, Gary R. Kremer, and Kenneth H. Winn, eds. Dictionary of Missouri Biography. Columbia: University of Missouri Press, 1999. pp. 604-605. [REF F508 D561]
Curry, Mary Elizabeth. Creating An American Institution: The Merchandising Genius of J. C. Penney. New York: Garland Publishing, 1993. [REF F508.1 P383cu]
Penney, J. C. "A Brief Outline of My Early History." Reprint of a talk by J. C. Penney given in Monroe, LA. [REF F508.1 383pb2]
Penney, J. C. "The Education of a Merchant." An address by J. C. Penney to the students of Stephens College. Columbia, MO. October 27, 1949. [REF F508.1 P383pe]
Penney, J. C. The Homely Philosophy of the Man With A Thousand Partners. J. C. Penney Company, 1941. [REF F508.1 P383ph]
Penney, J. C. Lines of A Layman. Great Neck, NY: Channel Press, 1956. [REF F508.1 P383pL]
Penney, J. C. My Experience With The Golden Rule. Kansas City: Frank Glenn Publishing, 1949. [REF F508.1 P383pm]
Penney, J. C. View from the Ninth Decade: Jottings from a Merchant's Daybook. New York: Thomas Nelson & Sons, 1960. [REF F508.1 P383v]
Segar, Eva. "Missouri's 'Good' Penney." Missouri Life. March-April, 1976. vol. 4, no. 1. pp. 31-37. [REF F586 M6912 v. 4]
Penney, James Cash (1875-1971), Papers, 1859-1944 (C0384)
This collection consists of pamphlets written by Penney, including "A Brief Outline of My Early History" and "A Tribute to My Mother." Additional pamphlets on the J. C. Penney Missouri Farms are also included.
Penney, James Cash (1875-1971), Papers, 1941-1970 (C3260)
Speeches, articles, and pamphlets by and about Penney can be found in this collection. Folders 1-3 contain religious and moral pamphlets, and folders 4-6 contain cattle raising articles.
University of Missouri, President's Office, Papers, 1892-1966 (C2582)
Folders 2039 and 2040 include correspondence from J. C. Penney dated 1937-1940 regarding the transfer of the Foremost Guernsey Farm to the university and other miscellaneous matters.
Outside Resources
These links, which open in another window, will take you outside the Society's website. The Society is not responsible for the content of the following websites: