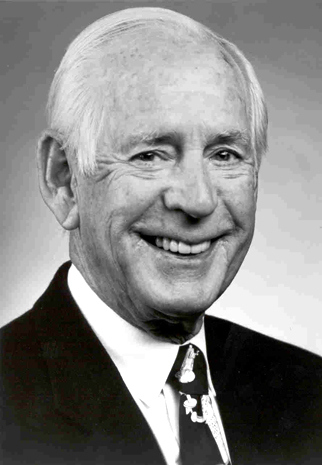 Jack Buck
Full Name: John Francis Buck
Born: August 21, 1924
Died: June 18, 2002 (age 77)
Missouri Hometown: St. Louis
Region of Missouri: St. Louis
Category: Journalists
Jack Buck was one of Missouri's sports broadcasting pioneers. As the main play-by-play announcer for KMOX radio, Buck was known as the "Voice of the St. Louis Cardinals" for nearly half a century. He was also a nationally recognized television and radio announcer who covered games for the National Football League, the National Hockey League, and the National Basketball Association. In all, Buck called seventeen Super Bowls and eight World Series and was inducted into numerous sports broadcasting halls of fame.
John Francis Buck was born on August 21, 1924, in Holyoke, Massachusetts, the third of seven children of Earle and Kathleen Buck. In 1939, his father, a railroad accountant, moved the entire family to Cleveland, Ohio.
As a teenager, baseball became an important influence for Buck. "Baseball was my great love," he said in his autobiography. "I listened to as many games and announcers as I could." His father had once managed a team out of Eerie, Pennsylvania, and had even tried out for the New York Giants. Earle Buck's love of baseball stirred his son's desire to play professionally. Unfortunately, Earle Buck died when Jack Buck was fifteen, leaving him to put his dreams on hold in order to help support the family.
In 1942 he took a job working on freighter ships around the Great Lakes. Then he was drafted into the U.S. Army during World War II and fought in Europe. After he was wounded by shrapnel, Buck was awarded the Purple Heart. After the war, Buck was discharged from military service and enrolled as a student at Ohio State University. In 1948 he began working at local radio station WOSU in Columbus, Ohio.
"When I went on the air to do a sports show at WOSU," he later recalled, "I had never done a sports show before. When I did a basketball game, it was the first time I ever did play-by-play. The same with football. I didn't know how to do these things. I just did them."
After Buck called a college basketball game, one of his broadcasting professors told him, "You'd better find something else to do for a living." Despite the negative feedback, Buck later recalled, "I knew he was wrong. I was still chasing my dream."
Prior to graduating from Ohio State in 1949, Buck met and married Alyce Larson in 1948. They had six children together, but later divorced. Fresh out of college, Buck was hired as an announcer for the Columbus Redbirds, a minor-league affiliate of the St. Louis Cardinals.
In 1954 Buck was hired by KMOX in St. Louis to be a member of the famous St. Louis Cardinals broadcasting team alongside Harry Caray, Milo Hamilton, and Joe Garagiola. Even while working full-time as a baseball announcer, Buck found time to call other sports. In 1963 he began announcing National Football League games on television for CBS. In 1967 he called the "Ice Bowl" championship game between the Green Bay Packers and the Dallas Cowboys, one of the most famous games in football history due to its frigid weather and close outcome. He was also the official broadcaster for the St. Louis Blues for one year, calling the 1968 Stanley Cup finals on KMOX.
Buck was promoted to lead St. Louis Cardinals announcer in 1969 and soon became identified for his trademark call of "That's a winner!" after every victory. From the broadcast booth he was able to witness some of the greatest Cardinals ever, including Stan Musial, Bob Gibson, Ozzie Smith, and Mark McGwire.
Buck married his second wife, Carole Lintzenich, in 1969 and had two more children. Their son, Joe Buck, is a sports announcer.
Buck is chiefly remembered for calling some of the greatest moments in sports history. One of his best-known broadcasts came during Game 5 of the 1985 National League Championship Series, when Cardinals shortstop Ozzie Smith hit a game-winning home run in the ninth inning. Upon witnessing the hit, Buck urged the crowd to "Go Crazy, Folks!" It became one of his signature calls.
Buck received many honors during his lifetime. In 1987 he received the Ford C. Frick Award for Excellence in Broadcasting from the National Baseball Hall of Fame. He was inducted into the National Radio Hall of Fame in 1995. For his contributions to professional football, he received the Pete Rozelle Radio-Television Award from the National Football Hall of Fame in 1996. Finally, on August 20, 1998, the City of St. Louis erected a bronze statue of Buck outside of Busch Stadium.
Buck retired from his job as the Cardinals' lead announcer in 2000. Following the events of September 11, 2001, he wrote a poem titled "For America." In one of his last public appearances, on September 17, 2001, he read it in front of 32,000 fans at Busch Stadium.
After a series of illnesses, Jack Buck died on June 18, 2002, in St. Louis. Fans gathered for a public memorial service at Busch Stadium two days later. On December 6, 2009, a section of Interstate 64 in St. Louis was dedicated as the Jack Buck Memorial Highway.
Buck is remembered by his fans, friends, and coworkers as both a gifted announcer and a man who showed a great deal of love and respect for the sport of baseball. To those who knew him best, however, he was something much more. "I always knew he was something special," Joe Buck once said about his father. "I wasn't the smartest kid, but I didn't have to be to realize people liked having him around. I did, too."
Text and research by Jeremy Hulshof
References and Resources
For more information about Jack Buck's life and career, see the following resources:
Society Resources
The following is a selected list of books, articles, and manuscripts about Jack Buck in the research centers of The State Historical Society of Missouri. The Society's call numbers follow the citations in brackets.
Broeg, Bob. Redbirds, a Century of Cardinals' Baseball. St. Louis: River City Publishers, 1983. [REF H235.131 B785 1983]
"Eleven Honor Medalists Named by School of Journalism; Jack Buck." Missouri Press News, v. 52, no. 4 (1984), p. 11. [REF F565.5 M691 (1984) v. 52]
Feldmann, Doug. El Birdos: The 1967 and 1968 St. Louis Cardinals. Jefferson, NC: McFarland & Co., 2007. [REF H235.131 F333eL]
Hall, John. "Tribute to a Legend." The KOM League Remembered. v. 9, no. 4 (August 2002). pp. 13–15. [REF F532 H143k]
"Jack Buck: 1924–2002; A Voice for Radio, a Heart for All." St. Louis Post-Dispatch. June 20, 2002. Commemorative Section, sec. D, pp. D1-D22. [REF Vertical File on Buck Family]
Musial, Stan, Jack Buck, and Bob Broeg. We Saw Stars. St. Louis: Bethany Press, 1976. pp. 60–82. [REF 796.357 M973]
Rains, Bob. The St. Louis Cardinals: The 100th Anniversary History. New York: St. Martin's Press, 1992. p. 235 [REF H235.131 R136]
Outside Resources
These links, which open in another window, will take you outside the Society's website. The Society is not responsible for the content of the following websites:
Jack Buck's 9-11 Poem
This YouTube video shows Jack Buck reading his poem "For America" at Busch Stadium on September 17, 2001.