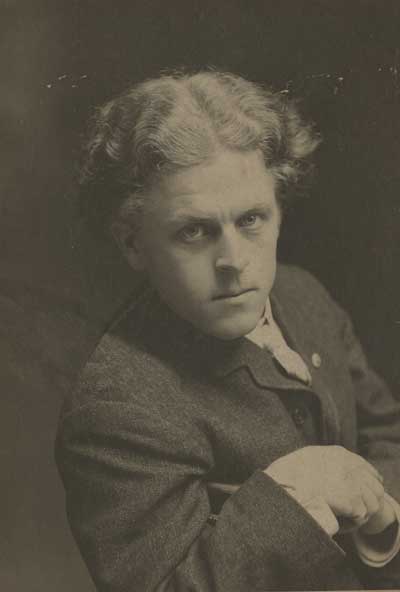 John G. Neihardt
Full Name: John Gneisenau Neihardt
Born: January 8, 1881
Died: November 24, 1973 (age 92)
Missouri Hometowns: Branson, Columbia, Kansas City
Regions of Missouri: Central, Kansas City
Categories: Educators, Travelers, Writers

John G. Neihardt was a poet and author famous for his writings on spirituality, Native Americans, and the American West. He is best known for his collection of epic poems, A Cycle of the West, and his nonfiction account of the life of a Sioux medicine man, Black Elk Speaks.
John Greenleaf Neihardt was born in Sharpsburg, Illinois, on January 8, 1881, to Nicholas and Alice Culler Neihardt. For a short while, he lived with his mother and his sisters on his grandparents' farm in northwest Kansas. John's memories of the plains, such as living in a sod house, collecting buffalo chips for fuel, and his family's stubborn optimism despite many difficulties, greatly influenced his writings.
In 1887, the family moved to Kansas City. John attended Irving Elementary. His father shared his love of poetry and reading with John, and took him on weekly adventures around Kansas City. Seeing soldiers training in an army encampment and looking down on the Missouri River during a massive flood created vivid memories that he revisited later.
Although Nicholas left the family when John was just ten, John's writings often drew upon themes he associated with memories of his father, such as adventure, exploration, battle, and reverence of nature.
The Neihardt family then moved to Wayne, Nebraska. In the fall of 1892, John got sick with a high fever and had a vision that he was flying at incredible speed over the surface of the earth. He sensed the interconnectedness of the universe and believed that he was led on by another spirit, whom he came to call his "Ghostly Brother." This experience inspired Neihardt to become a poet. He started writing, and eventually changed his middle name to Gneisenau, a family name, because he did not want to be associated with another poet who had a similar name. John was so academically gifted that he entered Nebraska Normal College at age twelve and graduated at age seventeen.
After publishing poems and short stories in small papers and magazines, John wrote a long poem based on Hindu religious philosophy. After a disastrous trip in 1898 to find a publisher in Kansas City, in which he resorted to begging for food, the book was finally published as The Divine Enchantment in 1900. That same year Neihardt got a job with a merchant who traded with the Omaha Indians at a reservation near Bancroft, Nebraska. He wrote popular short stories based on his experiences there, publishing them in a book, The Lonesome Trail, in 1907. He soon started developing a national reputation as a writer and poet. Also in 1907, he published A Bundle of Myrrh, which dealt mostly with the concept of romance. After reading it, Mona Martinsen, a student of the famous French sculptor Auguste Rodin, began writing to Neihardt. Mona and John were married in 1908, shortly after meeting for the first time. They had four children and stayed together until Mona's death fifty years later.
In 1908, Neihardt rafted two thousand miles down the Missouri River from Fort Benton, Montana, to Sioux City, Iowa, chronicling his experience in a series of popular articles for Outing magazine. The articles were republished as The River and I in 1910. He served as the literary editor for the Minneapolis Journal from 1912 until moving to Branson, Missouri, in 1920. In 1921, the Nebraska legislature named him poet laureate of their state. From 1926 to 1938, Neihardt served as the literary editor for the St. Louis Post-Dispatch. He wrote constantly, publishing more than twenty books over the next several decades.
I have come to look upon the Missouri as more than a river. To me, it is an epic. And it gave me my first big boy dreams. It was my ocean. I remember well the first time I looked upon my turbulent friend, who has since become as a brother to me. It was from a bluff at Kansas City. I know I must have been a very little boy, for the terror I felt made me reach up to the saving forefinger of my father, lest this insane devil-thing before me should suddenly develop an unreasoning hunger for little boys. –Excerpt, The River and I by John G. Neihardt
In 1912, John began writing a series of five epic poems based on the history of the American West. They were published together in the highly praised A Cycle of the West in 1949. In that same year, Neihardt was named poet-in-residence and lecturer of English at the University of Missouri, where he remained until his retirement in 1965. He lived on a farm, called Skyrim, just north of Columbia until his late eighties, when he returned to Nebraska.
While doing research for A Cycle of the West, Neihardt conducted a series of interviews with Black Elk, an Oglala Lakota Sioux medicine man who had survived the Battle of Little Big Horn and the Wounded Knee Massacre. Neihardt turned these interviews into the book Black Elk Speaks in 1932. Black Elk's descriptions of a grand vision he had as a youth, the history and changing lifestyle of his people, and his belief in the spiritual unity of everything on earth caught on in Europe in the 1950s.
The book was popular with the American counterculture in the 1960s (some even referred to it as "the Bible of the hippies"), and became a national phenomenon after Neihardt appeared on television as a guest of The Dick Cavett Show in 1971. Although it is controversial because of possible errors in translation and claims of inaccuracies stemming from the personal and cultural biases of both Neihardt and Black Elk, Black Elk Speaks is still viewed as an important text by Native American scholars, historians, and students of American religious culture.
Shortly after returning to Columbia, Missouri, to visit his family, John G. Neihardt died of natural causes on November 3, 1973. The previous year, he published an autobiography, titled All Is But a Beginning. A second volume, Patterns and Coincidences, was published posthumously in 1978. Many of Neihardt's works have received critical acclaim, and he received numerous awards and honorary degrees. Neihardt is a member of the Nebraska Hall of Fame, and is recognized in the Hall of Famous Missourians in the Missouri state capitol. Since 1968, the first day of August has been celebrated as "John G. Neihardt Day" in Nebraska.
Text and research by Todd Barnett
References and Resources
For more information about John G. Neihardt's life and career, see the following resources:
Society Resources
The following is a selected list of books, articles, and manuscripts about John G. Neihardt in the research centers of The State Historical Society of Missouri. The Society's call numbers follow the citations in brackets.
"At 91, Dr. John G. Neihardt Enjoys a Renaissance." Kansas City Times. January 8, 1972. [Reel # 21750]
"John G. Neihardt: His Legacy Lives On." Columbia Missourian. May 7, 1976. p. 6B. [Reel # 7780]
"John G. Neihardt Subject of Film." Columbia Daily Tribune. September 23, 1973. p. 21. [Reel # 8366]
"John G. Neihardt, the Word Sender." Columbia Missourian. April 22, 1973. p. 13. [Reel # 7761]
"Keeper of the Words." Columbia Missourian. November 23, 1986. pp. 10-11. [Reel # 7871]
"Neihardt Remembered." Columbia Missourian. January 16, 1981. p. 4B. [Reel # 7828]
"Neihardt to Help Start Centennial in Nebraska." Columbia Missourian. January 16, 1967. p. 1. [Reel # 7722]
"Poet John Neihardt's Daughter Can't Reveal Everything He Wrote." Columbia Daily Tribune. April 27, 1986. p. 4. [Reel # 8509]
Aly, Bower. "John G. Neihardt: Man, Poet, and Splendid Wayfarer." Nebraska History. v. 55 (1974), pp. 573-579. [REF 978.2 N275]
Aly, Lucile F. John G. Neihardt: A Critical Biography. Amsterdam, Netherlands: Rodopi, 1977. [REF F508.1 N316a]
"American West's Poet Lived a Truly Epic Life." Denver Post. October 22, 1989. [REF Vertical File]
"The Good Road of the Prairie Poet." Missouri Highways. Spring 1970, pp. 7-12. [REF Vertical File]
"A Great Man Ponders His Years." Missourian Magazine. v. 2, no. 1 (November 30, 1967), pp. 4-5. [REF Vertical File]
Lee, Fred L. John G. Neihardt: The Man and His Western Writings. Kansas City: Kansas City Posse of the Westerners, 1974. [REF F508.1 N316L]
Neihardt, John G. All Is But a Beginning: Youth Remembered, 1881-1901. New York: Harcourt Brace Jovanovich, 1972. [REF 921 N316]
Neihardt, John G. Black Elk Speaks. Lincoln: University of Nebraska Press, 1961. [REF 970.2 B5612b 1961]
Neihardt, John G. A Cycle of the West. New York: Macmillan Co., 1949. [REF 811 N316c]
Neihardt, John G. Patterns and Coincidences: A Sequel to All Is But a Beginning. Columbia: University of Missouri Press, 1978. [REF 921 N316n]
Neihardt, John G., with Raymond J. DeMallie. The Sixth Grandfather: Black Elk's Teachings Given to John G. Neihardt. Lincoln: University of Nebraska Press, 1984. [REF 970.2 B5612n]
Outside Resources
These links, which open in another window, will take you outside the Society's website. The Society is not responsible for the content of the following websites:
John G. Neihardt Papers (RG1042.AM)
This webpage describes the contents of the John G. Neihardt manuscript collection housed at the Nebraska State Historical Society in Lincoln.
The John G. Neihardt State Historical Site
The John G. Neihardt State Historical Site is located on the site of Neihardt's former home in Bancroft, Nebraska. It has preserved a small building used formerly by Neihardt as a study, and has added a library, museum, research facility, and prayer garden. This site run by the Neihardt Foundation contains links to a short biography of Neihardt, photographs of Neihardt and his family, and information about the activities of the Neihardt Foundation.