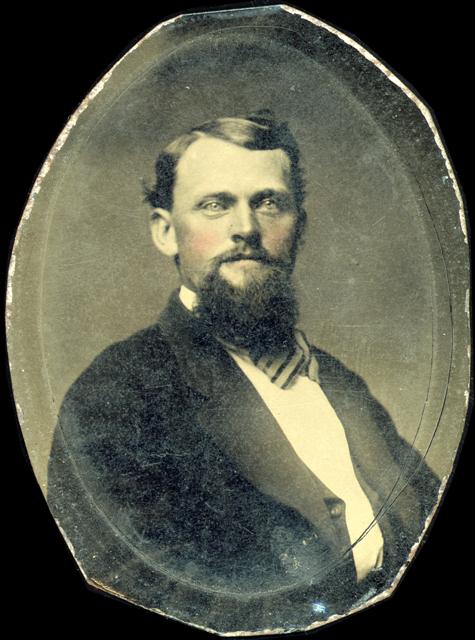 Joseph O. Shelby
Full Name: Joseph Orville "Jo" Shelby
Born: December 12, 1830
Died: February 13, 1897 (age 66)
Missouri Hometown: Waverly
Region of Missouri: Northwest
Category: Military Leaders
Joseph O. "Jo" Shelby was a famous Confederate cavalry general. He was born in Lexington, Kentucky, on December 12, 1830, to Orville and Anna Boswell Shelby. His father was a wealthy planter and hemp rope producer.
When Joseph was five, his father died, and his mother remarried to Benjamin Gratz, a wealthy merchant and land owner. Joseph attended Transylvania University and was groomed to become a successful businessman.
After receiving a large inheritance at the age of twenty-one, Shelby moved to Waverly in Lafayette County, Missouri. Together with his step-brother, he founded the Waverly Steam Rope Company. The company produced hemp rope using the labor of enslaved people.
Shelby also owned a seven-hundred-acre plantation worked by slaves. On July 22, 1858, he married his distant cousin, Elizabeth N. Shelby. Together the couple had seven children.
By 1860, Shelby's finances were in decline largely due to his own poor management. He was forced to sell the rope company, plantation, and the people he enslaved.
Like many pro-Southern Missourians, Shelby was angered by the Camp Jackson Affair in St. Louis. During the incident, Union General Nathaniel Lyon's militia fired upon a civilian mob and killed twenty-eight people. In response, Shelby recruited a large number of men from Lafayette County, Missouri, to support the Confederacy by serving in the Missouri State Guard. Shelby and his troops fought at the Battle of Wilson's Creek and later at the Battle of Pea Ridge, Arkansas.
Recognized for his leadership skills and talent, Shelby was quickly promoted, and given command of the "Iron Brigade," so named for their toughness. In 1863, he was promoted to brigadier general in the Confederate States Army, and continued to lead his men against Union forces until the end of the war.
As the Confederacy crumbled, Shelby led six hundred of his men south to Mexico. The Emperor Maximilian granted Shelby and his men permission to found a colony called "Carlota" outside of Vera Cruz, Mexico. After the Emperor Maximilian was overthrown, Shelby returned to the United States.
He began farming in Lafayette County, Missouri, and later moved to Bates County, Missouri. In 1893, President Grover Cleveland appointed Shelby U.S. Marshal of the Western District of Missouri.
By this time Shelby had put the war behind him. He selected an African-American to serve as a Deputy U.S. Marshal. When critics complained, Shelby declared, "I am right in what I have done, and by the right I propose to stand."
He also voiced regret for his actions in the Border Wars, telling historian William Elsey Connelley, "I was in Kansas at the head of an armed force. I was there to kill Free-state men. I did kill them. I am now ashamed of myself for having done so. I had no business there. No Missourian had any business there with arms in his hands."
Shelby died of pneumonia on his farm near Adrian, Missouri, on February 13, 1897, and was buried in Kansas City, Missouri.
Text by Kimberly Harper with research assistance by Garrett Walker
References and Resources
For more information about Joseph O. Shelby's life and career, see the following resources:
Society Resources
The following is a selected list of books, articles, and manuscripts about Joseph O. Shelby in the research centers of The State Historical Society of Missouri. The Society's call numbers follow the citations in brackets.
"Anecdotes of Shelby." Boonville Weekly Advertiser. September 15, 1899. [Reel # 1760]
"Fought His Last Fight." Boonville Weekly Advertiser. February 19, 1897. [Reel # 1759]
"In a Warrior's Grave: Gen. Jo Shelby Laid to Rest." Adrian Journal. February 19, 1897, p.1. [Reel # 5]
"McClurg's Slander of Gen. Blair – Card from Gen. Jo Shelby." Columbia Missouri Statesman. November 1, 1867, p. 1. [Reel # 7551]
"Shelby's Brigade." Jefferson City Daily Tribune. June 3, 1885. [Reel # 17234]
Arthur, Anthony. General Jo Shelby's March. New York: Random House, 2010. [REF F508.1 Sh428a]
Christensen, Lawrence O., William E. Foley, Gary R. Kremer, and Kenneth H. Winn, eds. Dictionary of Missouri Biography. Columbia: University of Missouri Press, 1999. pp. 691-692. [REF F508 D561]
Connelley, William Elsey. Quantrill and the Border Wars. Cedar Rapids, IA: The Torch Press, 1910. [REF F554.1 C762]
Davis, Edwin Adams. Fallen Guidon: The Saga of Confederate General Jo Shelby's March to Mexico. College Station: Texas A&M University Press, 1995. [REF 973.738 D292 1995]
Garraty, John A., and Mark C. Carnes, eds. American National Biography. New York: Oxford University Press, 1999. v. 19, pp. 415-21. [REF 920 AM37 v. 19]
O'Flaherty, Daniel. General Jo Shelby: Undefeated Rebel. Chapel Hill: University of North Carolina Press, 1954. [REF IHG F508.1 Sh428o]
Joseph Orville Shelby Letter (C0521)
To Mr. Lankford, Marshall, MO, from Audrain, Bates County, MO, Aug. 2, 1885. Letter from a Confederate brigadier general to a friend, giving his reasons for the Civil War.
Joseph Orville Shelby Scrapbook (C3558)
Clippings about the military career of a Civil War general from Missouri, newspaper accounts of his death in 1897, tributes and correspondence.
Outside Resources
These links, which open in another window, will take you outside the Society's website. The Society is not responsible for the content of the following websites: