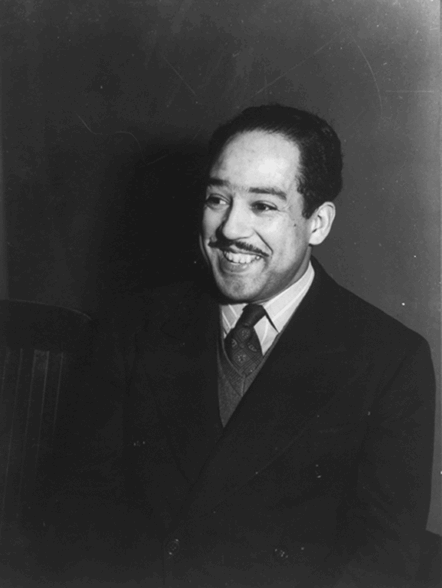 Langston Hughes
Full Name: James Mercer Langston Hughes
Born: February 1, 1902
Died: May 22, 1967 (age 65)
Missouri Hometown: Joplin
Region of Missouri: Southwest
Categories: African Americans, Writers
Langston Hughes was a poet, writer, and playwright. He became a crucial voice during the Harlem Renaissance, an African American literary movement of the 1920s and 1930s. His work celebrates the lives of Black people and speaks out against their struggles.
While born in Joplin, Missouri, on February 1, 1902, James Mercer Langston Hughes did not live in Missouri very long. His father abandoned the family when he was young, and Langston moved to Lawrence, Kansas, to live with his grandmother. In 1914 he joined his mother and stepfather in Lincoln, Illinois, before they moved to Cleveland, Ohio. Hughes graduated from Central High School in Cleveland in 1920.
After high school, Hughes traveled to Mexico hoping to reconcile with his father who lived there, but his attempt was unsuccessful. While his father wanted him to pursue a practical career, Hughes was determined to become a writer. He wanted to move to Harlem, a Black neighborhood in New York.
By the time he enrolled at Columbia University in New York in 1922, Hughes had already published his first poem, "The Negro Speaks of Rivers." Inspired by the Mississippi River, he had written it just outside of St. Louis on the way to Mexico. Hughes left school after only a year and traveled to Africa and Europe as a seaman.
When Hughes returned to the United States in 1924, he continued to write. He published his first collection of poetry, The Weary Blues, in 1926. He also returned to college. This time Hughes attended the historically Black Lincoln University in Pennsylvania. After receiving a BA in 1929, Hughes continued to be a world traveler. He always maintained a connection to Harlem, living there off and on throughout his life.
Throughout the 1920s and 1930s, Hughes's work as a poet and playwright received much praise in literary circles. His art mixed blues and jazz with traditional forms, giving him a unique style. Many in the African American community did not like his focus on the hard life of common Black people. Hughes, however, saw beauty in these struggles, and he tried to capture the entire Black experience in his writing, not just part of it.
Despite these criticisms, Hughes's writings influenced many, and he soon became known as the "Poet Laureate of Harlem." In the 1940s and 1950s, Hughes's works such as Jim Crow's Last Stand and Montage of a Dream Deferred inspired both artists and early civil rights activists.
Langston Hughes died in New York City on May 22, 1967. He remains one of America's most significant writers of the twentieth century.
Text and research by Elizabeth E. Engel
References and Resources
For more information about Langston Hughes's life and career, see the following resources:
Society Resources
The following is a selected list of books, articles, and manuscripts about Langston Hughes in the research centers of The State Historical Society of Missouri. The Society's call numbers follow the citations in brackets.
Christensen, Lawrence O., William E. Foley, Gary R. Kremer, and Kenneth H. Winn, eds. Dictionary of Missouri Biography. Columbia: University of Missouri Press, 1999. pp. 409-411. [REF F508 D561]
Hughes, Langston. The Big Sea: An Autobiography. New York: Knopf, 1940. [REF I H8734b]
Hughes, Langston. Montage of a Dream Deferred. New York: Holt, 1951. [REF I H8734mo]
Hughes, Langston. The Weary Blues. New York: Knopf, 1926. [REF I H8734w]
Rampersad, Arnold. The Life of Langston Hughes. 2 vols. New York: Oxford University Press, 1986-88. [REF F508.1 H8743r]
Outside Resources
These links, which open in another window, will take you outside the Society's website. The Society is not responsible for the content of the following websites:
Academy of American Poets
A short biography and some of Langston Hughes's poems can be found here.
Poetry Foundation
This website discusses Hughes's poetry and includes some of his most well-known poems.
Yale University: Langston Hughes Papers
The Beinecke Rare Book and Manuscript Library at Yale University holds the Langston Hughes Papers. Some of the materials in the collection have been digitized and are available here.