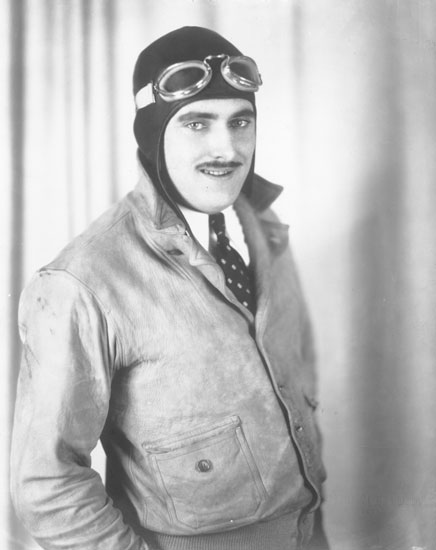 Lester Dent
Born: October 12, 1904
Died: March 11, 1959 (age 54)
Missouri Hometown: La Plata
Region of Missouri: Northeast
Category: Writers
Introduction
Lester Dent was a successful pulp fiction writer. He wrote a series of adventure stories featuring the popular fictional character "Doc Savage." A man of many interests, Dent became a licensed pilot, plumber, electrician, and radio operator. His knowledge of a wide variety of subjects helped make the "Doc" Savage stories more realistic.
Early Years and Education
Lester Dent was born in La Plata, Missouri, on October 12, 1904. He was the only child of Bernard and Alice Norfolk Dent. Lester's father was a rancher and his mother was a former schoolteacher.
When Lester was two years old, Bernard Dent sold the family's farm in Oklahoma, gathered his wife and son into a covered wagon, and moved to Wyoming. The trip took a bone-jarring six weeks. There Bernard operated a sheep and cattle ranch. Lester later observed, "My father was a chronic pioneer."
The Dent's ranch was isolated. The nearest town, Pumpkin Buttes, was thirty-two miles distant. The family's closest neighbor lived ten miles away. Without siblings or neighbor children to play with, Lester grew up with animals as his only companions. He entertained himself by exploring the ranch, inventing games, doing chores, and riding his pony. It was a time, Dent recalled, where "my only playmate was my imagination."
When he was eight years old, the Dents pulled up stakes and moved to another ranch in Wyoming. Lester's mother, a former teacher, homeschooled him until he was nine years old. He then attended public school in Gillette, Wyoming.
In 1918 the Dents sold their ranch and returned to La Plata, Missouri, where they operated a dairy farm. Lester graduated in 1923 from La Plata High School and then studied telegraphy at Chillicothe Business College. He worked as a telegraph operator for various newspapers and wire services across the Midwest.
While working for Western Union in Carrollton, Missouri, Dent met Norma Gerling. The couple married on August 9, 1925, in Ponca City, Oklahoma, after a whirlwind courtship.
In 1929, while Dent was working for the Associated Press in Tulsa, Oklahoma, he found out that one of his colleagues had published a short story in a magazine for over three hundred dollars. Norma Dent later recalled, "He was so excited. He hadn't seen that much money before, and he thought he could write just as well as the other operator."
Dent began writing at every opportunity. After his first thirteen stories were rejected, his story "Robot Cay" (later retitled "Pirate Cay") was bought by Top-Notch magazine for $250. After he published an additional six stories, Dent accepted an offer from Dell Publishing Company to quit his job as a telegraph operator and work full time as a writer.
In 1931 the Dents moved to New York City, where Lester began writing adventure stories for Dell's pulp fiction magazines. Because Dent was paid one cent for each word he wrote, he earned $1,500 the first month. The financial woes of the Great Depression soon caught up to the publishing world. Both magazines that Dent wrote for folded in May 1931.
After taking a trip through the American Southwest in search of gold, Dent returned to New York City with fresh material for new stories. Within months, he signed a contract with publishing company Street and Smith to write stories about a fictional character named Dr. Clark "Doc" Savage, Jr. Although "Doc" Savage was created by employees of Street and Smith, it was Dent who brought the character to life.
Street and Smith chose Dent because of his imagination, vivid writing style, and inventive use of science and technology in his stories. Within two weeks of signing with Street and Smith, Dent completed his first "Doc" Savage novel, The Man of Bronze.
Before Superman, Batman, and Captain America, there was "Doc" Savage. Savage was a wealthy world-class surgeon, scientist, inventor, adventurer, and detective who battled evil-doers. He possessed incredible strength, a superior intellect, and was ruggedly handsome. Savage lived by the code, "Let me do right to all, and wrong no man."
Dent used his background as a licensed pilot, plumber, electrician, and radio operator to dream up Savage's amazing assortment of technological gadgets such as electronic pagers, bullet-proof underwear, dissolvable parachutes, spray-on plastic skin, a hollow tooth that held explosives, and a cigarette case that could shoot darts.
From 1933 until 1949, when the "Doc" Savage series ended, Dent wrote over 150 stories and novels under the pen name "Kenneth Robeson."
A prolific writer, Dent wrote detective, mystery, and air adventure stories under a dozen different pen names during his lifetime. After the "Doc" Savage series ended, Dent wrote six successful mystery novels. He also published stories under his own name in popular magazines such as Collier's and The Saturday Evening Post.
The success of "Doc Savage" made Dent moderately wealthy and allowed him to pursue many of the same pursuits as his fictional counterpart.
After purchasing a schooner he named Albatross, Dent became a seasoned sailor and deep sea fisherman. He and Norma sailed the Caribbean unsuccessfully in search of sunken treasure. Dent's exploits provided him with new material for numerous "Doc" Savage novels that he often dictated while at sea. Together the Dents traveled the world in the 1930s at a time when few Americans could afford such a luxury.
Return to Small Town Life
Never fond of living in New York City, Lester and Norma Dent returned to La Plata in the early 1940s to be close to his elderly parents. Dent founded Airviews, an aerial photography business, and eventually took over the day-to-day operations of his parents' dairy farm.
After he and Norma settled permanently in La Plata, Dent designed the couple's home which had many unusual features for the time. The Dents's electronic garage door opened only when Dent sounded his car horn which played a unique series of musical keys. He designed a soundproof movie room and darkroom and installed an intercom system. This led local residents to call it the "House of Gadgets."
Despite the demands of writing, Dent became involved in local affairs. He worked with area Boy Scout troops, raised funds for needy children, was elected president of the Adair County Dairy Association, and served as Civil Defense Director for La Plata.
Legacy
On February 15, 1959, Dent suffered a heart attack while on a treasure hunt in the Caribbean. He died March 11, 1959, in Kirksville, Missouri. Lester Dent is buried in the La Plata Cemetery.
Today Lester Dent is remembered as one of the most successful pulp fiction writers of the 1930s and 1940s. His "Doc" Savage stories captivated readers and influenced a new generation of adventure and science fiction writers.
Text and research by Kimberly Harper
References and Resources
For more information about Lester Dent's life and career, see the following resources:
Society Resources
The following is a selected list of books, articles, and manuscripts about Lester Dent in the research centers of The State Historical Society of Missouri. The Society's call numbers follow the citations in brackets.
Cannaday, Marilyn. Bigger Than Life: The Creator of Doc Savage. Bowling Green, OH: Bowling Green State University Popular Press, 1990.
"He's a One-Man Word Factory." St. Louis Post-Dispatch. November 25, 1942. [REF Vertical File]
McCarey-Laird, M. Martin, Lester Dent: The Man, His Craft, and His Market. West Des Moines, IA: Hidalgo Publishing Co., 1994. [REF F508.1 D434l]
Dent, Lester B. (1904-1959), Collection, 1924-1984 (C3071)
The Lester B. Dent Collection contains the manuscripts, publications, correspondence, personal papers, research notes, scrapbooks, and photographs of a native Missouri fiction writer, explorer, aerial photographer, and dairy farmer. Lester Dent is perhaps best remembered as the principal author of the Doc Savage adventure stories of the 1930s and 1940s. This collection is also available on microfilm, with the exception of the printed and miscellaneous materials. The University of Missouri does not own the copyrights to the collection.
Outside Resources
These links, which open in another window, will take you outside the Society's website. The Society is not responsible for the content of the following websites: