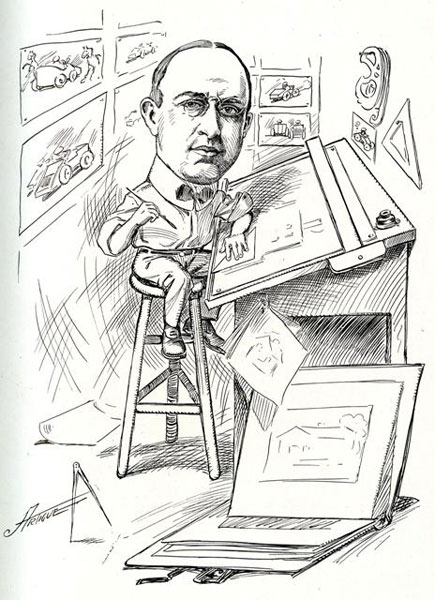 Louis S. Curtiss
Born: July 1, 1865
Died: June 24, 1924 (age 58)
Missouri Hometown: Kansas City
Region of Missouri: Kansas City
Category: Architects
Louis S. Curtiss was a prominent Kansas City architect known for his innovative buildings. During the course of his career, he designed over two hundred structures for clients across the country.
He was born "Louis S. Curtis" on July 1, 1865, to Don Carlos Curtis and Frances Deaver Curtis, in Belleville, Ontario, Canada. He later changed the spelling of his surname to "Curtiss."
Little is known about Curtiss's early years. He reportedly studied architecture at the University of Toronto and the Ecole des Beaux-Arts in Paris, France. Throughout his life, Curtis periodically traveled to Europe to study architecture.
In 1887 Curtiss settled in Kansas City, Missouri, where he worked as a draftsman for one of the city's most prominent architectural firms, Van Brunt & Howe. Two years later, Curtiss was appointed assistant to the Superintendent of Buildings in Kansas City.
In 1890 he partnered with Frederick C. Gunn to found the architectural firm Gunn and Curtiss. Over a ten-year period, Gunn and Curtiss designed more than a dozen distinctive buildings across the country, including churches, courthouses, and hotels.
Several examples of their work still exist today, including the Henry County Courthouse in Clinton, Missouri; the Tarrant County Courthouse in Fort Worth, Texas; St. Patrick's Parish Catholic Church in Emerald, Kansas; and the Cabell County Courthouse in Huntington, West Virginia.
In 1893 Gunn and Curtiss designed the Missouri State Building for the Chicago World's Fair. Millions of visitors saw the impressive Beaux Arts building before it was dismantled after the fair ended. Five years later the partnership dissolved.
Working alone, Curtiss designed a number of residences, churches, and commercial buildings in Kansas City. He became friends with fellow Canadians Thomas and Bernard Corrigan, brothers and business partners who made their fortune in street railways, real estate, and construction in Kansas City. Bernard Corrigan became one of Curtiss's most loyal patrons.
Curtiss became well-known not only for his designs, but also for his eccentric behavior. One of the first individuals to own an automobile in Kansas City, Curtiss loved to roar through the streets in his Winton runabout which had a top speed of thirty miles an hour. He dressed entirely in white clothing, cut his own hair, and paid his rent in gold instead of cash. Curtiss's eccentricities did not stop him from becoming a success.
In 1905 Curtiss established a fruitful relationship with the Santa Fe Railroad, designing a number of train depots and buildings for the company. This led to him designing hotels and restaurants for the Fred Harvey Company, which specialized in providing dining and lodging services to rail travelers across the United States.
He continued to design residential and commercial buildings. In 1908 Curtiss designed the first metal-and-glass curtain-wall structure in the world for businessman Charles W. Boley, who wanted a building "with light and plenty of it." Unlike most buildings constructed at this time, the Boley Building lacked ornamentation, and instead featured a plain, metal and glass façade. Although the building's design was visionary, not everyone liked its stark appearance.
One of Curtiss's most striking designs was the Bernard Corrigan residence. The house, a blend of Prairie and Art Nouveau architectural styles accentuated with traditional Japanese motifs, was one of his masterpieces.
By 1913 Curtiss's career began to decline for a number of reasons. His longtime patron Bernard Corrigan died. Curtiss's favored architectural styles fell out of fashion and World War I slowed the pace of new construction. His final contribution as an architect came when he designed a number of homes in the Westheight Manor neighborhood in Kansas City. Many of these are still in existence.
Curtiss died on June 24, 1924, while seated at his drawing board. He is buried in an unmarked grave in Mt. Washington Cemetery in Kansas City. Fewer than forty of his buildings survive.
Text and research by Kimberly Harper
References and Resources
For more information about Louis S. Curtiss's life and career, see the following resources:
Society Resources
The following is a selected list of books, articles, and manuscripts about Louis S. Curtiss in the research centers of The State Historical Society of Missouri. The Society's call numbers follow the citations in brackets.
"Kansas City's Architectural Debt to Curtis." Kansas City Star. May 3, 1964. [Reel # 21382]
"New House Built by Mr. Rule." Kansas City Star. September 11, 1904. p. 13. [Reel # 20281]
"Post Card from Old Kansas City: Boley Building." Kansas City Star. December 27, 1969. [Reel # 21653]
"Post Card from Old Kansas City: Hotel Baltimore." Kansas City Star. February 24, 1973. [Reel # 21804]
"Post Card from Old Kansas City: Pompeiian Room." Kansas City Star. March 4, 1972. [Reel # 21757]
Hoffman, Donald. "Pioneer Caisson Building Foundations: 1890." Journal of the Society of Architectural Historians. v. 25, no. 1 (March 1966), pp. 68-71. [REF Vertical File]
Sandy, Wilda,  and Larry K. Hancks. Stalking Louis Curtiss, Architect: A Portrait of the Man and His Work. Kansas City, MO: Ward Parkway Press, 1991. [REF F508.1 C944] 
Lenore K. Bradley (1935-1998) Papers (K0309)
This collection by Lenore Bradley, a local author, consists of notes made, drawings, pamphlets, maps, correspondence, newspaper clippings, and photographs of the life and work of Louis Curtiss, noted Kansas City architect.
Outside Resources
These links, which open in another window, will take you outside the Society's website. The Society is not responsible for the content of the following websites:
Jackson County National Register Listings
The Missouri State Historic Preservation Office has an online listing of National Register nomination forms for Jackson County, Missouri. Several of Louis Curtiss's buildings are listed, including the Boley Building, the Bernard Corrigan house, the Norman Tromanhauser house, Mineral Hall, and others. The nomination forms offer more information about the architectural styles of each building and their historic significance.
Vintage Kansas City: Hotel Baltimore
This Website uses photographs and postcards of the Hotel Baltimore, which Curtiss designed for Bernard Corrigan, to illustrate its lavish interiors. The hotel was demolished in 1939.
Louis Curtiss and the Politics of Architectural Reputation
An article by University of Missouri Professor Keith Eggener on the legacy of Louis Curtiss can be found here.