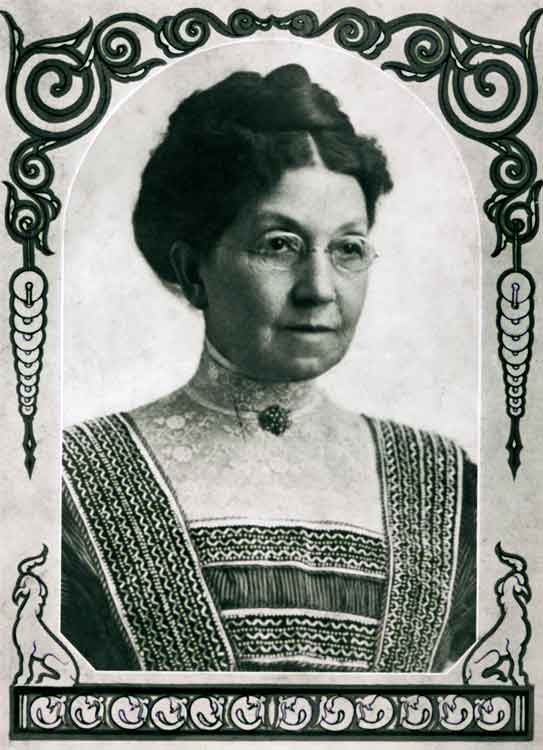 Marie Watkins Oliver
Full Name: Marie Elizabeth Watkins Oliver
Born: January 11, 1854
Died: October 18, 1944 (age 90)
Missouri County: Ray
Regions of Missouri: Northwest, Southeast
Categories: Leaders and Activists, Women

Introduction
Marie Watkins Oliver is known as "the Betsy Ross of Missouri." She designed and created the Missouri State Flag. Missourians have a unique and representative flag because of her extensive research, vision, and perseverance.
Early Years and Education
Marie Elizabeth Watkins was born in Ray County, Missouri, on January 11, 1854. She was the sixth of eleven children born to Charles Allen Watkins and Henrietta Rives Watkins. The Watkins family lived in a large country house they called Westover. Marie's father was a farmer and successful businessman. He developed property and businesses such as a brickyard, flour mill, sawmill, store, and large warehouse with his uncle, James R. Allen.
C. A. Watkins Ray County Property
Marie was educated at home by governesses and at private schools in nearby Farmville. Later, she attended Richmond College in Richmond, Missouri, along with her younger brothers. Marie was clever and intellectual. She loved reading and thinking about literature. Sensitive to nature, she preferred the country to city life. She was also skilled at running a household, although she longed for something beyond the many domestic tasks she had to take on when her mother became ill and needed her help.
Marie tutored her brothers in preparation for their admission to the University of Missouri. One of her brothers, Charles, became best friends and roomed with Robert Burett Oliver, a law student from Jackson, Missouri. In 1874, Charlie died and Robert began writing Marie's family. Marie and Robert exchanged letters for two years before meeting in October 1876 during a visit to St. Louis. A strong affection grew between them.
After a long courtship and engagement, Marie Watkins and Robert Burett Oliver were married at Westover on December 10, 1879. Marie moved with her husband to Jackson, where he worked as a lawyer and was elected to the Missouri Senate in 1882. For the next seventeen years, the Olivers lived and raised their family of five boys and one girl in Jackson. It was during these years that Marie Oliver began volunteering in her community.
In 1896, Marie Oliver moved once again, this time to nearby Cape Girardeau where her husband established his law firm. They built and lived in a home they named Oliver Heights. In 1904, Oliver joined the Daughters of the American Revolution (DAR), a national organization with local chapters. In 1908, Oliver's volunteer activities took an historically important turn. The state DAR noticed that Missouri did not have an official flag. Though the state seal, which contains the Missouri coat of arms, had been officially adopted in 1822, there was still no official flag. The DAR appointed Oliver chairperson of the committee to research and design a flag for Missouri.
Devoted to her task, Oliver wrote to the secretaries of state of every state and territory in the US, seeking information about how other states had designed their flags and had them officially adopted. Once she had gathered enough information, Oliver designed a flag that she thought would represent Missouri. She worked her design around the Missouri coat of arms.
Marie Oliver then asked her friend Mary Kochtitzky, an artist from Cape Girardeau, to paint a flag showing her design. This paper flag was brought to the State Capitol for viewing in 1908. After drafting a bill to have the flag made the official flag of Missouri, Robert Burett Oliver sent the bill to his nephew, Senator Arthur L. Oliver, who introduced it in the Missouri Senate on March 17, 1909. The bill passed in the Senate but failed to pass in the House of Representatives. Senator Oliver reintroduced the bill two years later. Again, it passed in the Senate but failed in the House because the General Assembly was considering another flag design. The competing flag, known as the "Holcomb flag," was designed by Dr. G. H. Holcomb. Many people opposed the "Holcomb flag" because it looked too similar to the United States flag and did not show Missouri as an independent state.
Disaster struck in 1911. The Missouri State Capitol burned, destroying Oliver's original paper flag. Oliver and another woman, Mrs. S. D. MacFarland, worked together to sew a second flag. This one was made of silk. On January 21, 1913, the Oliver Flag Bill was introduced in the House of Representatives. It passed on March 7 and was quickly signed by the Senate, which sent it directly to the governor. Governor Elliott Woolfolk Major signed the bill, making the Oliver flag the official flag of Missouri on March 22, 1913.
For many years, Marie Oliver kept the silk flag in a drawer in her home. She would take it out and proudly show it to interested people. In 1961, her son Allen gave the silk flag to the State of Missouri. The flag was on public display for many years, until it began to show signs of disintegration and was put into storage. In 1988, on the flag's 75th birthday, elementary students from around the state raised enough money to restore the flag. The restored flag is now on display in the James C. Kirkpatrick State Information Center in Jefferson City.
Marie Elizabeth Watkins Oliver created an attractive and symbolically appropriate flag for the State of Missouri. She died, ten years after her husband, on October 18, 1944, in Cape Girardeau. In her own words, she had lived "a full, fruitful and very worthwhile life." She is buried in Lorimer Cemetery in Cape Girardeau.
Text by Carlynn Trout with research assistance by Valerie Kemp and Jillian Hartke
References and Resources
For more information about Marie Watkins Oliver's life and career, see the following resources:
Society Resources
The following is a selected list of books, articles, and manuscripts about Marie Watkins Oliver in the research centers of The State Historical Society of Missouri. The Society's call numbers follow the citations in brackets.
"Flag a Symbol of Family's Legacy; Designer's Descendant Presented with Banner." Columbia Daily Tribune. May 25, 2005. p. 16A. [Reel # 8742]
"Mrs. Oliver Passes Away." Cape Girardeau Southeast Missourian. October 18, 1944. p. 1. [Reel # 4345]
"This is State Pride Week; Much History Recalled." Jefferson City Tribune. March 26, 1925. p. 4. [Reel # 17269]
Christensen, Lawrence O., William E. Foley, Gary R. Kremer, and Kenneth H. Winn, eds. 

Dictionary of Missouri Biography.

. Columbia: University of Missouri Press, 1999. pp. 583-584. [REF F508 D561]
Dains, Mary K., ed. 

Show Me Missouri Women: Selected Biographies

. Kirksville, MO: Thomas Jefferson University Press, 1989. v. 1, p. 258. [REF F508 Sh82 v.1]

Laws of Missouri Passed at the Session of the Forty-Seventh General Assembly which convened at the City of Jefferson, Wednesday, January 8, 1913

. Jefferson City: Hugh Stephens Printing Co. pp. 349-351. [REF M345.21 M691 1913]
Trout, Carlynn. Notable Women of Missouri. Columbia, MO: Columbia, Missouri Branch of the American Association of University Women in Partnership with Eugene Field Elementary School, Columbia, MO, 2005. pp. 25-26. [REF F508 T758 2005]
Waal, Carla, and Barbara Oliver Korner. 

Hardship and Hope: Missouri Women Writing About Their Lives 1820-1920

. Columbia: University of Missouri Press, 1997. pp. 117-131. [REF F508 W111]
Watkins, Marie Oliver, and Helen Hamacher Watkins. 

"Tearin' Through the Wilderness": Missouri Pioneer Episodes, 1822–1885, and Genealogy of the Watkins Family of Virginia and Missouri

. Charleston, WV: Mathews Printing and Lithography Co., 1957. [REF F508.2 W328W]
Oliver Family Papers (C3731)
This collection contains the papers of the Oliver family of Cape Girardeau, MO. The material includes family and professional correspondence, legal firm records, family financial and legal records, speeches and writings, genealogical materials, and photographs, as well as information on patriotic organizations, the Missouri State Normal School, and First Presbyterian Church of Cape Girardeau.
Marie Oliver Watkins Papers (C2689)
These papers contain genealogical research compiled in preparation for the publication of the book "Tearin' Through the Wilderness": Missouri Pioneer Episodes, 1822-1885 by Marie Oliver Watkins and Helen Hamacher Buchanan Watkins. This genealogy traces the descendants of Charles Allen Watkins and Henrietta Rives of Virginia and Ray County, Missouri. Marie Oliver Watkins was the niece of Marie Watkins Oliver, the designer of Missouri's state flag.
Outside Resources
These links, which open in another window, will take you outside the Society's website. The Society is not responsible for the content of the following websites:
"History of Missouri Flag"
This website offers Allen L. Oliver's "History of Missouri Flag," a detailed account of his mother and father's involvement in the creation and adoption of the Missouri flag.
Jackson Heritage Association
This website includes information about the Oliver House Museum in Jackson, Missouri.
The Missouri State Flag
This website offers information on Missouri's flag and all 49 of the other state flags.