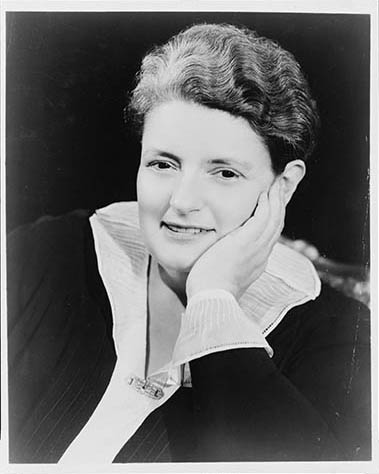 Mary Margaret McBride
Born: November 16, 1899
Died: April 7, 1976 (age 76)
Missouri Hometown: Paris
Region of Missouri: Northeast
Categories: Journalists, Women, Writers

Mary Margaret McBride was a writer and journalist who became one of the most popular radio broadcasters from the 1930s to the 1950s. She was known as "The First Lady of Radio."
She was born in Paris, Missouri, on November 16, 1899, the eldest of five children and the only daughter of Elizabeth Craig and Thomas Walker McBride. Her father was a farmer and her mother was the daughter of a Baptist minister. She once noted, "Missouri is not just a state to me. It is my childhood."
Mary Margaret attended public schools in her hometown until 1910 when her great-aunt Albina paid for her to study at William Woods in Fulton, Missouri, which was then a preparatory school. Her great-aunt stopped paying for tuition, however, after McBride informed her that she wanted to be a writer.
To pay her own way through school, McBride got a part-time job at the local newspaper, the Paris Mercury. She gained practical experience covering a wide variety of events, including courthouse proceedings, baby contests, and social events. Tom Bodine, the paper's editor, encouraged her to get a college education, and after a few months she left town and enrolled at the University of Missouri in 1916. Her experience at the Mercury helped her secure a job at a newspaper in Columbia. She worked at night and went to school during the day. After two and a half years of surviving on ten dollars a week, McBride's hard work paid off and she received a journalism degree in 1918.
McBride's first job after graduation was as a reporter at the Mexico Ledger in Mexico, Missouri. She then worked briefly at a news service in Washington, DC, before joining the Cleveland Press as a reporter. The job in Cleveland led to a position as a publicist with the Interfaith Council in New York City.
McBride was forced to look for other work after the council had financial difficulties. She eventually found work at the New York Evening Mail as a "sob sister," telling sad stories that tugged at readers' hearts. After the newspaper was sold to new owners, she was out of work yet again. Stella Karn, a freelance publicity agent, convinced McBride to try freelance work. McBride started writing articles for the Saturday Evening Post, Cosmopolitan, and other publications. During this time, she also collaborated and wrote books under pseudonyms as well as her own name.
McBride finally found her calling in 1934 after she auditioned for a woman's program on radio station WOR. She was hired to portray herself on the air as Martha Deane, a fictional grandmother with a large family whose details she had to memorize. In less than three weeks, McBride became so confused by the names of "her family" that she gave up trying. She confessed to her listeners, "I'm not a grandmother! I'm not a mother. I'm not even married … The truth is I'm a reporter who would like to come here every day and tell you about places I go, people I meet. Write me if you'd like that. But I can't be a grandmother anymore!" What could have been a career-ending blow-up turned out to be a stroke of genius. McBride's listeners loved her for her candidness.
At the height of her fame, six to eight million people—men as well as women—listened to her show daily. McBride used her journalistic training to present any subject, domestic or otherwise, in an interesting style. Her shows were not scripted but were spontaneous and unrehearsed. Her listeners also appreciated that she did not talk down to them but took them seriously as intelligent people. She interviewed a variety of well-known public figures ranging from Eleanor Roosevelt and Omar Nelson Bradley to Bob Hope and author Pearl Buck.
The bond McBride created with her listeners was deep, and she often read letters she received from them on her show. In fact, she received so many letters over the years that during World War II, when the government needed scrap paper, McBride donated more than three and a half million pieces of mail to the effort. She greatly grieved the loss, but felt it was her patriotic duty to contribute to the war effort.
On May 31, 1944, McBride celebrated her tenth anniversary on the air with a celebration at Madison Square Garden in New York. McBride was a bit apprehensive that no one would attend, but she need not have worried: more than eighteen thousand women (and men) packed the arena to celebrate the occasion, while millions more listened at home. Eleanor Roosevelt introduced McBride, saying, "I am always happy when a woman succeeds, but when a woman succeeds superlatively, she's an inspiration to all other women."
McBride was so popular that she was well known even to people outside her radio audience. Her name was famously spoofed on a classic episode of the television show I Love Lucy. In "The Million Dollar Idea," Lucy and her best friend Ethel Mertz schemed to sell "Aunt Martha's Old-Fashioned Salad Dressing." Ethel served as the pitchman, going by the name Mary Margaret McMertz. Viewers would have known the reference, even if they did not listen to McBride's program.
On her twentieth anniversary as a broadcaster, McBride retired from network radio and moved to the Catskills Mountains. She continued to broadcast from her living room three days a week as well as write books, including Out of the Air (1959) and A Long Way from Missouri (1960).
After a long illness, Mary Margaret McBride died at her home in West Shokan, New York, on April 7, 1976. Her career was an important forerunner for talk radio and television talk show personalities such as Phil Donahue and Oprah Winfrey, who became widely popular in the 1980s and 1990s.
Text and research by Elizabeth E. Engel
References and Resources
For more information about Mary Margaret McBride's life and career, see the following resources:
Society Resources
The following is a selected list of books, articles, and manuscripts about Mary Margaret McBride in the research centers of The State Historical Society of Missouri. The Society's call numbers follow the citations in brackets.
Levellyn, Lois. "William Woods Honors Mary McBride." Columbia Missourian. April 19, 1970. p. 4. [Reel # 7742]
"Mary Margaret McBride Dies; Radio Personality." St. Louis Post-Dispatch. April 8, 1976. p. 12A. [Reel # 43476]
"She Will Star in Her Radio Show for 75,000 in the Yankee Stadium." Kansas City Star. May 15, 1949. p. 1C. [Reel # 20739]
"William Woods College to Honor Mary Margaret McBride Again." Kansas City Star. April 10, 1970. p. 4. [Reel # 21667]
Bodine, Mary Ann. "Mary Margaret McBride Is Very Proud of Her Missouri Origin." Kansas City Star. April 7, 1940. p. 6C. [REF Vertical File]
Christensen, Lawrence O., William E. Foley, Gary R. Kremer, and Kenneth H. Winn, eds. Dictionary of Missouri Biography. Columbia: University of Missouri Press, 1999.  pp. 525–526.  [REF F508 D561]
Dains, Mary K., ed. Show Me Missouri Women: Selected Biographies. Kirksville, MO: Thomas Jefferson University Press, 1989. pp. 147–149. [REF F508 Sh82 v.1]
"Former Mexico Girl Makes Good—and How: Mary Margaret McBride Honored by Thousands at New York's Yankee Stadium." Mexico Evening Ledger. June 10, 1949. p. 2. [REF Vertical File]
Gustaitis, Joseph. "Prototypal Talk Show Host." American History Illustrated. v. 28, no. 6 (January-February 1994), pp. 48–49. [REF Vertical File]
McBride, Mary Margaret. America for Me. New York: Macmillan Company, 1941. [REF I M122a]
McBride, Mary Margaret. How Dear to My Heart. New York: Macmillan Company, 1940. [REF IJ M122h]
McBride, Mary Margaret. A Long Way from Missouri. New York: Putnam, 1959. [REF F508.1 M122L]
McBride, Mary Margaret, ed. How to Be a Successful Advertising Woman: A Career Guide for Women in Advertising, Public Relations, and Related Fields. New York: Whittlesey House, 1948. [REF I M122ho]
Bertha Bless Papers (C1740)
The papers of Bertha Bless, publisher of the Weston Chronicle, Weston, Missouri, and member of the National Federation of Press Women and Missouri Press Women, include references to Mary Margaret McBride in the following folders: 10, 13–15, 17, 40, 61, 62, 84, 94, 149, 194, and 234.
Outside Resources
These links, which open in another window, will take you outside the Society's website. The Society is not responsible for the content of the following websites:
Mary Margaret McBride: The Mike Wallace Interview
In 1957, Mary Margaret McBride was a guest on The Mike Wallace Interview, a television program. A transcript and video for the show can be found here. The website is maintained by the Harry Ransom Center at the University of Texas at Austin.
Mary Margaret McBride Papers
The Library of Congress holds a collection of Mary Margaret McBride's personal and professional papers.
McBride, Mary Margaret. Out of the Air. Garden City, NY: Doubleday, 1960.
Ware, Susan. It's One O'clock and Here Is Mary Margaret McBride: A Radio Biography. New York: New York University Press, 2005.
WOR Collection
The American Memory collection at the Library of Congress contains the collection of WOR-AM, the radio station where Mary Margaret McBride got her start. The collection includes broadcasts of her Martha Deane talk show.