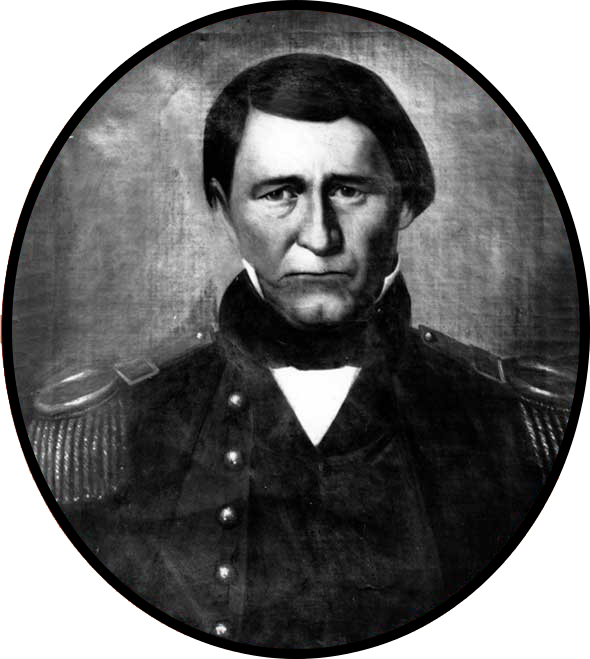 Nathan Boone
Born: March 2, 1781
Died: October 16, 1856 (age 75)
Missouri Hometown: Ash Grove
Region of Missouri: Northeast
Category: Explorers and Settlers
Born March 2, 1781, in Boone's Station, Kentucky, Nathan Boone was the tenth and final child born to Daniel and Rebecca Boone. He grew up alongside his father, later following in his footsteps as a soldier and trailblazer. Just like his father, Nathan spent his childhood roaming the woods, only to return home with fresh game for the family's dinner table. He also accompanied his father on long hunting expeditions.
In 1799, when Daniel decided to relocate to what is now Missouri, Nathan assisted with the preparations. He helped his father cut down a large poplar tree and hollow a canoe in which to move household items.
When Daniel set out for Missouri, Nathan stayed behind. He married Olive Van Bibber on September 26, 1799, and left for Missouri a few days later. Because Nathan did not arrive with his father, he was not entitled to a Spanish land grant. Nathan purchased 680 acres of land on the Femme Osage near what is now Defiance. He bought the land by selling his horse and saddle.
Nathan first built a small cabin but later erected a large stone house on the property with the help of his father. The house still stands. In 1803 the United States purchased the Louisiana Territory from France. Afterward, Nathan received steady work as a contract surveyor for the federal government. He surveyed lands in what are now St. Charles, Lincoln, Montgomery, and Warren counties.
Around 1805, Nathan and his brother Daniel Morgan Boone began producing salt from a saltwater spring—or "salt lick"—near present-day Boonville. Salt was important on the frontier because it was used to preserve meat. The area became known as Boone's Lick.
In 1808, Brig. Gen. William Clark asked Nathan to guide him on an expedition to what is now Jackson County. There, they built a fortified Indian trading post called Fort Osage and negotiated a treaty with the Osage.
During the War of 1812, Nathan served as a captain with the Missouri Rangers. He patrolled the frontier and helped build blockhouses for defense. Later, he served with the U.S. Dragoons and was commissioned as a captain. In 1820, Nathan was elected to serve as a delegate to the Missouri constitutional convention.
Nathan later settled in what is now Ash Grove, Missouri. He died October 16, 1856, in the log cabin he had built there some years earlier.
Text by Carlynn Trout with research assistance by Kimberly Harper
References and Resources
For more information about Nathan Boone's life and career, see the following resources:
Society Resources
The following is a selected list of books, articles, and manuscripts about Nathan Boone in the research centers of The State Historical Society of Missouri. The Society's call numbers follow the citations in brackets.
"Attached by Indians near Fort Madison." St. Louis Missouri Gazette. August 21, 1813, p. 3, c. 4.
"Captain Nathan Boone Pursues Indians Who Attack Fort Mason." St. Louis Missouri Gazette. August 29, 1812, p. 3, c. 2.
"Company of Nathan Boone and B. Whitesides ordered to tour the Kaskaskia Territory." St. Louis Missouri Gazette. April 24, 1813, p. 3, c. 4.
"Indians Are Reported Near Kaskaskia." St. Louis Missouri Gazette. May 1, 1813, p. 3, c. 3.
"Nathan Boone." Willard Cross Country Times. July 18, 1991, pp. 1-2.
"Nathan, a 'Worthy' Son of Daniel." Springfield Sunday News & Leader. August 7, 1977. p. F1.
"Presenting Long-Hidden History of Nathan Boone's Life." Kansas City Star. July 21, 1946, p. 1C.
"The Other Boone Home." Columbia Daily Tribune. September 5, 1999, p. 1C.
"The Progeny of a Famous Pioneer." St. Louis Post-Dispatch. August 16, 1937, p. 3D.
"Volunteers under Captain Nathan Boone Pursue the Indians Who Murdered the Lively Family on the Kaskaskia River." St. Louis Missouri Gazette. March 27, 1813, p. 3, c. 1.
Foreman, Carolyn Thomas. "Nathan Boone: Trapper, Manufacturer, Surveyor, Militiaman, Legislator, Ranger, and Dragoon." Chronicles of Oklahoma. v. 19, no. 4 (December, 1941), pp. 322-347. [REF 976.6 C468  v. 19]
Hammon, Neal O., ed. My Father, Daniel Boone: The Draper Interviews with Nathan Boone. Lexington: University Press of Kentucky, 1999. [REF F508.1 B644dr2]
Hurt, R. Douglas.  Nathan Boone and the American Frontier.Columbia: University of Missouri Press, 1998. [REF F508.1 B646h]
Upton, Loucile Morris.  Nathan Boone: The Neglected Hero. Republic, MO: Western Printing Co., Inc., 1984. [REF F508.1 B646u]
Walker, Wayne T. "Nathan Boone: The Forgotten Hero of Missouri." Journal of the West. v. 18, no. 2 (April 1979), pp. 85-94. [REF Vertical File]
Outside Resources
These links, which open in another window, will take you outside the Society's website. The Society is not responsible for the content of the following websites: