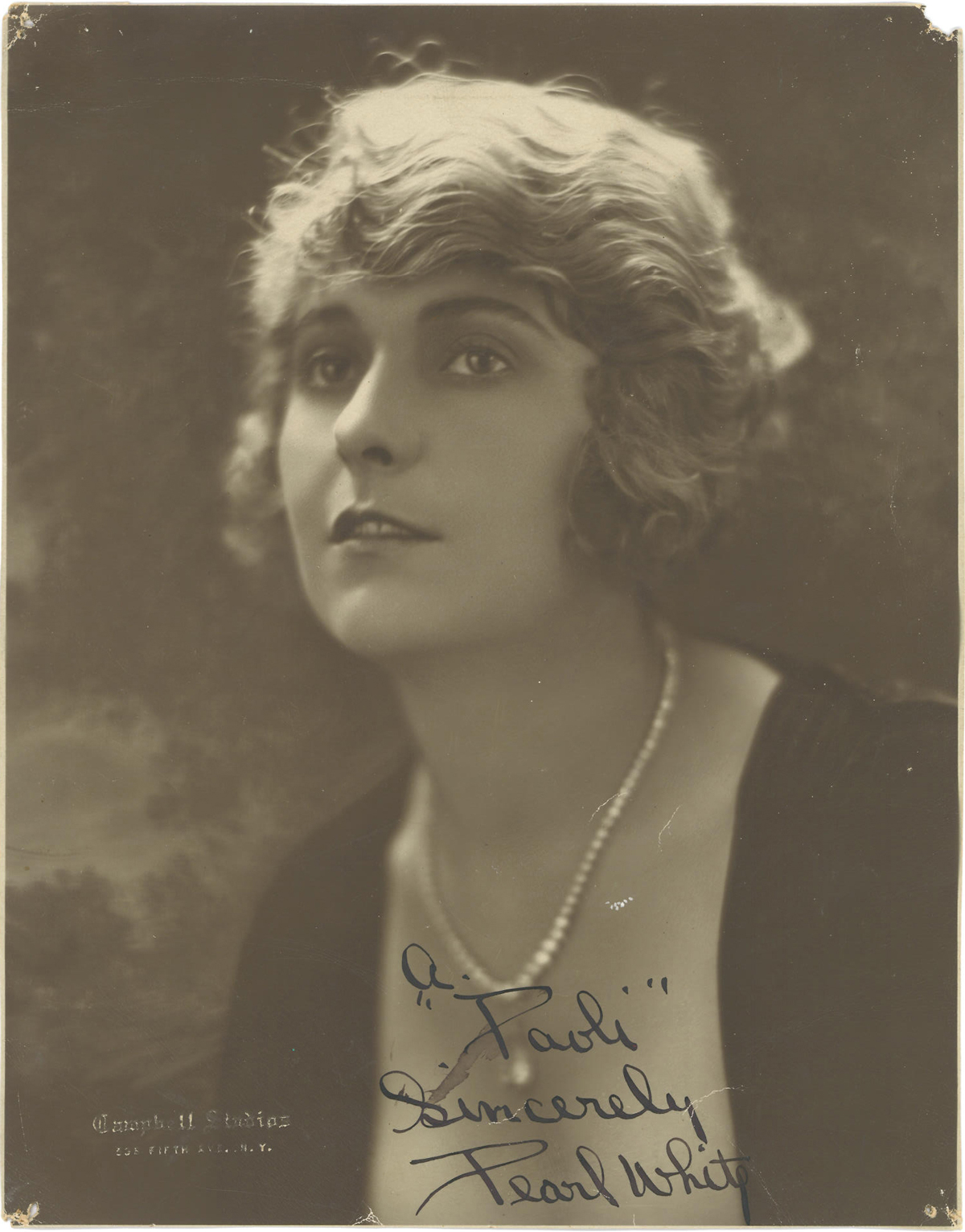 Pearl White
Full Name: Pearl Fay White
Born: March 4, 1889
Died: August 4, 1938 (age 49)
Missouri Hometowns: Green Ridge, Springfield
Region of Missouri: Southwest
Category: Entertainers, Women

Introduction
Silent film actress Pearl White was one of the first movie stars in history. For several years she was the highest-paid actress in the film industry and appeared on the cover of Photoplay and Motion Picture Magazine. Women were often inspired by White's films, not only because of her amazing stunts on screen, but also because her characters frequently rescued themselves from danger rather than waiting for a man to rescue them. In her movies she was tied to train tracks, escaped burning buildings, dove off of exploding boats, and used a rope to escape from a runaway hot-air balloon. She performed most of these stunts herself and was known as the "Daredevil of the Movies."
Early Years and Education
Pearl White was born in Green Ridge, Missouri, on March 4, 1889. She was the ninth child of Edward G. and Elizabeth House White and one of only four to survive to adulthood. Pearl's mother died in 1891. Her father remarried in 1895, and his new wife, Inez, took charge of Pearl, who admitted that she was "a wonderful definition of the word 'brat.'"
In 1896 Pearl learned that a theater troupe was scheduled to perform Uncle Tom's Cabin in Green Ridge. She skipped Sunday school and spent the day with the performers. When illness prevented the little girl cast as Eva from performing the next day, the troupe director chose Pearl to take her place. Pearl spent hours with the cast learning her part. "This little trip into the show business," Pearl said, "gave me a thrill that lasted all through my younger days and made me always wanting to be on exhibition."
Springfield Theater Career
Shortly thereafter, Pearl's family moved to Springfield, Missouri. While living in Springfield, Pearl dropped out of high school to pursue an acting career. She performed at the amusement park in Doling Park and joined the Diemer Theatre Company on Commercial Street in North Springfield. Over time Pearl was cast in larger parts, which gave her confidence and helped her decide to become a professional actress.
White left Springfield in 1906 and joined traveling theatrical troupes in Tennessee, Kansas, Illinois, and New York. She was often short of money and found herself constantly on the move. "Hours of weary travel by railroad," White told the Springfield News-Leader in 1916, "then the same old journey by bus to an inferior hotel, the same hurried and poorly cooked dinner, the same old trip to the theater…I found the life tiresome."
In 1907 she married fellow actor Victor Sutherland, but the couple soon divorced. Stage work required speaking loudly, and while in New York, White found that her voice had weakened after years of performing on stage. Someone suggested she try working in the movie industry. Movies were in their infancy; it would be twenty more years before they featured sound. Actors and actresses in silent films did not speak; instead, they told the story through facial expressions and body movements. Text appeared on screen to help tell the story. White began appearing in films and did not work in live theater again for nine years.
White worked for several motion-picture companies before she was hired for the role that made her famous. Pathé, a French company managed by Louis Gasnier, hired Pearl to appear in a serial, or series of movies, called The Perils of Pauline. Serials were the silent-film equivalent of the modern-day television series. Television did not exist at the time, so audiences went to the theater every other week to watch Pauline's story continue to unfold. The plot was that Pauline stood to inherit great sums of money once she got married, but had to overcome murderous thieves who wanted to kill her and steal her inheritance. The Perils of Pauline brought the "cliffhanger" ending to movies. Every episode ended with Pauline in extreme danger, leaving the audience in suspense until the next movie to see how she would survive.
Serial Queen of the World
Audiences flocked to theaters to see The Perils of Pauline. At the height of her fame, White received ten thousand fan letters every week from all over the world. She appeared on the cover of Photoplay Magazine three times between 1914 and 1917, and the magazine wrote many articles about her. Her next serial production, The Exploits of Elaine, made even more money than her Pauline pictures. Pearl earned a $250,000 salary at a time when the average worker made less than $800 a year. Other adventure pictures she appeared in included The Iron Claw, Pearl of the Army, The Fatal Ring, The Lightning Raider, and In Secret. This led Photoplay Magazine to call her "the serial queen of the world."
Pearl married World War I veteran Wallace McCutcheon in 1919. He had sustained serious head injuries in the war and likely suffered from what is known today as post-traumatic stress disorder. The couple did not have any children; he later committed suicide after their 1921 divorce. Pearl did not marry again. Her offers to appear in films started to decline, and pain she suffered from an accident on a movie set hampered her career. In 1923 she retired from the film industry as silent films were falling out of favor. White, however, managed her finances responsibly throughout her career and made wise investments that allowed her to live comfortably for the rest of her life. She settled in Paris, France, and began working in live theater again. White continued to visit her family in Springfield. She died of liver failure on August 4, 1938, at the age of forty-nine. She is buried in Neuilly-sur-Seine, France.
Film historians recognize Pearl White as the first American movie star to gain international fame. She is remembered for her physical prowess and heroic portrayal of women on screen. Pearl's characters engaged in activities traditionally done by men. She handled a gun, fought with her fists, rode a horse, and showed that women could do anything a man could. Paramount Pictures made a movie about her life in 1947 titled The Perils of Pauline. Pearl received a star on the Hollywood Walk of Fame on February 8, 1960. It is located at 6838 Hollywood Boulevard in Los Angeles, California.
Text and research by Erin Smither
References and Resources
For more information about Pearl White's life and career, see the following resources:
Society Resources
The following is a selected list of books, articles, and manuscripts about Pearl White in the research centers of The State Historical Society of Missouri. The Society's call numbers follow the citations in brackets.
"Keeping Up Appearances Is Costly, Pearl White Claims." Springfield Leader. January 23, 1923. p. 7. [Reel # 48934]
"Pearl White Buys $1600 Tombstone for Mother." Springfield Leader. November 17, 1927. p. 1. [Reel # 48957]
"Pearl White Now Awaiting Outcome of Divorce Suit." Springfield Leader. June 1, 1921. p. 7. [Reel # 48927]
"Pearl White Sleeps While Her 'Dad' Waits." Springfield Leader. November 3, 1927. pp. 1, 12. [Reel # 48956]
"Pearl White's Ambition Is to Be in Real Human Part before Footlights." Springfield Leader. March 7, 1920. p. 24. [Reel # 48923]
"Springfield Girl Wins Fame in Film World as 'Dare Devil of Movies.'" Springfield Missouri Republican. October 14, 1916. p. 4. [Reel # 50337]
Irene S. Taylor Papers (C1220)
The papers of a journalist from St. Joseph, Missouri, who worked for several news organizations in Paris, France, in the 1930s, contain correspondence, photographs, and articles. Folders 5 and 65 contain information about Pearl White.
Outside Resources
These links, which open in another window, will take you outside the Society's website. The Society is not responsible for the content of the following websites: