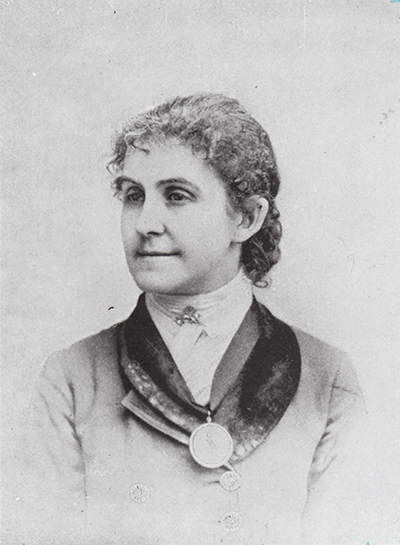 Phoebe Couzins
Full Name: Phoebe Wilson Couzins
Born: September 8, 1842
Died: December 6, 1913 (age 71)
Missouri Hometown: St. Louis
Region of Missouri: St. Louis
Categories: Leaders and Activists, Women
Phoebe Wilson Couzins was an early trailblazer for women. She was one of the first female lawyers in the United States, the first female U.S. marshal, and an outspoken supporter of women's right to vote.
Couzins was born on September 8, 1842, to John E. D. and Adaline Weston Couzins in St. Louis, Missouri. John E. D. Couzins was an architect and builder.
At an early age, Phoebe learned the value and importance of public service from her parents. In 1849, when she was just six years old, a horrific cholera epidemic swept through St. Louis. Thousands of the city's residents died. John and Adaline Couzins led the local relief organization responsible for helping cholera victims.
During the Civil War, Phoebe's father served as the city's chief of police and as a member of the Committee of Public Safety, a group that sought to keep Missouri in the Union. Adaline was a member of the Ladies' Union Aid Society in St. Louis and volunteered as a battlefield nurse.
After the war, Adaline and Phoebe joined the St. Louis Woman Suffrage Association, an organization that promoted the right of women to vote and to hold political office. In 1869, encouraged by a family friend, Phoebe applied and was admitted to Washington University Law School in St. Louis.
The same year, Couzins served as a delegate to the American Equal Rights Association convention in St. Louis. There she met influential suffragists Susan B. Anthony and Elizabeth Cady Stanton. Unsatisfied with existing women's suffrage organizations, Stanton and Anthony formed the National Woman Suffrage Association, which Couzins joined.
Upon graduating from law school in 1871, Couzins became the first female law graduate of Washington University and the one of the earliest female law graduates in the United States. After passing the bar exam, Couzins practiced law for two months before devoting herself to the women's suffrage movement. She began traveling across the country to give speeches in favor of women's rights.
On the opening day of the 1876 Democratic National Convention in St. Louis, Phoebe Couzins delivered an address to male convention delegates on behalf of the National Woman Suffrage Association. Couzins implored the Democratic Party's delegates to support women's suffrage and include it as part of the party's political platform, but to no avail. Although unable to vote and barred from participating in the political process, women did attend the convention, watching the proceedings from their seats in the balconies.
In 1884, when Couzins's father was appointed U.S. marshal for the Eastern District of Missouri, he made her one of his deputies. After her father's death in 1887, Couzins was appointed interim U.S. marshal by President Grover Cleveland, making her the first woman to serve in that position. Two months later she was replaced by John W. Emerson.
Couzins moved to Washington, DC, where she made a modest living as a writer. In 1890 she was elected secretary of the Board of Lady Managers of the Chicago World's Fair, providing her with much-needed income. Couzins was dismissed, however, due to infighting among board members.
As she grew older, Couzins's ambitious, outspoken personality alienated friends in the women's suffrage movement at a time when she could ill afford to do so. Battling poor health and disillusioned with younger, wealthier members of the suffragist movement, she denounced the cause and became a lobbyist for the United Brewers Association.
As a lobbyist, Couzins spoke out against the temperance movement, which sought to prohibit the sale and consumption of alcohol. Her actions upset acquaintances in the women's movement as temperance was a favorite cause of many suffragists. In 1902 Couzins experienced a change of heart and again supported the suffrage movement.
Couzins lost her job as a lobbyist in 1908. At the age of sixty-eight, she found herself penniless, in failing health, and unable to work. She returned to St. Louis, where she died on December 6, 1913.
Couzins was buried wearing her U.S. marshal's badge in Bellefontaine Cemetery. Her grave remained unmarked until 1950, when members of the Women's Bar Association of St. Louis placed a headstone on her final resting place in memory of her accomplishments.
Text and research by Kimberly Harper
References and Resources
For more information about Phoebe Couzins's life and career, see the following resources:
Society Resources
The following is a selected list of books, articles, and manuscripts about Phoebe Couzins in the research centers of The State Historical Society of Missouri. The Society's call numbers follow the citations in brackets.
"Admitted to the Bar by Judge Krum." Columbia Statesman. April 4, 1873. p. 2, c. 7. [Reel # 7552]
"Delivers Woman's Suffrage Speech at Columbia Library." Columbia Statesman. February 18, 1870. p. 3, c. 2. [Reel # 7551]
"Lecture on Women Lawyers." Columbia Statesman. January 16, 1874. p. 1, c. 1. [Reel # 7552]
Christensen, Lawrence O., William E. Foley, Gary R. Kremer, and Kenneth H. Winn, eds. Dictionary of Missouri Biography. Columbia: University of Missouri Press, 1999. pp. 211-212. [REF F508 D561]
Coalier, Paula. "Beyond Sympathy: The Saint Louis Ladies' Union Aid Society and the Civil War." Gateway Heritage. v. 11, no. 1 (Summer 1990), pp. 38-51. [REF F550 M69gh]
Corbett, Katharine T. In Her Place: A Guide to St. Louis Women's History. St. Louis: Missouri Historical Society Press, 1999. pp. 198-200. [REF H235.47 C81]
Dains, Mary K., ed. Show Me Missouri Women: Selected Biographies. Kirksville, MO: Thomas Jefferson University Press, 1989. v. 1, pp. 173-174. [REF F508 Sh82 v.1]
Ring, Lucile Wiley. Breaking the Barriers: The St. Louis Legacy of Women in Law, 1869-1969. Manchester, MO: Independent Pub. Co., 1996. pp. 4-13.
Waal, Carla, and Barbara Oliver Korner. Hardship and Hope: Missouri Women Writing about Their Lives, 1820-1920. Columbia: University of Missouri Press, 1997. pp. 110-116. [REF F508 W111]
Herbert Spencer Hadley Papers (C0006)
Folders 164, 166, 167, 169, and 193 contain a series of letters by the suffragist Phoebe Couzins concerning the reclamation of a salary agreement she once had with Adolphus Busch.
Outside Resources
These links, which open in another window, will take you outside the Society's website. The Society is not responsible for the content of the following websites: