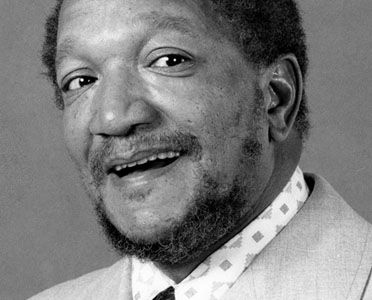 Redd Foxx
Full Name: Jon Elroy Sanford
Born: December 9, 1922
Died: October 11, 1991 (age 68)
Missouri Hometown: St. Louis
Region of Missouri: St. Louis
Categories: African Americans, Entertainers
Introduction
Redd Foxx was a pioneering standup comic, recording artist, and comedic actor. He is best known for playing the character Fred G. Sanford on Sanford and Son, one of the most popular television series in the 1970s.
Early Years and Education
"The family was very poor. I stayed with my grandmother in her old wood shack of a house in St. Louis." — Redd Foxx
Jon Elroy Sanford was born in St. Louis, Missouri, on December 9, 1922, to Fred Glenn Sanford and Mary Alma Hughes Sanford. After Jon's father abandoned the family, Mary moved to Chicago to look for work, leaving Jon and his older brother, Fred G. Sanford Jr., with their grandmother.
The boys eventually joined their mother in Chicago, where Jon finished middle school at Carter School and then attended DuSable High School. There he and some classmates formed a band called the Four Bon Bons. Jon dropped out of school at age sixteen and moved with the band to Harlem in New York City.
"Chicago Red was the funniest dishwasher on this earth." — Malcolm X
Jon's band (now the Jump Swinging Six) performed on a national radio show, but soon broke up. In Harlem, Jon was nicknamed "Foxy," because he was a sharply dressed ladies' man. He washed dishes at the same restaurant that employed the great jazz musician Charlie Parker. There he befriended Malcolm Little, who later became the civil rights leader known as Malcolm X. Jon and Malcolm, who were nicknamed "Chicago Red" and "Detroit Red," spent their evenings doing drugs, chasing women, and committing petty crimes.
In 1945, Jon became an emcee at a club in Baltimore, Maryland. His new stage name, "Redd Foxx," was a combination of his two nicknames, spelled with double consonants like the famous baseball player, Jimmie Foxx. Redd was approached to record a set of comedy albums in Newark, New Jersey, where he met and married Evelyn Killibrew. The records flopped, but Redd formed an act called "Foxx and White" with fellow comedian Slappy White. They found success touring the national Chitlin' Circuit in the late 1940s and early 1950s. After moving to Los Angeles in 1952 to open for singer Dinah Washington, their act (and Redd's marriage) broke up.
King of the Party Records
"I found California very tough at first. It was very segregated. I remember going over once for an audition . . . and at first I couldn't even get in because it was all white." — Redd Foxx
In Los Angeles, Redd became an assistant to the radio DJ Johnny Otis and acted on Otis's local television show. He also started doing standup comedy as a solo act. Due to segregation, Redd could not perform in the "mainstream" clubs frequented by whites, but this allowed him to experiment with edgier material without fear of being arrested for breaking obscenity laws. His raunchy new act became popular in Los Angeles's black clubs. In 1955, Foxx married singer Betty Jeanne Harris and recorded a hit comedy album, Laff of the Party.
Redd's recording success helped his standup career flourish. By the early 1960s he was performing at large integrated clubs in Las Vegas and had homes in that city, Los Angeles, and St. Louis. In 1964 he appeared on the Today Show (with a censored act), then performed on several other nationally televised shows, including The Tonight Show with Johnny Carson.
Sanford and Son
"This is the Big One! I'm dying! You hear that Elizabeth? I'm coming to join ya, honey!" — Redd Foxx as Fred Sanford faking a heart attack
In 1970, Redd played the part of a wily junkyard owner in the film Cotton Comes to Harlem. This led to a similar role in an American remake of the British sitcom, Steptoe and Son. Redd named his character Fred G. Sanford, after his brother, who died at the age of forty-six. The character's son, Lamont, was named after Lamont Ousley, Redd's bandmate in the Four Bon Bons. The show was renamed Sanford and Son. Although Sanford's age was given as sixty-five and Redd was only forty-eight, Foxx's hard-partying lifestyle aged him enough to look the part. The character was based in part on Redd's mother, Mary, who often faked illnesses to get attention.
Sanford and Son debuted on NBC on January 14, 1972. Redd's standup comedy experience allowed him to improvise before the live studio audience to hilarious results, especially when he was performing one of Sanford's signature fake heart attacks. Foxx won a Golden Globe for his portrayal of Sanford, and Sanford and Son finished the season as the sixth-highest-rated show on television.
Sanford and Son was groundbreaking not only for its humor, but also as a showcase for lesser-known African American performers. The show was second in the ratings by the end of its second season. Foxx signed a lucrative contract and became a popular advertising spokesman; however, before the end of the third season, he left the show over a contract dispute. He held out into the fourth season and was awarded a new contract that was tied for the richest salary on television. After his divorce from Betty in 1976, Foxx married Korean immigrant Yun Chi Chung (called Joi) and starred in another movie, Norman. . . Is That You?
A Falling Star
"Money is not green with Redd Foxx. In his hands it's transparent, it's invisible, it's disappearing, and it has a couple of other qualities, too—slippery and flammable." — Herb Eden
Redd performed on Sanford and Son until 1977. He then signed the richest contract in television to star in a variety show on ABC called The Redd Foxx Comedy Hour. After initially gaining high ratings, the show was canceled at the end of its first season. Foxx returned to his standup career in Las Vegas, but was involved in a number of lawsuits ranging from a contract dispute with ABC to charges that he had harassed a waitress and assaulted one of his employees.
For Redd, the 1980s were characterized by massive debt, business failures, and another divorce. He filed for bankruptcy in 1983. In 1986, The Redd Foxx Show debuted, but it only lasted a few months. A Broadway show, Redd Foxx and Friends, failed the next year. In 1989 the IRS raided Redd's home and confiscated almost everything in an attempt to recover enough to pay his back taxes.
That same year, Redd starred in the movie Harlem Nights with Eddie Murphy. Murphy was so impressed by Foxx's chemistry with Della Reese (Redd's longtime friend from the Chitlin' Circuit) that he created a new sitcom for the pair in 1991. Shortly after his fourth marriage to Ka Ho Cho, Foxx's new show, The Royal Family, debuted to high ratings. Unfortunately, Foxx's marriage and career comeback were cut short by a stroke of fate.
Death and Legacy
"Redd said, 'Ah, give me a break' and reached for the chair and did what we thought was a pratfall, 'cause he did that all the time. And we all stood there laughing while he was laying on the floor. He'd had a heart attack." — Della Reese
Redd's years of hard living finally caught up with him on October 11, 1991, when he collapsed on the set of The Royal Family. Initially, his costars thought he was performing one of his famous fake heart attacks. Foxx died of heart failure at a hospital later that evening at the age of sixty-eight. At the time of his death, he still owed millions to the IRS.
Although Redd Foxx is mainly remembered for his iconic character Fred G. Sanford, his career made many lasting impressions on American comedy. Foxx was one of the first black comedians to find mainstream success, and his uncensored style helped pave the way for other comics who used racy material. The success of Sanford and Son inspired several other sitcoms with primarily African American casts, and Redd used the show as a national stage to promote black performers. Foxx helped launch the careers of several black comedians, such as Richard Pryor and Bernie Mac, and has been named as a major influence by many others, such as Eddie Murphy, Chris Rock, and Jamie Foxx (who adopted his last name). Redd Foxx is honored on the St. Louis Walk of Fame and the historic Apollo Theater's Walk of Fame.
Text and research by Todd Barnett
References and Resources
For more information about Redd Foxx's life and career, see the following resources:
Society Resources
The following is a selected list of books, articles, and manuscripts about Redd Foxx in the research centers of The State Historical Society of Missouri. The Society's call numbers follow the citations in brackets.
"Comedian Redd Foxx, 'Sanford and Son' Star." St. Louis Post-Dispatch. October 12, 1991. p. 4B. [Reel # 44022]
"Items Stolen from Redd Foxx Are Recovered." St. Louis Post-Dispatch. November 8, 1988. p. 4B. [Reel # 43881]
"People." St. Louis Post-Dispatch. November 30, 1989. p. 6A. [Reel # 43932]
"People." St. Louis Post-Dispatch. July 10, 1991. p. 5A. [Reel # 44010]
"Redd Foxx Dies at 68. . . Comedian Was St. Louis Native." St. Louis Post-Dispatch. October 13, 1991. p. 1A. [Reel # 44022]
"Redd Foxx Had Roots in St. Louis." St. Louis Post-Dispatch. October 13, 1991. p. 1A. [Reel # 44022]
"Redd Foxx Has Heart Attack in Rehearsal." St. Louis Post-Dispatch. October 12, 1991. p. 4B. [Reel # 44022]
"Redd Foxx Has Shot at Another Big Hit." St. Louis Post-Dispatch. August 16, 1991. p. 9F. [Reel # 44015]
Acham, Christine. Revolution Televised: Prime Time and the Struggle for Black Power. Minneapolis: University of Minnesota Press, 2004. [REF 301.451 Ac42]
"After IRS Comes to Collect, an Angry Redd Foxx Starts Playing to an Empty House." People. v. 32, no. 25 (December 18, 1989). [REF Vertical File]
Berry, William Earl. "The Black Woman behind Redd Foxx." Jet. v. 43, no. 22 (February 22, 1973), pp. 56-60. [REF Vertical File]
Collier, Aldore. "Foxx Faces Homeless Holidays; IRS Seizes Property." Jet. v. 77, no. 1 (December 18, 1989), pp. 52-58. [REF Vertical File]
"Foxx Felled by a Heart Attack Taping TV Show; Calls for Wife and Dies." Jet. v. 81, no. 2 (1991), pp. 4-8, 57. [REF Vertical File]
Price, Joe X. Redd Foxx, B.S. (Before Sanford). Chicago: Contemporary Books, Inc., 1979. [REF F508.1 F837p]
"Redd Foxx Is Back." Jet. v. 69, no. 21 (February 10, 1986), pp. 60-62. [REF Vertical File]
"The Redd Foxx That Nobody Knew." Jet. v. 81, no. 3 (November 4, 1991), pp. 54-59. [REF Vertical File]
Starr, Michael Seth. Black and Blue: The Redd Foxx Story. Montclair, NJ: Applause Theatre & Cinema Books, 2011. [REF F508.1 F837st]
Outside Resources
These links, which open in another window, will take you outside the Society's website. The Society is not responsible for the content of the following websites:
Redd Foxx
This is the official Redd Foxx website administrated by the Redd Foxx estate. It contains a short biography and has links to photographs, artwork, and websites.