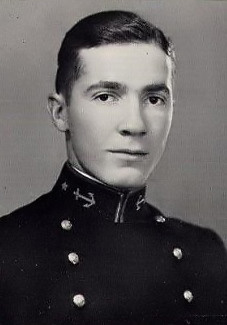 Robert A. Heinlein
Full Name: Robert Anson Heinlein
Born: July 7, 1907
Died: May 8, 1988 (age 80)
Missouri Hometown: Kansas City
Region of Missouri: Kansas City
Category: Writers
Robert A. Heinlein was a science fiction writer of short stories and novels. He wrote for juveniles and adults, combining his interests in science, technology, and the military. Heinlein created numerous best-sellers, won several Hugo awards, and had a large influence on modern science fiction.
Born on July 7, 1907, in Butler, Missouri, Robert Anson Heinlein was the third of nine children born to Rex Ivar and Bam Lyle Heinlein. That same year the Heinlein family moved to Kansas City, Missouri, to live with Robert's grandfather, Samuel Edward Heinlein. At age nine Robert applied for his first job to help his parents. He held a variety of jobs throughout his younger years, including selling magazine subscriptions, delivering newspapers, and working at a theater.
Robert loved reading books at a young age. He was especially interested in the topics of astronomy and space flight. Using the library cards of his siblings, he read all of the science fiction books in the Kansas City Public Library.
In 1919 Robert attended high school at Kansas City Central High School. He was a busy teenager. In addition to classes, Robert modeled for extra money, acted in school plays, joined two science clubs, and took public speaking classes to help eliminate a stammer that had challenged him since childhood. Robert joined the Reserve Officers' Training Corps (ROTC) in high school as he wished to pursue a military career.
After graduation, Heinlein was assigned to serve on the USS Lexington and later the USS Roper. In 1932 he married Leslyn MacDonald. Life aboard the Roper was much different than on the Lexington, and Heinlein became extremely seasick. He later contracted tuberculosis. In 1934 he was medically discharged from the navy with the rank of lieutenant.
When his first career failed, Heinlein attempted a variety of others. He took graduate classes at the University of California. He soon became ill again and stopped taking classes. He then tried his hand at politics, but this career move also came to an end in 1938, leaving him unemployed and broke once again.
In 1939 Heinlein wrote his first short story, "Life Line," which he sold to Astounding Science-Fiction magazine for seventy dollars. This was the beginning of his career as a science fiction writer. Heinlein's writings combined imagination and current technology to create stories that anticipated many concepts and events in the near future. Ideas similar to cell phones, nuclear bombs, and the water bed appeared in his stories before they were actually invented. He was one of the first science fiction writers to expand outside of the science fiction magazine culture of the era to catch the attention of a larger readership. One of Heinlein's most famous novels, Strangers in A Strange Land, began his survivalist fiction phase.
Heinlein joined the military for a second time as a civilian during World War II. He worked as an engineer in the U.S. Naval Aircraft Factory in Philadelphia. In 1947 Heinlein divorced Leslyn. One year later he married Virginia "Ginny" Gerstenfield, whom he had met while working at the Naval Aircraft Factory. Robert and Ginny Heinlein lived in Colorado Springs for several years before eventually settling in California. Together, Robert and Ginny Heinlein traveled the world, visiting over sixty countries as well as Antarctica. Heinlein never had children with any of his three wives.
Heinlein continued to write science fiction stories for the rest of his life, completing twelve short-story collections and thirty-two novels. He became the first science fiction writer to appear on The New York Times best-seller list and he won the Hugo Award four different times for Double Star, Starship Troopers, The Moon Is a Harsh Mistress,and Stranger in a Strange Land. Heinlein was so successful and well known that a crater on Mars was named after him. Robert Heinlein died from emphysema and heart failure on May 8, 1988, in Carmel, California.
Text and research by Bethany Wesselmann
References and Resources
For more information about Robert Heinlein's life and career, see the following resources:
Society Resources
The following is a selected list of books, articles, and manuscripts about Robert Heinlein in the research centers of The State Historical Society of Missouri. The Society's call numbers follow the citations in brackets.
"Robert Heinlein, a 'Grand Master' of Sci-Fi, Dies at 80." Kansas City Times. May 10, 1988. p.1. [Reel # 22534]
Outside Resources
These links, which open in another window, will take you outside the Society's website. The Society is not responsible for the content of the following websites:
Bould, Mark, Andrew M. Butler, Adam Roberts, and Sherryl Vint. Fifty Key Figures in Science Fiction. London: Routledge, 2010. pp. 96-100.
Dinerman, Taylor. "Robert A. Heinlein's Legacy." Wall Street Journal. July 26, 2007.
The Heinlein Society
This website gives a biography of Robert and Ginny Heinlein and provides educational materials pertaining to Heinlein's works.
Pace, Eric. "Robert A. Heinlein Is Dead at 80; Renowned Science Fiction Writer." New York Times. May 10, 1988.
Patterson, William H. Robert A. Heinlein: In Dialogue with His Century. New York: Tom Doherty Associates, 2010.
Robert A. and Virginia G. Heinlein Papers (MS95)
This website describes the Heinlein collection held by the University of California Santa Cruz.
Stover, Leon. Robert A. Heinlein. Boston: Twayne Publishers, 1987.
Timberg, Scott. "The Descent of a Sci-Fi Guru." Los Angeles Times. December 9, 2007.