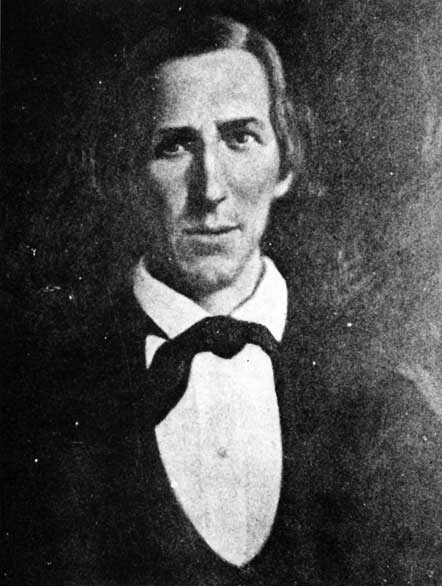 Robert James
Full Name: Robert Sallee James
Born: July 17, 1818
Died: August 18, 1850 (age 32)
Missouri County: Clay
Region of Missouri: Northwest
Category: Folk Legends
Robert Sallee James was the father of the famous outlaw Jesse James. He was a hemp farmer, enslaver, and Baptist minister from Kentucky who helped found William Jewell College in Liberty, Missouri. Robert James was orphaned at age nine and went to live with his married sister Mary Mimms. In 1838 he enrolled at Georgetown College, Kentucky. While a student there, he met Zerelda Elizabeth Cole. They married on December 20, 1841.
After James received his diploma in 1842, he and Zerelda moved to Clay County, Missouri. They lived with Zerelda's mother and stepfather until their first child, Frank, was born in 1843. James then acquired a farm and started purchasing enslaved people to work in the fields. By 1850 James enslaved at least five Black children and a Black woman.
James became a preacher at New Hope Baptist Church. He was known for his passionate sermons and his ability to attract new members to the congregation. He received no income for his preaching.
The Gold Rush of 1849 enticed many people to seek their fortune out west. In 1850 James joined other men from Clay County and traveled to the mines. His purpose, he claimed, was to preach to the miners. He became ill and died unexpectedly in a camp named "Rough and Ready" in August 1850.
Text by Carlynn Trout with research assistance by Elizabeth E. Engel
References and Resources
For more information about Robert James' life and career, see the following resources:
Society Resources
The following is a selected list of books, articles, and manuscripts about Robert James in the research centers of The State Historical Society of Missouri. The Society's call numbers follow the citations in brackets.
"Death of Rev. Robt. James." Liberty Weekly Tribune. October 25, 1850. p. 2, c. 3. [Reel # 26659]
"From the Clay Emigrants, Fort Laramie, May 18, 1850." Liberty Weekly Tribune. June 21, 1850. p. 1, c. 3. [Reel # 26659]
McGrane, Martin Edward. The James Farm: Its People, Their Lives and Their Times. Pierre, SD: Caleb Perkins Press, 1982. pp. 6-8. [REF F508.1 J234mc2]