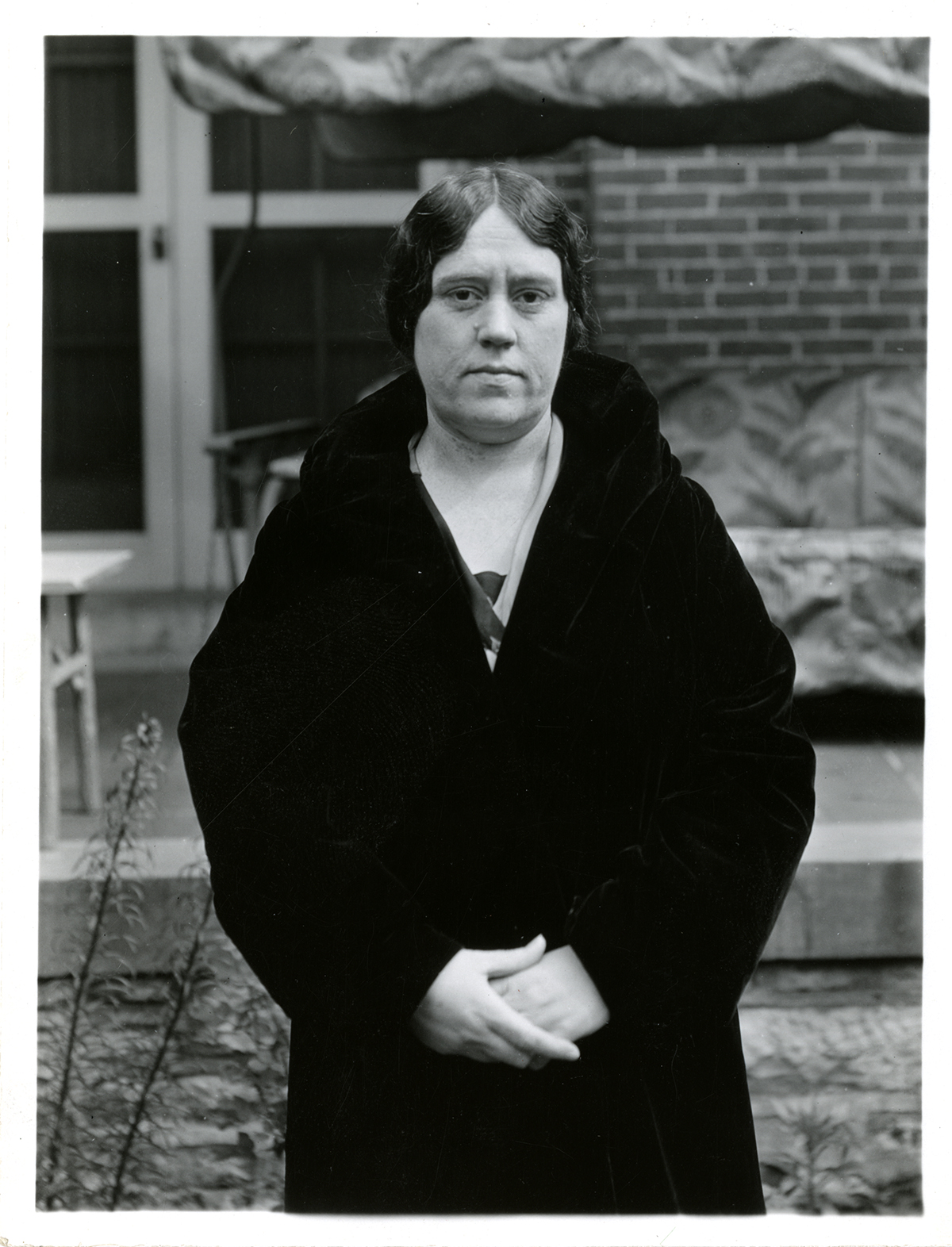 Sara Lockwood Williams
Full Name: Sara Lawrence Lockwood Williams
Born: April 13, 1889
Died: July 6, 1961 (age 72)
Missouri Hometowns: Columbia, Rock Port
Regions of Missouri: Central, Northwest
Categories: Educators, Journalists, Women, Writers
Introduction
Sara Lockwood Williams was a successful and influential journalist from Missouri. She was not only the first woman professor at a journalism school in the United States, but also the first woman reporter for the St. Joseph Gazette and one of the earliest female graduates from the University of Missouri's School of Journalism. She wrote many articles in bulletins, newsletters, magazines, and newspapers at news desks across the country from Honolulu, Hawaii, to Philadelphia, Pennsylvania, for almost five decades.
Early Years and Education
Sara Lawrence Lockwood was born on April 13, 1889, in Rock Port, Missouri, the youngest of John Lockwood and Mary Jane Duncan Lockwood's nine children. Sara's father and mother married in St. Joseph in 1867. They soon moved west to a homestead near Marysville, Kansas, where they had seven of their children: William, Marquis, Franklin, Bartlett, Helen, Robert, and Marvin. Around 1883, John sold his farm in Kansas and the family moved to Rock Port, Missouri, where John Lockwood bought a general store.
Sara was born there in 1889 after her brother Charles. While most of the Lockwood family remained in Rock Port, the two oldest boys, William and Marquis, went to college at the University of Missouri in Columbia. In the summer of 1896, after the two had graduated from the university, the Lockwoods decided to move from Rock Port to Columbia to make it easier to educate the rest of their large family. Mr. Lockwood stayed behind in Rock Port for a year to sell his store and other properties before joining his wife and children in Columbia, where he ran a grocery store in the downtown area.
The remaining seven Lockwood children all attended the nearby university, with Sara beginning her studies in 1907. By this time Mr. Lockwood had retired from his store and traded it for a farm three miles south of town. He lived on the farm until 1910 when he died at the age of 73.
In her first two years at the university, Sara followed a liberal arts program with varied classes such as drawing, logic, Roman history, and gymnasium. She wished to enroll in the newly created School of Journalism, but like other students, she was required to complete two years of college-level work before being admitted.
Required credits included five hours of economics, five hours of sociology or political science, and five hours of logic and psychology. Sara had some difficulty completing those requirements, taking two and a half years to finish them, and she had to attend summer school to make up for her low grades before being admitted to the School of Journalism. When she completed her required hours in the summer of 1911, she began her journalism program with classes in reporting, copy reading, and the history and principles of journalism, along with a psychology class, English literature, and chorus.
Sara had been living with her mother in Columbia, but in the summer of 1912 her mother moved to the family's farm. Sara remained in town, where she took part in a number of community activities.
In addition to being a governing member of the YWCA, Sara became a member of the Gamma chapter of Theta Sigma Phi, an honorary society for women in journalism, in 1913, and was president of the local chapter that same year. She was also a charter member of a local sorority, Delta Phi, which was established in 1912 as the sixth sorority at the university.
During her senior year in the spring of 1913, and as a part of her journalism training, Lockwood was sent for a "try-out" on a newspaper. Her assigned position was at the St. Joseph Gazette. The paper offered her a job as a society editor and feature writer after she graduated with a Bachelor of Journalism degree that same summer.
As the first woman journalist at the St. Joseph Gazette, Lockwood helped found the St. Joseph Press Club, perhaps the only local press club in the country where women were allowed membership, and was made third vice-president of the Missouri Women's Press Club in 1914. Lockwood returned to Columbia in 1915 to assist her ill mother. When he heard that she was moving back, Walter Williams, the dean of the journalism school, offered her a part-time job as a laboratory assistant. Her job was to set up a reading room and a newspaper "morgue" or archives of stories that had been published in the Missourian, the school's newspaper. The one-year appointment was intended to help bring some order to the growing journalism school, which now had 275 students, and organize its increasing collection of books, newspapers, and magazines.
At the end of the academic year, she accepted a reporting job at the Tulsa Times and Democrat, where she was soon promoted to editor of the women's section. After two years in Oklahoma from 1914 to 1916 she was ready to make another move to Seattle, where her mother was now living. But while she was at the train station, ready to depart, she received a message from an old friend at the St. Joseph Gazette who asked her to join him on the staff at the Philadelphia Evening Public Ledger in May 1918.
Assistant Professorship and Marriage
Lockwood stayed at the Philadelphia Evening Public Ledger until 1921, when Walter Williams asked her to come back to the School of Journalism. This time she would not be a laboratory assistant but an assistant professor and member of the faculty. Lockwood returned to Missouri and became the first woman in the United States to hold a professorship at a journalism school.
Lockwood handled a full schedule of classes that included reporting, editing, trade journalism, feature writing, and literary and dramatic reviewing. Outside the classroom, she worked closely with the Missourian. Lockwood also began a discreet relationship with Williams, who had been a mentor since her high school days and an inspiration for her journalism career. Their low-key romance had lasted around five years when Lockwood took a leave of absence to spend the summer of 1927 as a feature writer on the Honolulu Star Bulletin. Williams missed her so much that he proposed to her through a telegram.
Sara and Walter were married on October 22, 1927, in Salt Lake City, Utah. Because Williams had pushed for a temporary policy that any female employee who married after July 1, 1922, would automatically lose her position at the university, Sara Williams was required to give up her teaching position once back in Missouri.
After leaving her faculty job, Sara Williams wrote a history of the journalism school, Twenty Years of Education for Journalism (1929), and began working on a graduate degree. Her master's thesis was a study of the Columbia Herald from 1889 to 1908, when Walter Williams was its editor. This developed into her second book, The Biography of a Country Newspaper. Sara also wrote hundreds of newspaper and magazine articles, bulletins, and pamphlets. She was in demand as a public speaker as well. She completed her master's degree in 1931 and was presented with her diploma by the newest president of the university, her husband, Walter.
During their eight years of marriage, the Williamses traveled throughout the world, keeping scrapbooks and diaries of their experiences as they made efforts to raise the status and ethics of journalists. Sara also worked to improve professional journalism opportunities for women.
In 1935, Walter died of cancer following a lengthy illness and Sara left Missouri so that she could try to rebuild her life. That journey took her to Yenching University in China, where she was a visiting professor at a journalism program that her husband helped establish. She returned to the United States in 1936, finding work in St. Louis as a freelance writer and part-time instructor at Washington University.
In 1937, Williams began her own radio program called Sara Lockwood Williams' Scrapbook, a weekly talk show that was broadcast from St. Louis on KSD and featured discussions of her travels and her observations on women in the news. She also wrote radio scripts for another St. Louis station, KMOX, before serving as a visiting professor of journalism at the Texas College of Arts and Industries (now Texas A&M) from 1938 to 1939.
Williams returned briefly to Columbia, spending her time on various freelance writing projects, but later moved to Rockford, Illinois, in 1944 to be director of public relations and associate professor of journalism at Rockford College. She returned to Columbia for good in 1951, where she rejoined the journalism faculty and was named editor of the Journalism Alumni News. In addition to her teaching duties, she served as president of the Missouri Women's Press Club from 1951 to 1953 and started a loan fund to provide financial assistance for women journalism students at the university. She stayed at the university until 1961 and died of cancer that summer.
Beginning her career in a world where hiring a woman journalist was considered an "experiment" at newspapers and magazines, Williams proved women could do the work as well as men and sometimes even better.
As the first woman professor at a US journalism school and a pioneering female journalist, Sara Lockwood Williams paved the way for women in the field. As a leader in service and professional organizations, she created a reputation for herself that went beyond her marriage to Walter Williams and helped secure her place in Missouri history in her own right.
Sara believed "the search for knowledge must go on after college; certainly, one of the most interesting things … about journalism is that one is always learning and studying something new." Her life and career reflect that ideal.
Text and research by Aleksandra Kinlen
References and Resources
For more information about Sara Lockwood Williams' life and career, see the following resources:
Society Resources
The following is a selected list of books, articles, and manuscripts about Sara Lockwood Williams in the research centers of The State Historical Society of Missouri. The Society's call numbers follow the citations in brackets.
"Dr. W. Williams Weds His Assistant." Tipton Times. October 28, 1927. p. 1. [Reel # 51203]
"Joins Philadelphia Paper." Evening Missourian. May 11, 1918. p. 1. [Reel # 7579]
"Journalism School Proves Successful." University Missourian. July 4, 1913. p. 3. [Reel # 8822]
"Journalism Week Program." Columbia Evening Missourian. May 21, 1921. p. 1. [Reel # 7585]
"M.U. Girls Form Another Sorority." University Missourian. September 17, 1912. p. 1. [Reel # 8821]
"Miss Lockwood to Tulsa, Okla." University Missourian. June 12, 1916. p. 1. [Reel # 8828]
"The Missourian Association." Columbia Evening Missourian. January 13, 1921. p. 1. [Reel # 7585]
"New Journalism Teacher." Columbia Evening Missourian. March 15, 1921. p. 4. [Reel # 7585]
"Office for Miss Lockwood." University Missourian. December 1, 1914. p. 1. [Reel # 8825]
"Pays Tribute to Graduate of University." Columbia Evening Missourian. May 24, 1921. p. 2. [Reel # 7585]
Phillips, Peggy. "Women on the Job." Kansas City Star. May 24, 1954. p. 12. [Reel # 20934]
"Sara Lockwood to Philadelphia." Columbia Evening Missourian. April 22, 1922. p. 1. [Reel # 7587]
"Sara Lockwood Williams Dies at Columbia, MO." St. Louis Post-Dispatch. July 6, 1961. p. 19. [Reel # 43121]
"Senior Journalists Visit News Offices." University Missourian. January 13, 1913. p. 1. [Reel # 8822]
Start, Clarissa. "'Grandmother' of M.U. Journalism School." St. Louis Post-Dispatch. February 10, 1959. p. 32. [Reel # 43063]
"To Women's Press Meeting." University Missourian. September 30, 1915. p. 2. [Reel # 8827]
"Woman Is Appointed to Professorship." Hayti Herald. April 28, 1921. p. 4. [Reel # 13836]
English, Earl. Journalism Education at the University of Missouri-Columbia. Marceline, MO: Wadsworth, 1988. [REF 378.778UMC ZJ20 1988]
Farrar, Ronald T. A Creed for My Profession: Walter Williams, Journalist to the World. Columbia: University of Missouri Press, 1998. [REF F508.1 W676fa]
Lockwood, Sara L. "Introduction." University of Missouri Bulletin. Journalism Series no. 30 (1924), pp. 5-7. [REF 378.778UMC ZJ1 no. 30 (1924)]
Osteen, Hugh. "Mrs. Walter Williams." University of Missouri Bulletin. Journalism Series no. 149 (1959), p. 20. [REF 378.778UMC ZJ1 no. 149 (1959)]
Rucker, Frank W. Walter Williams. Columbia: Missourian Publishing Association, 1964. [REF F508.1W676r]
Weinberg, Steve. A Journalism of Humanity: A Candid History of the World's First Journalism School. Columbia: University of Missouri Press, 2008. [REF 378.778 ZJ22]
Williams, Sara L. As Our Visiting Professor Sees Us: Mrs. Walter Williams, Widow of Missouri's 'Beloved Dean,' Sets Down Impressions after First Six Weeks. Yenching, China: [unidentified], 1936. [REF I W6757a]
Williams, Sara L. "The Editor's Rib: The First Fifty Years Were the Hardest for Pioneer Newspaper Women in Missouri." Cooper County Record. August 28, 1941. [REF F565.5 W675]
Williams, Sara L. Twenty Years of Education for Journalism: A History of the School of Journalism of the University of Missouri, Columbia, Missouri, U.S.A. Columbia, MO: E. W. Stephens, 1929. [REF 378.778UMC ZJ2]
Outside Resources
These links will take you outside the Society's website. The Society is not responsible for the content of the following websites:
Chronicling America
This website is hosted by the Library of Congress and provides access to historic newspapers, including Missouri publications that mention Williams's accomplishments in journalism from the 1910s to the 1960s.
MOspace Institutional Repository
This website is an online repository for creative and scholarly works and other resources created by faculty, students, and staff at the University of Missouri-Columbia and the University of Missouri-Kansas City. The open access site includes a copy of the University of Missouri Bulletin Journalism Series no. 30 with an introduction by Sara L. Lockwood (1924) and her Twenty Years of Education for Journalism: A History of the School of Journalism of the University of Missouri, Columbia, Missouri, U.S.A. (1929).