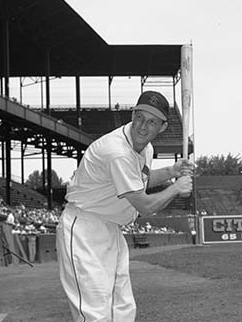 Stan Musial
Full Name: Stanisław Franciszek Musial
Born: November 21, 1920
Died: January 19, 2013 (age 92)
Missouri Hometown: St. Louis
Region of Missouri: St. Louis
Category: Athletes

Stan Musial was a professional baseball player who played with the St. Louis Cardinals from 1941 until 1963. Nicknamed "Stan the Man" because of the way he dominated the game, Musial was an outfielder, a first baseman, and a powerful hitter. In fact, he once held the National League record for the most hits in a single career. Musial was the first St. Louis Cardinal to have his official jersey number retired and is often referred to as "The Greatest Cardinal of them all."
Early Years and Education
Stanisław Franciszek Musial was born on November 21, 1920, in Donora, Pennsylvania, the fifth of six children and the eldest of two boys born to Lukasz and Mary Lancos Musial. His early life was similar to that of many children who grew up around the steel mills of Pittsburgh, Pennsylvania, during the Great Depression.
Lukasz Musial, a Polish immigrant, worked at the American Steel and Wire Company, loading bales of wire onto freight cars. During the Great Depression, he struggled to support his family. The family's strained finances contributed to Lukasz's battle with alcoholism. Mary Musial put in long hours as a domestic worker and the family often relied on donations from food pantries. Musial later remembered his mother making baseballs for him "out of a little bit of this and that."
As a young adult, Stan worked various odd jobs to help support the family. He spent his free time playing baseball, his lifelong passion, and maintained a C average in school. He was the only member of his family to graduate from high school.
Musial dreamed of a future as a professional baseball player. He later said, "I wanted to be a big league ball player from the time I was eight years old." At age 17, he signed a pitching contract with the St. Louis Cardinals for $65 a month and left for spring training.
Musial wrote in his autobiography, "What made me sign with the Cardinals? Because they used salesmanship, the personal touch. Where others wrote, they talked. Where others waited, they acted. That early bird that got the worm must have been a Redbird."
After he retired, Musial professed, "If I had to do it all over again, I'd go to college before playing professional baseball…Although baseball treated me wonderfully, I missed something. Call it a feeling of inferiority, call it what you will, but I believe sincerely that it takes a man who doesn't have one to appreciate the value of a college education."
In 1937, Musial met his future wife, Lillian Susan Labash. On May 25, 1940, they were married in Daytona Beach, Florida. The couple had four children and remained married for 72 years.
Baseball Career
Musial began playing as a left-handed pitcher in the Cardinals farm system in 1938. While playing for the Daytona Beach Islanders, he fell hard on his left shoulder and was unable to continue pitching, so Musial began playing in the outfield. He was a natural there.
After injuring his shoulder, Musial feared his time in baseball might be over. But once he became a hitter, everything changed and his minor-league career took off. Musial was called up to the major leagues late in the 1941 season after finishing the minor-league season with the Cardinals' farm team in Springfield, Missouri, where he had batted .379 in 87 games, with 26 homers and 94 RBIs. In St. Louis he became an integral part of the storied major-league team. Musial helped lead the Cardinals to World Series victories in 1942 and 1944; the team lost the 1943 World Series to the New York Yankees. Musial and the Cardinals returned to the World Series in 1946, in a contest that seemed to many to be a personal clash between Musial and famed slugger Ted Williams of the Boston Red Sox. The Cardinals won that series, the last one that Musial would participate in as a player.
Musial missed the 1945 season because he was drafted into the military during the final months of World War II. He joined the Navy and remained stateside during his fourteen months in the service. In 1946 Musial was honorably discharged and returned to St. Louis to play for the Cardinals. It was during the 1946 season that Brooklyn Dodgers fans gave Musial the famous nickname "Stan the Man."
In 1947, when Jackie Robinson became the first African American to play in the major leagues in the twentieth century, many white professional baseball players were upset. Robinson was taunted and spiked by players on opposing teams. Musial, unlike some of his teammates who jeered Robinson, showed true sportsmanship and refrained from such ill-mannered behavior. Musial later remarked that he "had no trouble with integration," largely because he had played sports with African Americans back in his high school days.
Over the course of his twenty-two-year career, Musial played in 24 All-Star games (a record shared with Willie Mays and Hank Aaron) and won three National League Most Valuable Player awards. He also hit a total of 475 home runs. Musial achieved his 3,000th career hit on May 13, 1958, in a game against the Chicago Cubs. He finished his career with 3,630 hits, the most in National League history until Pete Rose passed him in 1981. Exactly one-half of Musial's hits occurred at home and the other half on the road.
On September 29, 1963, Musial played in the final professional baseball game of his career against the Cincinnati Reds, the same day his No. 6 jersey was retired. During the ceremony, Major League Baseball Commissioner Ford Frick said, "Here stands baseball's perfect warrior. Here stands baseball's perfect knight."
Relationship with St. Louis
While he grew up in Pennsylvania, Musial considered St. Louis his home. After he retired from playing baseball, Musial stayed in St. Louis and became co-owner of a popular restaurant and a bowling alley. He also remained active with the Cardinals, serving as vice president from 1963 to 1966 and as general manager during the 1967 season. In his one season as general manager, the Cardinals won another World Series championship over the Boston Red Sox.
A statue of Stan Musial was placed outside of Busch Memorial Stadium on August 4, 1968. Today it stands in front of the new Busch Stadium. Musial was overcome with emotion by the honor, thanking his mother and family for "making me a Cardinal forever."
After his career as a baseball player was over, Musial took part in many public service activities and charities. He served as President Lyndon Johnson's special consultant for the National Council on Physical Fitness. Musial also liked music and would often play his harmonica. In 1994 he recorded 18 songs and sold the recordings along with a harmonica-playing instruction booklet.
Honors and Awards
Musial received many honors and awards for his time with the St. Louis Cardinals. Chief among them was his induction into the National Baseball Hall of Fame in 1969, his first year of eligibility, and his induction into the St. Louis Walk of Fame in 1989. A baseball field was also named for him in his hometown of Donora, Pennsylvania. In 1999 he was named a member of the Major League Baseball All-Century Team. The following year a bronze bust of Musial was added to the Hall of Famous Missourians located in the State Capitol Building in Jefferson City. On February 15, 2011, President Barack Obama awarded Musial the Presidential Medal of Freedom, the highest honor a U.S. civilian can receive.
Stan Musial died of natural causes at his home in St. Louis County on January 19, 2013, at the age of 92 after battling Alzheimer's Disease for several years. He is buried in Resurrection Cemetery in Affton, Missouri.
Musial is remembered as both an amazing athlete and a true gentleman. Widely admired for his kindness, professionalism, sportsmanship, and dedication to his craft, Musial set standards of excellence for later generations both within and outside of baseball. Famed sportscaster Bob Costas summed it up best when he said, "All Musial represents is more than two decades of sustained excellence and complete decency as a human being."
Text and research by Jeremy Hulshof and Kimberly Harper
References and Resources
For more information about Stan Musial's life and career, see the following resources:
Society Resources
The following is a selected list of books, articles, and manuscripts about Stan Musial in the research centers of The State Historical Society of Missouri. The Society's call numbers follow the citations in brackets.
Hummel, Rick. "'The Man' Dies at Age 92." St. Louis Post Dispatch. January 20, 2013. pp. 2–3. [Reel # 55387]
Hummel, Rick. "Musial through the Years." St. Louis Post Dispatch. January 20, 2013. pp. 8–9. [Reel # 55387]
O'Neill, Dan. "The 'St. Louis' Man." St. Louis Post Dispatch. January 20, 2013. pp. 13. [Reel # 55387]
O'Neill, Dan. "Stan's Final Farewell." St. Louis Post Dispatch. January 20, 2013. pp. 12. [Reel # 55387]
Giglio, James. Musial: From Stash to Stan the Man. Columbia: University of Missouri Press, 2001. [REF F508.1 M973gi]
Musial, Stan. Stan Musial: "The Man's" Own Story as Told to Bob Broeg. Garden City, New York: Doubleday & Company, 1964. [REF F508.1 M973]
Robinson, Ray. Stan Musial: Baseball's Durable "Man." New York: Putnam, 1963. [REF IJ R566s]
Schoor, Gene, with Henry Gilfond. The Stan Musial Story. New York: J. Messner, c. 1955. [REF F508.1 M973s]
Vecsey, George. Stan Musial: An American Life. New York: Ballantine Books, 2011. [REF F508.1 M973v]
W. Stuart Symington Papers (C3874)
This collection of U.S. Senator Stuart Symington's papers includes a folder in box 256 concerning a ceremony honoring Musial's retirement held in St. Louis on October 20, 1963. Included in the folder is a program booklet containing many facts about Musial's career.
Outside Resources
These links, which open in another window, will take you outside the Society's website. The Society is not responsible for the content of the following websites:
ESPN Classic
This website contains a brief biography of Stan Musial as well as a link to his career baseball statistics.
Stan Musial: 1920-2013
Hosted by the St. Louis Cardinals, this website contains a tribute to Stan Musial.