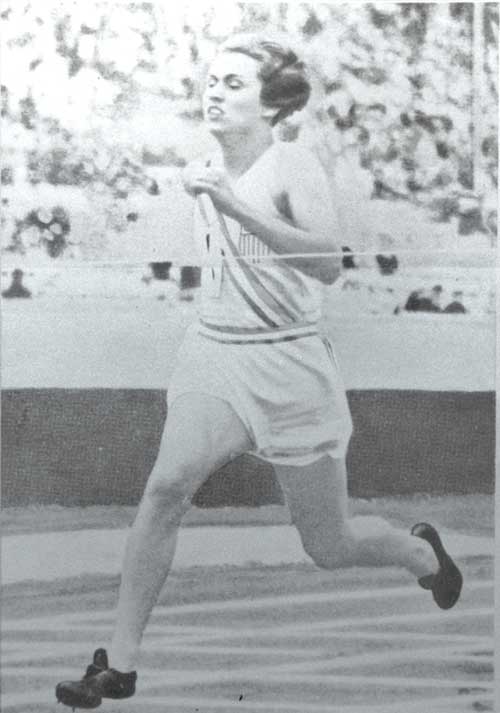 Helen Stephens
Full Name: Helen Herring Stephens
Born: February 3, 1918
Died: January 17, 1994 (age 75)
Missouri Hometown: Fulton
Region of Missouri: Central
Categories: Athletes, LGBTQ+ Persons, Women
Introduction
Helen Stephens was an Olympic champion from Missouri. She won two gold medals at the 1936 Olympics. She did this many years before schools had athletic programs for girls. Helen Stephens successfully competed in a variety of sports throughout her life.
Helen Herring Stephens was born on February 3, 1918, to Frank Elmer and Bertie Mae Herring Stephens. She grew up on a farm in Callaway County near Fulton, Missouri. She had a younger brother named Robert Lee. As a child, Helen loved to run, jump, and climb. She also had to work hard on the family farm. "From the time I was a small child I was in training, only I didn't know it," Helen once said. "I was walking, running, doing chores, building up my body, my lung capacity, my wind, my endurance, everything that people have to train for today." A horse also helped her. Helen's cousin always rode horseback to school and Helen would trot beside them. "I would grab the stirrup and run with the horse."
When she was eight, Helen dreamed that she was the fastest runner in the world. Helen attended Middle River School, a one-room school in Callaway County, and then Fulton High School. Neither school had athletic teams or facilities for girls. Luckily, Helen's high school physical education teacher, Coach W. Burton Moore, knew how to train athletes for track and field events. When he discovered how fast Helen could run, he helped her make her dream come true.
In 1934, Helen was fifteen and nearly six feet tall. Coach Moore clocked Helen running the 50-yard dash. Her time was 5.8 seconds. This time she tied the world record held by Elizabeth Robinson. Coach Moore clocked Helen again to check his stopwatch. The second time was 5.9 seconds. Coach Moore taught Helen the basic forms of running on the cinder road outside Fulton High School. Helen also trained at home on her farm with her brother.
On March 22, 1935, Coach Moore took Helen to St. Louis for her first official race. Helen ran against Stella Walsh, a Polish gold medalist from the 1932 Olympics. Helen was dressed in sweats and running spikes borrowed from male friends. She beat Stella in the 50-meter dash at 6.6 seconds, setting a new indoor record on a dirt track. The press gave Helen the titles "The Missouri Express" and "The Fulton Flash." Fulton High School celebrated Helen's victory when she returned. Years later, Helen admitted, "That's when I learned everybody likes a winner."
In the summer of 1936, Helen Stephens and the other Olympic team members sailed to Germany to compete in the IX Olympiad in Berlin. During the voyage, Stephens received letters asking her not to compete. Some Americans wanted her to protest the mistreatment of Jews by Adolf Hitler and the Nazis. Stephens cared about this problem, but she also wanted to fulfill her responsibilities as an athlete.
On August 4, 1936, eighteen-year-old Helen Stephens set the Olympic world record for the 100-meter event at 11.5 seconds. Her record stood for twenty-four years until Wilma Rudolph beat it in the 1960 Olympics. On August 9, Stephens was the anchor in the 400-meter relay team that also set a world record time of 46.9 seconds. She received a gold medal for each event. Stephens had fulfilled her childhood dream. She was the fastest woman runner in the world.
Afterwards, Stephens returned to Fulton, where she earned a college degree from William Woods College. She played for the All-American Red Heads Basketball Team before becoming the first woman to create, own, and manage her own semi-professional basketball team. Stephen's team, the Helen Stephens Olympics Co-Eds, played from 1938-1940, and then after World War II from 1946-52.
During the war, Stephens worked at an aircraft plant in St. Louis before enlisting in the Women's Reserve of the U.S. Marines. Afterwards, she became a research librarian for the Defense Mapping Agency Aerospace Center in St. Louis. She held this job for thirty years, until her retirement in 1976.
While working at the Defense Mapping Agency, Helen met Mabel Robbe. Helen was a lesbian and had dated many different women during her teens and twenties, but with Mabel she settled down. They lived together in St. Louis from 1950 until Mabel's death in 1986.
Helen Stephens competed in a variety of sports during the rest of her life. She enjoyed bowling, golf, and swimming. She competed in multiple events in several Senior Olympics and clocked the fastest speeds and longest distances in her age category. At age sixty-eight, Stephens ran the 100-meter dash in 16.4 seconds, just 4 seconds slower than when she was eighteen. She carried the torch for the first nine Show-Me State Games in Columbia, Missouri, as well as the Senior Olympic games.
Helen Stephens paved the way for future female athletes of all ages. She is in the National and United States Track and Field Halls of Fame as well as the Women's Hall of Fame. Helen Stephens died on January 17, 1994. She is buried in Fulton, Missouri.
Text by Carlynn Trout and Heather Richmond with research assistance by Jillian Hartke
References and Resources
For more information about Helen Stephens's life and career, see the following resources:
Society Resources
The following is a selected list of books, articles, and manuscripts about Helen Stephens in the research centers of The State Historical Society of Missouri. The Society's call numbers follow the citations in brackets.
"High School Girl Has Track Ability." Fulton Daily Sun Gazette. Fulton, MO. March 17, 1933. p. 1. [Reel # 11781]
"Helen Stephens Breaks World Record for 100 Meters." St. Louis Post-Dispatch. St. Louis, MO. August 3, 1936. p. 1B. [Reel # 42512]
"Honoring Our Olympic Victors." St. Louis Post-Dispatch. St. Louis, MO. September 4, 1936. p. 2C. [Reel # 42514]
Sennewald, Mary. "Helen Stephens." Fulton Kingdom Daily News. Fulton, MO. January 15, 1978. p. 9. [Reel # 11650]
Stewart, Kim. "Former Olympian, Area Native, Dies." Columbia Missourian. Columbia, MO. January 19, 1994. p. 16A. [Reel # 7934]
Welge, Lori. "The Fulton Flash." Columbia Missourian. Columbia, MO. May 5, 1991. p. 2A. [Reel # 7903]
Dains, Mary K., ed. Show Me Missouri Women: Selected Biographies. Kirksville, MO: Thomas Jefferson University Press, 1989. vol. 1, pp. 244-45. [REF F508 Sh82 v.1]
Hanson, Sharon Kinney.  The Life of Helen Stephens: The Fulton Flash.  Carbondale: Southern Illinois University Press, 2004.  [F508.1 St439]
Kremer, Gary.  Heartland History: Essays on the Cultural Heritage of the Central Missouri Region.  St. Louis: G. Bradley Publishing, 2000.  pp. 160–61. [F626 K881]
Trout, Carlynn. Notable Women of Missouri. Columbia, MO: Columbia, Missouri Branch of the American Association of University Women in Partnership with Eugene Field Elementary School, Columbia, MO, 2005. [REF F508 T758 2005]
William Woods Echoes. Fulton, MO: Students of William Woods College, 1936 and 1937. [378.778W7 V6 1936 and 1937]
Helen Stephens Collection (C3552)
The papers of the 1936 Olympic track champion contain her Olympic diary, correspondence, publicity clippings, posters, photographs, and other materials related to her long athletic career, both professional and recreational. Newsletters from her employers, Curlee Clothing Company, Curtiss-Wright Corporation, and the Defense Mapping Agency, along with some personal documents, are also included.
Outside Resources
These links, which open in another window, will take you outside the Society's website. The Society is not responsible for the content of the following websites: