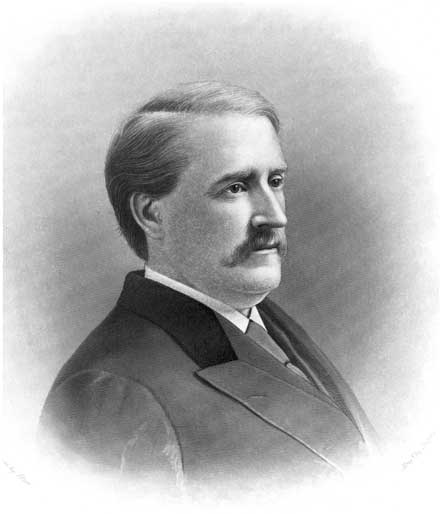 Thomas T. Crittenden
Full Name: Thomas Theodore Crittenden
Born: January 1, 1832
Died: May 29, 1909 (age 77)
Missouri Hometown: Kansas City
Regions of Missouri: Central, Kansas City
Category: Politicians
Thomas Theodore Crittenden was the twenty-fourth governor of Missouri, serving from 1881 to 1885. He also served as attorney general in 1864 and two terms as a U.S. representative in the 1870s. He is best known as the man who brought the James brothers to justice.
When Crittenden came to office, the offenses of Jesse James and his gang had put Missouri into a state of fear and turmoil. National headlines portrayed Missouri as an unsafe region where gangs of outlaws robbed banks and trains and killed innocent civilians. Crittenden implemented a strategy to rid the state of outlaw activity, restore order, and improve Missouri's national reputation. He secured money from the railroads and offered substantial rewards for the capture and conviction of Jesse and Frank James. His proclamation resulted in Robert Ford killing Jesse James in 1882. Crittenden pardoned the Ford brothers after they were tried for murder and found guilty. Frank James surrendered to Governor Crittenden in Jefferson City on October 5, 1882.
Crittenden was applauded by many for putting an end to Jesse James and his reign of terror. Others criticized him for conspiring to kill a private citizen. After his term expired, Crittenden moved to Kansas City to practice law. He was appointed United States consul general to Mexico by President Grover Cleveland in 1893 and served for four years. He died in Kansas City in 1909 and is buried in Forest Hill Cemetery.
Text by Carlynn Trout with research assistance by Kimberly Harper
References and Resources
For more information about Thomas T. Crittenden's life and career, see the following resources:
Society Resources
The following is a selected list of books, articles, and manuscripts about Thomas T. Crittenden in the research centers of The State Historical Society of Missouri. The Society's call numbers follow the citations in brackets.
"Death Claims Former Missouri Governor." Kansas City Journal. May 30, 1909. p. 1. [Reel # 19186]
"Ex-Gov. Crittenden Dead." Kansas City Star. May 29, 1909. pp. 1, 2. [Reel # 20309]
Avery, Grace Gilmore, and Floyd C. Shoemaker. "Governor Thomas T. Crittenden." Messages and Proclamations of the Governors of the State of Missouri, Volume 6. Columbia: State Historical Society of Missouri, 1924. pp. 269-271. [REF M 353.9 M691s v. 6]
Christensen, Lawrence O., William E. Foley, Gary R. Kremer, and Kenneth H. Winn, eds. Dictionary of Missouri Biography. Columbia: University of Missouri Press, 1999.  pp. 217-218. [REF F508 D561]
Crittenden, Thomas T. Autobiography of Governor T.T. Crittenden. [Unknown: unknown, 1909?] [REF F508.1 C869]
Stiles, T.J. Jesse James: Last Rebel of the Civil War. New York: A.A. Knopf, 2002. [REF F508.1 J234sti]
Crittenden, Thomas Theodore (1832-1909), Papers, 1880 (C0087)
Correspondence, newspaper clippings, and papers of Thomas T. Crittenden, governor of Missouri, 1881-1885, and U.S. consul general in Mexico City, 1893-1897. Letter book kept while he was consul general in Mexico.
Crittenden, Thomas Theodore (1832-1909), Proclamation, 1881 (C2875)
Governor's proclamation offering rewards for the arrest of express and train robbers Frank and Jesse James.
Rollins, James S. (1812-1888), Papers, 1546-1968 (C1026)
The papers of James S. Rollins, a Boone County, Missouri, lawyer, politician, businessman, and curator of University of Missouri include correspondence with family, business and political associates, and George Caleb Bingham and other friends. The papers covers state, national, and Whig party politics from 1830 through the 1880s, the Civil War in Missouri, internal improvements and the North Missouri Railroad, and education at University of Missouri. Crittenden is mentioned in folders 8, 136, 146, 154-156, 158, 159, 163-166, 168, 171, and 221.