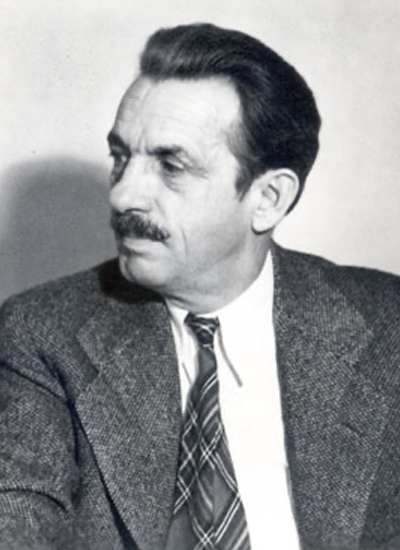 Thomas Hart Benton
Born: April 15, 1889
Died: January 19, 1975 (age 85)
Missouri Hometown: Neosho
Region of Missouri: Southwest
Category: Artists

Introduction
Thomas Hart Benton was a major American artist from Missouri. His paintings are famous for showing ordinary people doing common things. He drew and painted portraits, landscapes, and scenes of people at work in farms, factories, and busy cities. His best-known works are public murals, or scenes on the inside walls of buildings. Benton's murals are lively records of life in America from pioneer times onward.
Thomas Hart Benton was born in Neosho, Missouri, on April 15, 1889. He was the oldest child of Maecenas Eason Benton and Elizabeth Wise Benton. He was named after his great-great-uncle, Thomas Hart Benton, the famous Missouri senator. Tom's father was a successful lawyer. He served as U.S. attorney for Missouri and was elected to the U.S. Congress in 1896.
Young Thomas Hart Benton loved to draw. While his mother encouraged him to draw, his father did not. When the Bentons moved to Washington, DC in 1896, Tom loved the art he saw in the capital city. He really liked seeing the Library of Congress murals. They made him want to become a mural painter or muralist. Tom also learned how to make cartoon like figures, or caricatures, by reading cartoons in the Washington Post.
In 1904 Maecenas Benton was defeated, and the family returned to Missouri. Thomas Hart Benton grew restless in Neosho and left home in 1906. He took a job as staff artist for a local newspaper in Joplin, Missouri. From there he went to Illinois to study painting for one year at the Art Institute of Chicago.
Benton wanted to study art in Europe. In 1908 he moved to Paris, France, and took art classes. Soon Benton began to study on his own. He spent half his time inside the art museum drawing important paintings. He spent the rest of his time outside, painting what interested him. He tried different styles of painting. He found out that he liked using bright colors to show real people in real places doing a variety of activities.
From about 1912 to 1935, Thomas Hart Benton lived and worked in New York City. He painted during the summer months on Martha's Vineyard, Massachusetts. He married Rita Piacenza in 1922. Together, they had two children, Thomas Piacenza (T. P.) and Jessie.
In 1924, Benton came back to Missouri to visit his father who was very sick. This visit changed Benton's life. His interests became clearer. He took pride in his Midwestern roots and began painting ordinary Americans not often shown in art.
Benton started making drawing trips that took him across America. He visited steel mills, coal mines, and logging camps. He floated down rivers in canoes. He watched workers picking cotton in the South. He observed everything he could about ordinary American life during the 1920s and 1930s and recorded what he saw in his sketches. He then used his sketches as the basis for his paintings and murals. Benton built small clay models, or maquettes, for each painting. Then he painted his scenes while looking at his clay models.
Thomas Hart Benton became the leader of a movement in American art called regionalism. He based his art on personal observation. He showed working people in all regions of America, including poor, rural areas. Benton called attention to problems that he thought all Americans should know about. Benton's style of painting made common people into heroes. He gave them big bodies with lots of muscles and painted them using deep, rich colors. Benton also painted villains into his pictures. The villains were usually rich and powerful people Benton did not respect because they got ahead by taking advantage of others.
A Selection of Benton's Work
Not everyone liked Benton's work. Some people thought he was too outspoken about politics and art. Many Americans, however, truly admired Benton's work and ideas. Various organizations hired him to create public art. One of his most famous murals is A Social History of Missouri. It is in the state capitol in Jefferson City, Missouri.
In September of 1935, Benton moved to Kansas City, Missouri. He lived there and worked in his studio until his death on January 19, 1975. He kept painting to the end of his life. His paintings and murals can be seen in books as well as museums and public buildings across America.
Text by Carlynn Trout with research assistance by Jillian Hartke
References and Resources
For more information about Thomas Hart Benton's life and career, see the following resources:
Society Resources
The following is a selected list of books, articles, and manuscripts about Thomas Hart Benton in the research centers of The State Historical Society of Missouri. The Society's call numbers follow the citations in brackets. All links will open in a new tab.
"Benton, Beloved Muralist, Dies at 85."

 Examiner

. January 20, 1975. p. 1. [Reel # 14968]
"Benton Thought of Southwest Missouri as 'Home Country.'"

Joplin Globe

. January 21, 1975. p. 1A. [Reel # 17771]
"Perspective: Thomas Hart Benton."

St. Louis Globe-Democrat

. January 21, 1975. p. 8B. [Reel # 40752]
"Thomas Hart Benton dies."

St. Louis Globe-Democrat

. January 20, 1975. p. 13A. [Reel # 40752]
"Thomas Hart Benton dies late Sunday night."

Neosho Daily News.

. January 20, 1975. p. 1. [Reel # 31454]
"Thomas Hart Benton, 85, Dies; Era of American Painting Ends."

Kansas City Times

. January 20, 1975. p. 1A. [Reel # 21894]
Adams, Henry.

Thomas Hart Benton: An American Original

New York: Alfred A. Knopf, 1989. [REF F508.1 B447a]
Benton, Thomas Hart.

An American In Art: A Professional and Technical Autobiography

. Lawrence: University Press of Kansas, 1969. [REF F508.1 B447be1]
Benton, Thomas Hart.

An Artist in America

. 4th rev. ed. Columbia: University of Missouri Press, 1983. [REF F508.1 B447]
Christensen, Lawrence O., William E. Foley, Gary R. Kremer, and Kenneth H. Winn, eds. Dictionary of Missouri Biography. Columbia: University of Missouri Press, 1999. pp. 61-64. [REF F508 D561]
Fath, Creekmore, comp.

The Lithographs of Thomas Hart Benton

. New ed. Austin: University of Texas Press, 1979. [REF F508.1 B447be2 1979]
Hurt, R. Douglas, and Mary K. Dains, eds.

Thomas Hart Benton: Artist, Writer, and Intellectual

. Columbia: The State Historical Society of Missouri, 1989. [REF F508.1 B447st]
Symington, Stuart.

"Thomas Hart Benton—Painter, Sculptor, Raconteur, and Author

." Congressional Record; Proceedings and Debates of the 94th Congress, First Session, Senate. v. 121, no. 8 (January 27, 1975) pp. S 952–954.
Outside Resources
These links, which open in another window, will take you outside the Society's website. The Society is not responsible for the content of the following websites: