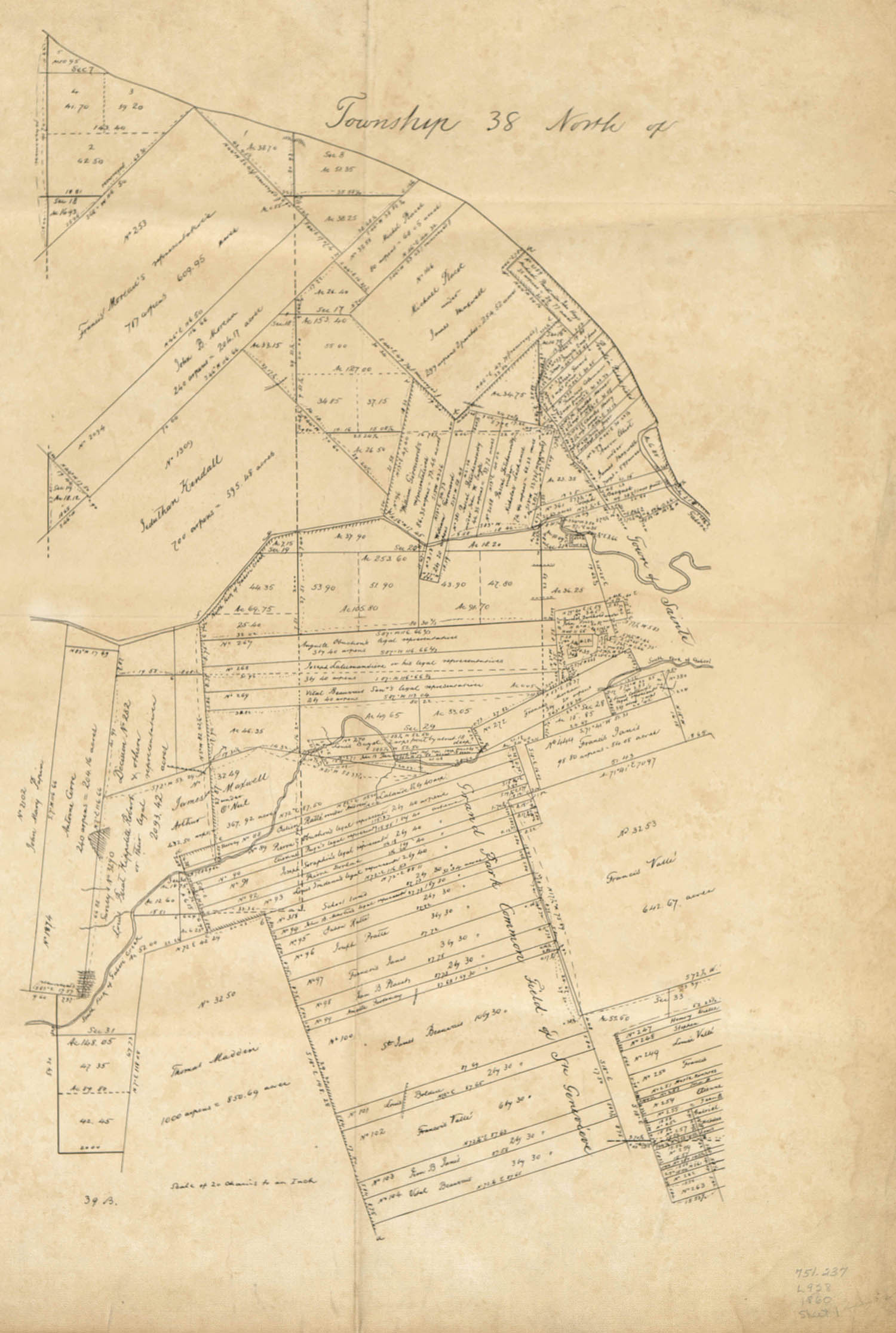 François Vallé
Full Name: François Vallé
Born: January 2, 1716
Died: September 28, 1783 (age 67)
Missouri Hometown: Ste. Genevieve
Region of Missouri: Southeast
Category: Explorers and Settlers

Introduction
François Vallé was a French militia captain who became one of the most important citizens in Upper Louisiana, an area that included much of what later became Illinois, Indiana, and Missouri. Despite being illiterate, Vallé was a successful businessman, and he became one of the most influential figures in colonial Ste. Genevieve.
François Vallé was born on January 2, 1716, in Beauport, a town in French Canada in what is now Quebec. He was the fifth of twelve children born to Charles Valleé and Geneviève Marcou La Valleé. Due to limited economic opportunity, he moved in 1739 to the town of Kaskaskia on the Mississippi River in Upper Louisiana territory, in what is now southwestern Illinois.
Vallé was uneducated and illiterate, which was common among people living on the frontier. His first job was herding cattle on a long trip from Kaskaskia to what is now eastern Arkansas. In the early 1740s, Vallé employed others to help him in a seasonal lead mining operation at Mine La Motte in what is now Madison County, Missouri. Lots of money could be made from lead mining because lead was used to make bullets for hunting and self-defense. It was risky, however, because the mine was located deep in the wilderness and remained under constant threat of attack by Native Americans.
In 1744, Vallé formed a business partnership with his best friend, Joseph Liberville dit Joson. Two years later he embarked on a dangerous yearlong trading expedition into modern-day Indiana, through territory containing indigenous tribes that were hostile to France.
Starting a Family and Settling in Ste. Genevieve
After Vallé safely returned from Indiana in 1747, he left his partnership with Liberville and bought his first house. On January 7, 1748, just after his thirty-second birthday, François Vallé married Marianne Billeron, the daughter of Léonard Billeron, a local notary. Since Marianne could read, she had an active role in her husband's business affairs for the rest of her life. She also helped teach their children, who all became literate. Together the couple had six children: four boys and two girls. Vallé had another daughter, Marguerite, from an extramarital relationship. No details are known about her birth mother, but Marguerite was raised in the Vallé household along with the rest of the Vallé children.
By the time he married Marie, François was one of the most successful businessmen in Kaskaskia. Since cash was hard to come by on the frontier and there were no banks in the region, business deals were often conducted using credit. Vallé stayed out of debt and saved a sizable amount of cash, which he then loaned out to others for a profit.
François started buying land in and around the settlement of Ste. Genevieve. This fertile land helped him amass a fortune. Sometime around 1754, Vallé sold his house in Kaskaskia and moved his family to Ste. Genevieve, where they remained for the rest of their lives.
The Richest Man in Upper Louisiana
Two years after it was founded in 1750, Ste. Genevieve had only twenty-four residents. When Vallé arrived in 1754, he was probably one of the richest and most successful people in this small community. After a little over a decade, he was probably the wealthiest man in all of the Upper Louisiana territory.
Although Vallé continued to invest in mining operations, he had stopped mining himself by the late 1750s. He used the profits from his early mining and trading ventures to buy vast amounts of land that was farmed by people he enslaved. In 1766 he enslaved sixty-three people, making him the largest enslaver in Upper Louisiana. Like many enslavers in the area, Vallé owned both indigenous and African slaves, but he relied mostly on African slaves to work on his estate. By 1781 he enslaved eighty-four people, which was one-third of the enslaved population and over one-tenth of the total population of Ste. Genevieve.
Most of Vallé's fortune was probably made by selling the crops grown on his farm. During the 1770s, Vallé was the biggest producer of flour and wheat in the entire colony of Louisiana. He sold wheat and corn to New Orleans and other French settlements downriver, where the climate was unsuitable for growing these crops. He purchased valuable European goods like silver, furniture, and expensive cloth. Vallé's collection of bedsheets alone was worth more than most houses in Ste. Genevieve. Aside from his large collection of personal possessions, Vallé owned several buildings and numerous cattle, horses, and hogs.
French Captain, Spanish Lieutenant, and Leading Citizen of Ste. Genevieve
After 1760, Vallé served the French government as captain of the local militia, the second-highest military position in the area. He kept his position after the Spanish government took over the area between 1766 and 1767. He was eventually made a special lieutenant in the Spanish army and awarded the honorable title of "Don Francisco." This helped make Vallé the most powerful person in Ste. Genevieve until his death.
As militia captain, Vallé performed several important duties. The most important was defending the region from attack by Native Americans and foreign armies. The nearby mines were especially vulnerable to attack. Vallé's son, Joseph, and six other colonists were killed in 1774 during a Chickasaw attack on Mine La Motte. In 1780, Vallé sent the Ste. Genevieve militia to help defend St. Louis against an attack from British soldiers and their Native American allies during the American Revolutionary War (Spain was allied with the United States). He also helped make peace with indigenous tribes living near Ste. Genevieve.
François also served as a civil judge and law enforcement official. He was in charge of many legal matters, such as the investigation of crimes and divorce requests, overseeing marriage contracts, conducting civil trials, gathering citizens to vote on community matters, notarizing legal documents (with the help of a literate secretary), and administering the census. He was in charge of taking the inventory of estates when people died and before their possessions were divided for inheritance or sale at auction. Vallé's knowledge of estate lists, and his position as overseer of all auctions, gave his family an advantage to get the best items at the best price.
François Vallé's health began to decline in the late 1770s, and he was relieved of his military duties in 1780. On October 22, 1781, Marianne Vallé died during a severe yellow fever epidemic that killed many citizens in Ste. Genevieve. According to French custom, half of François and Marianne's estate was divided between their children at that time. As Vallé's health continued to decline, his son Jean-Baptiste and his wife Marie-Jeanne moved in to help care for him. François Vallé died at home in Ste. Genevieve on the morning of September 28, 1783, having found the success that many settlers hoped for, but few achieved, when they moved to Upper Louisiana.
Text and research by Todd Barnett
References and Resources
For more information about François Vallé's life and career, see the following resources:
Society Resources
The following is a selected list of books, articles, and manuscripts about François Vallé in the research centers of The State Historical Society of Missouri. The Society's call numbers follow the citations in brackets.
Christensen, Lawrence O., William E. Foley, Gary R. Kremer, and Kenneth H. Winn, eds. Dictionary of Missouri Biography. Columbia: University of Missouri Press, 1999. pp. 761–762. [REF F508 D561]
Crist, Helen Valle. They Was Frenchmans: The Valleé Family Legacy. Brea, CA: Creative Continuum, 2003. [REF F508.2 V242cr]
Dalton, Mary. "Notes on the Genealogy of the Vallé Family." Missouri Historical Society Collections. v. 2, no. 7 (1906), pp. 54–82. [REF In Case F550 M69]
Duclos, Zachary M. The Way We Were, Volume 2: Our French Canadian/Acadian Ancestors. Cadet, MO: Old Mines Area Historical Society, 2001. pp. 396–410. [REF F516.2 D858]
Ekberg, Carl J. Colonial Ste. Genevieve: An Adventure on the Mississippi Frontier. Gerald, MO: Patrice Press, 1985. [REF H237.47 Ek16]
Ekberg, Carl J. Francois Vallé and His World: Upper Louisiana before Lewis and Clark. Columbia: University of Missouri Press, 2002. [REF F508.2 V2422ek]
Ekberg, Carl J. French Roots in the Illinois Country: The Mississippi Frontier in Colonial Times. Urbana: University of Illinois Press, 1998. [REF F516.2 Ek24]
Finiels, Nicolas de. An Account of Upper Louisiana. Columbia: University of Missouri Press, 1989. [REF F516 F495]
Franzwa, Gregory M. The Story of Old Ste. Genevieve. 5th ed. St. Louis: Patrice Press, 1990. [REF H237.47 F589]
Morrow, Kristen Kalen. "Ste. Genevieve's First Family: a Chronicle of the Vallé's." Gateway Heritage. v. 8, no. 2 (Fall 1987), pp. 24–33. [REF F550 M69gh]
Shoemaker, Floyd C. Missouri and Missourians: Land of Contrasts and People of Achievements, Volume 3. Chicago: Lewis Publishing Company, 1943. pp. 241–242. [REF F550 Sh73m]
Stepenoff, Bonnie. From French Community to Missouri Town: Ste. Genevieve in the Nineteenth Century. Columbia: University of Missouri Press, 2006. [REF H237.47 St43]
Stewart, John. "A Walking Tour in Old Ste. Genevieve." Missouri Life. v. 6, no. 3 (July-August 1978), pp. 50–57. [REF F585 M6912]
Surrey, Nancy M. The Commerce of Louisiana during the French Régime, 1699–1763. New York: Columbia University Press, 1916. [REF F516.2 Su78]
Outside Resources
These links, which open in another window, will take you outside the Society's website. The Society is not responsible for the content of the following websites:
Ste. Genevieve, Missouri
This website from the city of Ste. Genevieve's Department of Tourism has a "History and Heritage" section, which contains links to historical information about Ste. Genevieve, including its French, German, Native American, and African American heritage.
Virtual Museum of New France
This website contains information about New France, the greater colony of which Upper Louisiana was a part.