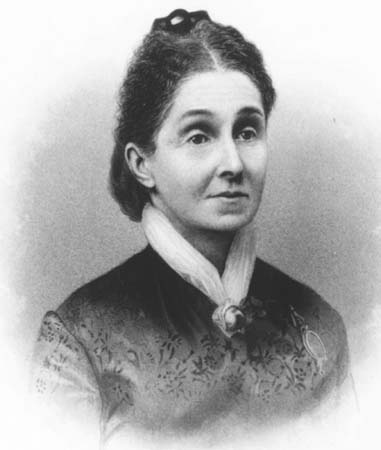 Virginia Minor
Born: March 27, 1824
Died: August 14, 1894 (age 70)
Missouri Hometown: St. Louis
Region of Missouri: St. Louis
Categories: Leaders and Activists, Women
Virginia Minor was an important suffragist. At a time when women could not vote, Minor became a leader in the women's rights movement and established the first women's suffrage organization in Missouri.
Born to Warner and Marie Timberlake Minor on March 27, 1824, Virginia Minor grew up in Charlottesville, Virginia. Little is known about her early years and education. In 1843 she married attorney Francis Minor, a distant cousin, and moved to St. Louis.
Although they came from wealthy southern families, the Minors supported the Union during the Civil War. Many women in St. Louis, including Virginia Minor and Phoebe Couzins, joined the Ladies' Union Aid Society. Members donated supplies, provided financial assistance, volunteered in military hospitals, and served as battlefield nurses.
After the war ended, many women felt empowered by their public service and turned their attention to women's rights. When Minor's only child died in a shooting accident in 1866, she devoted the rest of her life to women's suffrage.
On May 8, 1867, Virginia Minor, Anna Clapp, Rebecca Hazard, Lucretia Hall, and Penelope Allen founded the Woman Suffrage Association of Missouri to "secure the ballot for women upon terms of equality with men." It was the first organization dedicated solely to women's suffrage. Minor was elected president.
In February 1869 members of the Woman Suffrage Association of Missouri unsuccessfully petitioned the Missouri legislature for the right to vote. Later that year, St. Louis hosted the Missouri Woman Suffrage Convention, the first of its kind held in the state. In her opening address to the convention, Virginia Minor declared, "I believe the Constitution of the United States gives me every right and privilege to which every other citizen is entitled; for while the Constitution gives the States the right to regulate suffrage, it nowhere gives them power to prevent it." Among those in the audience were prominent suffragists Susan B. Anthony and Julia Ward Howe.
Frustrated by the lack of legislative action, Minor saw an opportunity to advance the cause of suffrage during the presidential election of 1872. She attempted to register to vote, but was turned away by St. Louis city registrar Reese Happersett. In response, Minor and her husband filed a lawsuit against Happersett, arguing she was entitled to vote under the Fourteenth Amendment. The Supreme Court of Missouri ruled against Minor. Undaunted, she appealed to the Supreme Court of the United States, but it agreed with the Missouri court's decision.
Despite this setback, Virginia Minor and other members of the women's movement continued to fight for the right to vote. In 1879 she became president of the local branch of the National Woman Suffrage Association before ill health forced her to limit her participation. Minor died on August 14, 1894, in St. Louis. She is buried in Bellefontaine Cemetery.
Virginia Minor did not live to see the passage in 1920 of the Nineteenth Amendment, which granted women the right to vote, but she helped lay the foundation for its eventual adoption. She inspired women to fight for the right to vote through her tenacity and perseverance. In honor of her contributions to society, a bronze bust of Virginia Minor will be enshrined at a future date in the Hall of Missourians at the Missouri State Capitol.
Text and research by Kimberly Harper
References and Resources
For more information about Virginia Minor's life and career, see the following resources:
Society Resources
The following is a selected list of books, articles, and manuscripts about Virginia Minor in the research centers of The State Historical Society of Missouri. The Society's call numbers follow the citations in brackets.
"Determined to Vote."St. Louis Times. October, 16, 1872. p. 1. [Reel # 45900]
"Election Incidents."St. Louis Times. November, 6, 1872. p. 4. [Reel # 45900]
"Mrs. Minor's Case."St. Louis Times. January, 3, 1873. p. 8. [Reel # 45901]
Christensen, Lawrence O., William E. Foley, Gary R. Kremer, and Kenneth H. Winn, eds. Dictionary of Missouri Biography. Columbia: University of Missouri Press, 1999.  pp. 552-553.  [REF F508 D561]
Coalier, Paula. "Beyond Sympathy: The Saint Louis Ladies' Union Aid Society and the Civil War." Gateway Heritage. v. 11, no. 1 (Summer 1990), pp. 38-51. [REF F550 M69gh]
Corbett, Katharine T. In Her Place: A Guide to St. Louis Women's History. St. Louis: Missouri Historical Society Press, 1999. pp. 130-134. [REF H235.47 C81]
Dains, Mary K., ed. Show Me Missouri Women: Selected Biographies. Kirksville, MO: Thomas Jefferson University Press, 1989. v. 1, pp. 234-235. [REF F508 Sh82 v.1]
Whites, LeeAnn, Mary C. Neth, and Gary R. Kremer, eds. Women in Missouri History: In Search of Power and Influence. Columbia, MO: University of Missouri Press, 2004. pp. 101-118, 173, 175-179. [REF F590.2 W588]
Outside Resources
These links, which open in another window, will take you outside the Society's website. The Society is not responsible for the content of the following websites:
National Park Service: Virginia Minor and Women's Right to Vote
This National Park Service website features an in-depth explanation of Virginia Minor's legal battle for the right to vote and the national women's suffrage movement. Included is a link to an educational "Virginia Minor Trial Packet" with a trial script that students may find useful in understanding Minor v. Happersett.