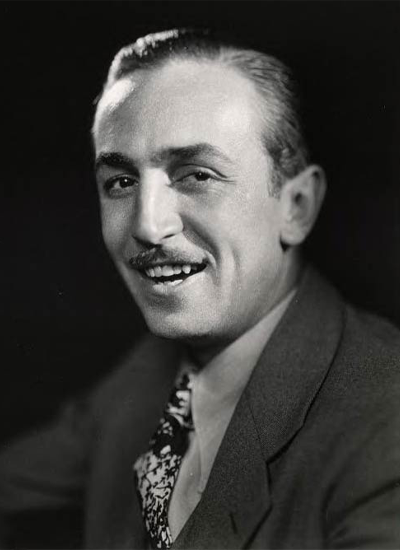 Walt Disney
Full Name: Walter Elias Disney
Born: December 5, 1901
Died: December 15, 1966 (age 65)
Missouri Hometown: Marceline
Regions of Missouri: Kansas City, Northeast
Categories: Artists, Entrepreneurs

Introduction
Since the creation of Mickey Mouse and Donald Duck, the Walt Disney Company has provided cartoon lovers with hundreds of animated characters to cherish through movies, merchandise, and amusement parks. Walt Disney established a business empire based upon fantasy and what he considered to be good, old-fashioned fun. Disney's imagination and determination helped his company to grow and prosper through several initial setbacks, the Great Depression, World War II, and the Cold War. His brand of fun continues to entertain today.
Early Years and Education
Walter Elias Disney was born December 5, 1901, in Chicago, Illinois, to Elias and Flora Disney. His siblings were Herbert, Ray, Roy, and Ruth. Roy later helped his brother make the Disney Company a success. Walt's parents grew tired of life in Chicago and decided to move closer to family on a farm outside of Marceline, Missouri, in 1906. Walt attended Park Elementary School. The small-town life of Marceline had a huge impact on Walt. It was here that he began to draw animals and indulge his imagination. Walt's exposure to rural life influenced him throughout his career.
After four years, the farm was not profitable, and Walt's father became ill. In 1911 the family moved to Kansas City where Roy and Walt helped their father deliver newspapers. Walt was only nine years old when he had to get up at 3:30 a.m., seven days a week, to fold and deliver papers for two hours before attending the Benton Grammar School. Walt's work responsibilities did not keep him from drawing and having fun. He attended the Kansas City Art Institute on Saturday mornings, and performed skits and vaudeville routines with friends at local theaters. Walt graduated from the Benton School, and soon the family moved back to Chicago.
Walt started McKinley High School in 1917 and he began to draw for the student newspaper. His biggest adventure at this time, however, was lying about his age (with the help of his mother) in order to join the Red Cross Ambulance Corps in Europe after World War I. Walt headed to France in 1918, and for nine months, he drove supply trucks and ambulances and chauffeured officers. When his tour was over, Walt returned to Chicago briefly, but rather than going back to school and getting a high school diploma, he headed back to Kansas City in 1919.
Early Career in Kansas City
Disney did not achieve financial success in Kansas City, but he experimented with and learned animation, created his first animated series, and trained a number of young artists in this new field. His first job was for Pesman-Rubin Commercial Art Studio designing letterhead and advertisements. There he met his longtime friend and associate Ub Iwerks. Disney and Iwerks were soon laid off, and they decided to start their own company. Iwerks-Disney Commercial Artists lasted only one month.
From there, the two got jobs with the Kansas City Slide Company, later renamed the Kansas City Film Ad Company, making one-minute advertisements to appear before movies and live action films. Disney learned about animation at this job and eventually felt confident enough to start his own business. He left the Film Ad Company in May of 1922 to start Laugh-O-Gram Films in the McConahy building at 31st Street and Forest Avenue. Disney put an ad in the newspaper requesting artists who wanted to learn animation to come work for him.
Disney's first popular film, Alice's Wonderland, was created here and featured a girl, Virginia Davis, entering a cartoon world. He went on to make a series of these films, which are referred to as the Alice Comedies.
Disney operated his new company for a year and a half. He had good ideas, but he was not a good businessman. Eventually his staff left because they were not getting paid. Disney declared bankruptcy and left Kansas City in July of 1923 to try his luck in Hollywood.
The building where Disney created his first films and operated his first professional film studio still stands and is being renovated. The talented animators who got their start in Kansas City eventually followed Disney to California, making up the core of professional cartoonists in the early days of the Hollywood animation scene. They included Ub Iwerks, Rudolf Ising, Hugh Harman, and Friz Freleng.
With $500 borrowed from his uncle, and help from his brother Roy, Disney started the Disney Brothers Studio. He acquired a New York distributor to release his Alice Comedies. Roy became the studio manager, and Ub Iwerks and Ham Hamilton joined the team as animators. The Alice Comedies became very popular, and soon Disney's staff grew and he built a new studio on Hyperion Avenue.
In 1927 Disney created Oswald the Lucky Rabbit, which was also a huge hit. At this time, Disney experienced the first of many setbacks with his new company. His distributor in New York, Charles Mintz, hired away most of Disney's animators. He refused to negotiate a fair contract in order to force Disney to work for him, saying Universal Studios owned all of Disney's creations. Disney did not give in to Mintz. He went back to Hollywood, and he, Roy, and his one loyal animator, Iwerks, began work on a new character.
After this experience, Disney was determined to be the sole owner of all of his cartoons. He needed a new idea, so Disney, Roy, and Iwerks shaped the character that would become Mickey Mouse. Iwerks drew the character, and Disney became his voice. According to Disney, the inspiration for Mickey Mouse came from an actual pet mouse he kept in his office in Kansas City.
Disney released Steamboat Willie in 1928, and contracted with Pat Powers and his Cinephone technology to put the cartoon to music, making it the most successful sound cartoon. The Silly Symphonies Series followed in 1929, and then disaster struck again in 1930. Pat Powers wanted to control the new Mickey Mouse cartoons. Again, most of the Disney staff left to work for Powers, including Ub Iwerks. Powers thought Disney would also follow for a large salary, but Disney did not. Instead, he and Roy purchased their contract from Powers, found a new distributor, and made Mickey Mouse the most beloved cartoon character of all time.
In 1925 the name of the Disney Brothers Studio was changed to the Walt Disney Studio. The same year Disney married one of his employees, Lillian Bounds. Together they had two daughters, Sharon and Diane.
The Great Depression did not prevent the Disney Studio from growing. Disney continued to experiment with animation, color, and sound, buying exclusive rights to use Technicolor, a new three-color process, in his films. In 1932 he won his first Academy Award for Flowers and Treesand another one in 1937 for Snow White, the first full-length animated feature film. Also in 1932, the Disney Art School was established, and "the Disney style" of animation was taught to new artists.
By 1939 the studio needed a larger facility, so Disney built the Burbank Studio. In the early 1940s, Disney favorites such as Fantasia, Pinocchio, Dumbo, and Bambiwere released. A labor strike in 1941 impacted the success of the studio. Strikers demanded fair wages and job security. The strike ended in the fall of that year, but some employees remained unhappy, and Disney felt personally betrayed by his staff's actions.
Also in 1941, the U.S. Army moved onto the Disney lot and stayed for eight months. During this time, Disney did not have a lot of money to do feature films. He focused on government contracts that required him to make training and patriotic films such as Victory Through Air Power in 1943. Disney produced many educational and industrial films at this time.
Disney in the 1950s and 1960s
Disney recovered from the turmoil of the 1940s to give the public animated films such as Cinderella, Alice in Wonderland, Peter Pan, Lady and the Tramp, and Sleeping Beauty. He also ventured into live-action films, making twenty-four pictures between 1950 and 1961, including Pollyanna, Swiss Family Robinson, and The Parent Trap.
Disney took advantage of television to promote his movies and his theme parks. The Mickey Mouse Club began October 3, 1955, and ran until 1959 on ABC. Episodes of Davy Crockett appeared on the television show, Disneyland, between 1954 and 1956, and were so popular that young boys everywhere wore coonskin hats to idealize their frontier hero.
The building of Disneyland in 1955 was a dream come true for Disney. With financial backing from ABC, he was able to create a fantasy world for both adults and children, allowing guests to immerse themselves in his cartoons rather than just watching them on the big screen. Disney based his "Main Street, USA," upon the streets of small-town America, particularly the buildings in downtown Marceline, Missouri. In fact, Disney paid a visit to Marceline in 1946 and likely did research for his park design. In 1938 Disney had written, "More things of importance happened to me in Marceline than have happened since—or are likely to in the future."
Throughout the 1960s, Disney continued to work with his staff of "Imagineers." The theme parks allowed Disney a whole new outlet for creativity and building technology like audio-animatronics, which brought his mechanical characters to life. Disney began buying land and designing a second park in central Florida that would become Walt Disney World in 1971. Popular Disney movies during the 1960s included One Hundred and One Dalmatians, Mary Poppins, and The Jungle Book.
By the end of his career, Disney had grown from a struggling artist to a great visionary. Walt Disney holds the record for most Academy Awards won. He was known for his relentless work ethic and vision. Disney had a profound sense of what the public wanted, and he capitalized upon the prevailing sentiments of the times, whether it was the poverty of the Great Depression, patriotism during the 1940s, or anticommunist feelings of the 1950s.
The Freedom Foundation presented Disney with the George Washington Award in 1963 for promoting the American way of life, and President Lyndon Johnson awarded him the Presidential Medal of Freedom. Walt and Roy Disney were also instrumental in establishing the California Institute of the Arts in 1961.
Before he died on December 15, 1966 of lung cancer, Disney visited Marceline several more times. On July 4, 1956, he and Roy attended the dedication of the Walt Disney Municipal Park and Pool. Disney returned in 1960 for the Walt Disney Elementary School dedication. He never forgot the small Missouri town that influenced his work so much.
Text and research by Laura R. Jolley with assistance from Dan Viets
References and Resources
For more information about Walt Disney's life and career, see the following resources:
Society Resources
The following is a selected list of books, articles, and manuscripts about Walt Disney in the research centers of The State Historical Society of Missouri. The Society's call numbers follow the citations in brackets.
Burnes, Brian, Robert W. Butler, and Dan Viets. Walt Disney's Missouri: The Roots of a Creative Genius. Kansas City: Kansas City Star Books, 2002. [REF F508.1 D632bu ]
Christensen, Lawrence O., William E. Foley, Gary R. Kremer, and Kenneth H. Winn, eds.  Dictionary of Missouri Biography.  Columbia: University of Missouri Press, 1999.  pp. 241-243.  [REF F508 D561]
Feild, Robert. The Art of Walt Disney. London: Collins, 1947 [F508.1 D632f 1947]
Finch, Christopher. The Art of Walt Disney: From Mickey Mouse to the Magic Kingdoms. New York: H. W. Abrams, 1973. [REF 508.1 D632 oversize]
Greene, Katherine, and Richard Greene. Inside the Dream: The Personal Story of Walt Disney. New York: Disney editions, 2001. [REF F508.1 D632gr2 oversize]
Kurtti, Jeff. Since the World Began: Walt Disney World, the First 25 Years. New York: Hyperion, 1996. [F508.1 D632k]
Smith, Dave, and Steven Clark. Disney: The First 100 Years. New York: Hyperion, 1999. [REF F508.1 D632sm]
Watts, Steven. The Magic Kingdom: Walt Disney and the American Way of Life. Columbia: University of Missouri Press, 1997. [REF F508.1 D632wa]
Outside Resources
These links, which open in another window, will take you outside the Society's website. The Society is not responsible for the content of the following websites:
JustDisney.com
Produced by Brad Aldridge, an artist and illustrator from California, this website has a lot of information about Disney and his career in animation.
Walt Disney Archives: About Walt Disney
This biography of Walt Disney appears on the Walt Disney Archives website.
Walt Disney Hometown Museum
This website describes what you can find at the Disney Boyhood Museum in Marceline, Missouri.