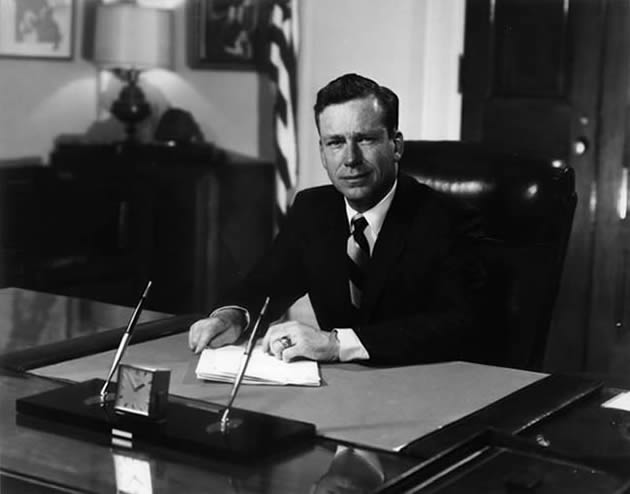 Warren E. Hearnes
Full Name: Warren Eastman Hearnes
Born: July 24, 1923
Died: August 16, 2009 (age 86)
Missouri Hometown: Charleston
Regions of Missouri: Central, Southeast
Category: Politicians
Warren E. Hearnes, Missouri's 46th governor, was one of Missouri's most influential public servants. A leader of the Democratic Party, Warren E. Hearnes was the first Missouri governor to serve two consecutive terms, made possible by a constitutional amendment passed in 1965. He increased spending for education, mental health, and highways and signed some of the first civil rights legislation in the state. His knowledge of the legislative process and his ability to make friends from both parties made it possible for him to accomplish many of his goals, including a controversial income tax increase during his second term.
Warren E. Hearnes was born July 24, 1923, to Edna Mae and Earle Hearnes in his mother's hometown of Moline, Illinois. The family home was in Missouri, however, and mother and son quickly went back to Charleston where Earle owned and managed a dry goods store. Warren was greatly inspired by his hard working parents and their struggles during the Great Depression. The senior Hearnes was also the Mississippi county clerk throughout the mid-1930s, and his involvement in county politics inspired Warren to enter a career of public service.
Hearnes wanted to attend West Point and begin a military career. He enlisted with the National Guard at the age of 16 but was thwarted when his age was discovered. He was ultimately drafted into military service while attending the University of Missouri and soon thereafter received his appointment to West Point, where he graduated with a BS degree in 1946. Hearnes' career with the U.S. Army's 35th Division was cut short while he was on tour in Puerto Rico—a softball injury forced him to take a medical discharge in 1949. While healing from his broken ankle in Charleston, Hearnes began dating Betty Sue Cooper, the daughter of a Baptist minister on leave from Baylor University. After a three-week courtship, the couple married July 2, 1948, and remained partners for sixty-one years.
Warren and Betty Hearnes decided to continue their educations at the University of Missouri and moved to Columbia. Life for the Hearneses moved quickly after that. While working on a law degree, which he earned in 1952, Hearnes won a race for a House seat representing Mississippi County, becoming Missouri's youngest state representative. He represented that county for ten years before becoming secretary of state in 1961. His dream was to become governor, and despite his party's assertion that it was not his turn, Hearnes ran anyway, beginning his first term January 11, 1965. Hearnes ran again in 1968, winning more than 60 percent of the popular vote.
While governor, Hearnes focused on helping those least capable of helping themselves. He established nine regional centers for mental health patients and established three intensive treatment centers for the mentally ill. Under his leadership, the Alcohol and Drug Abuse program was created with great results, and in 1971 the Warren E. Hearnes Children and Youth Center was dedicated in Fulton. Hearnes was also a champion for education, increasing funding for public schools from $47.5 million to $144.7 million during his administration. His support for the new University of Missouri system, junior colleges, and vocational schools made it possible for thousands of students to continue their education beyond high school.
In 1965 Hearnes signed the Public Accommodation Act, ending segregation in public places, and he also signed a Fair Housing law. He bolstered the Human Rights Commission by increasing their staff from two to thirty-five employees.
Hearnes's commitment to helping people did not end with the governor's office. When Hearnes left office in 1973, he and Betty moved back to Charleston and he became a partner in a St. Louis law firm. A tax investigation at this time hampered his future political career, although he was cleared of all charges in 1977. In 1976 he ran for the U.S. Senate, losing to John Danforth, and in 1978 he lost the race for state auditor and returned to Charleston. After a brief appointment to a circuit judge position in 1980, Hearnes, as the director of Southeast Missouri Legal Services, began legal aid work and focused on helping those in his own community, highlighting a life of service and commitment to others.
Hearnes died August 16, 2009, at his home in Charleston, Missouri. During his time in office, Governor Hearnes helped push through a number of lasting reforms, and is remembered as one of the most effective governors in Missouri history.
Text by Laura R. Jolley with research assistance by Todd Barnett
References and Resources
For more information about Warren E. Hearnes's life and career, see the following resources:
Society Resources
The following is a selected list of books, articles, and manuscripts about Warren E. Hearnes in the research centers of The State Historical Society of Missouri. The Society's call numbers follow the citations in brackets.
"Ex-Governor Winds up 2nd Career." Kansas City Star. June 6, 1997. pp. C1, C9. [Reel # 23055]
"Hearnes remembered as a 'groundbreaking man of Missouri.'" Kansas City Star. August 18, 2009. pp. 1, A6. [Reel # 23735]
O'Neil, Tim. "Warren Hearnes oversaw growth of state's role." St. Louis Post-Dispatch. August 18, 2009, pg. 1, A5.
Carnahan, Jean. If Walls Could Talk: the Story of Missouri's First Families. Jefferson City, Mo.: MMPI, 1998. [REF F508 C214]
Crouse, Rob. Warren Eastman Hearnes: A Memoir, From the Personal Notes and Recollections of Betty C. Hearnes. Marceline, Mo.: Walsworth Publishing, 2007. [REF F508.1 H3513]
Larsen, Lawrence H. A History of Missouri, Volume VI: 1953-2003. Columbia, Mo.: University of Missouri Press, 2004.
Priddy, Bob. "The Potato Chip Lady's Son." Across Our Wide Missouri. Independence, Mo.: Independence Press, 1982. v. 1, pp. 35-37. [REF F550 P932 v.1 (1982)]
"Warren Hearnes was a Missouri Young Democrat." Missouri Young Democrat. v. 6, no. 1 (Fall 1978), pp. 1, 3. [REF F572.11 M691d MICRO]
Hearnes, Warren E. (1923-2009), Papers, 1950-1972 (C3522)
This collection by Lenore Bradley, a local author, consists of notes made, drawings, pamphlets, maps, correspondence, newspaper clippings, and photographs of the life and work of Louis Curtiss, noted Kansas City architect.
Hearnes, Warren E. (1923-2009), Papers, 1965-1972 (C3585)
This collection is on microfilm and contains Hearnes's official papers while governor. The originals are held by the Missouri State Archives in Jefferson City.
Politics in Missouri Oral History Project, Records, 1996- (C3929)
This oral history project consists of interviews with Missouri legislators, politicians, aides, and other participants in Missouri politics. The records include audio cassettes, compact discs, and transcripts of the interviews. The collection contains two interviews with Warren E. Hearnes.