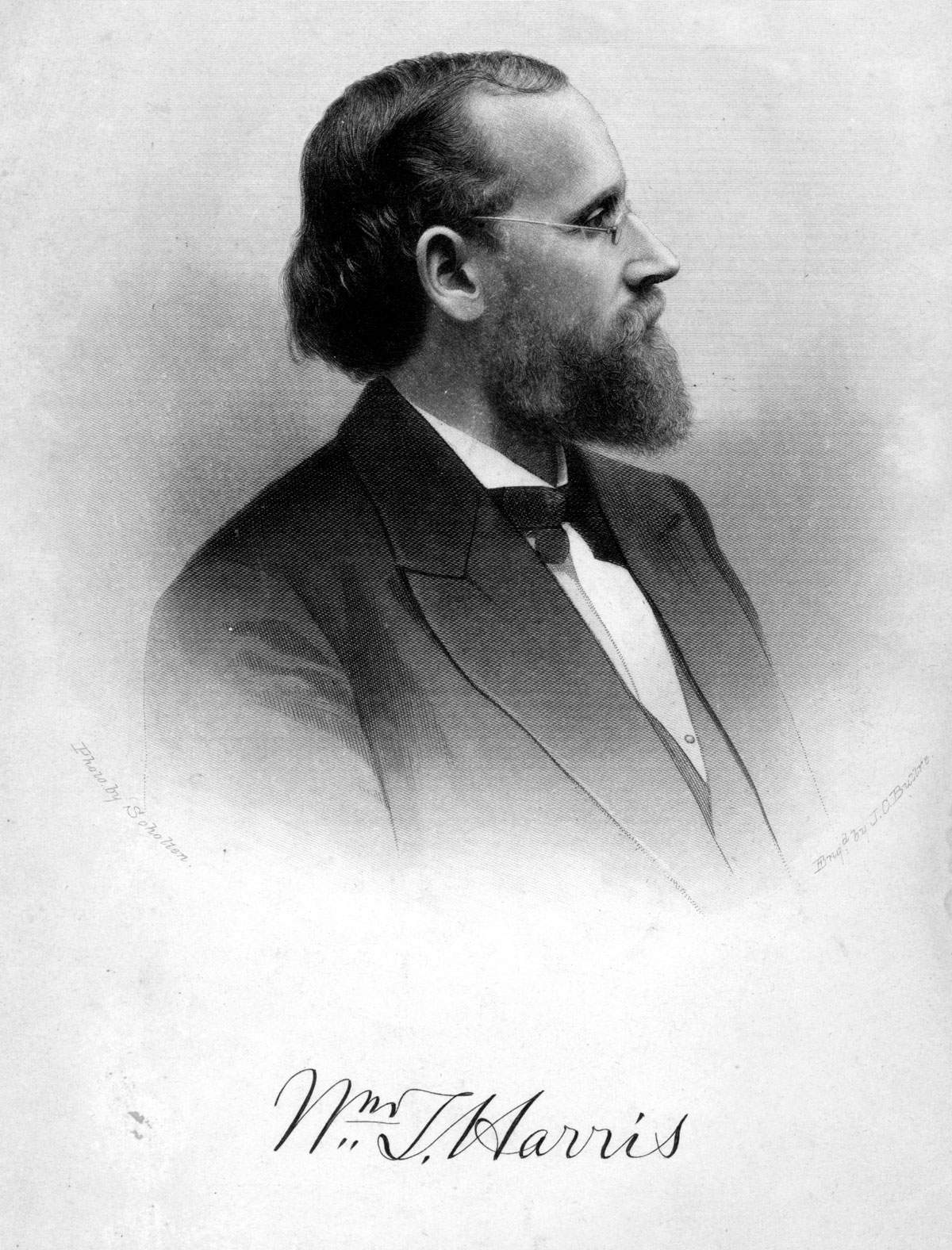 William Torrey Harris
Born: September 10, 1835
Died: November 5, 1909 (age 74)
Missouri Hometown: St. Louis
Region of Missouri: St. Louis
Category: Educators
William Torrey Harris was a philosopher and educator. He cofounded the St. Louis Philosophical Society and is considered one of Missouri's most influential intellectuals during the nineteenth century.
On September 10, 1835, William Torrey Harris was born in North Killington, Connecticut. He was the first child born to William and Zilpah Torrey Harris. Young William was educated in a variety of schools before attending Yale for three years. He did not receive a degree but instead moved west to St. Louis in 1857.
In St. Louis, William Torrey Harris taught in the public schools for a short time before becoming a principal in 1859. Harris spent much of his time studying German philosophy, particularly the works of G.W. F. Hegel. He and Henry Conrad Brokmeyer founded the St. Louis Philosophical Society in 1866. The next year Harris established the Journal of Speculative Philosophy, the first journal in the United States devoted solely to philosophy.
Harris was appointed superintendent of the St. Louis Public Schools in 1868 and remained in that position until 1880. His interest in German philosophy greatly influenced his ideas about education. Together with Susan Blow, he was instrumental in bringing the kindergarten movement to St. Louis. The movement quickly spread around the country. Harris later served as the United States Commissioner of Education from 1889 to 1906.
Harris died in Rhode Island on November 5, 1909. His educational philosophy greatly influenced American education while it was undergoing significant changes in the late 1800s.
Text and research by Elizabeth E. Engel
References and Resources
For more information about William Torrey Harris's life and career, see the following resources:
Society Resources
The following is a selected list of books, articles, and manuscripts about William Torrey Harris in the research centers of The State Historical Society of Missouri. The Society's call numbers follow the citations in brackets.
Christensen, Lawrence O., William E. Foley, Gary R. Kremer, and Kenneth H. Winn, eds. Dictionary of Missouri Biography. Columbia: University of Missouri Press, 1999. pp. 379-381. [REF F508 D561]
Leidecker, Kurt F. Yankee Teacher: The Life of William Torrey Harris. New York: Philosophical Library, 1946. [REF F508.1 H244le]
Outside Resources
These links, which open in another window, will take you outside the Society's website. The Society is not responsible for the content of the following websites:
St. Louis Hegelians
This entry in the Internet Encyclopedia of Philosophy gives a short history of the Hegelian philosophical movement in St. Louis. Harris cofounded the group with Henry Conrad Brokmeyer.