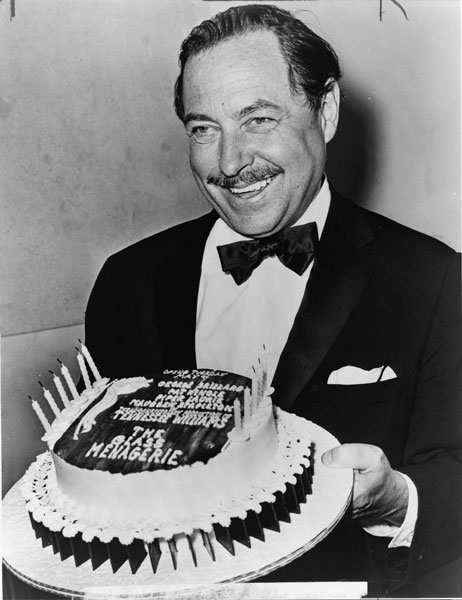 Tennessee Williams
Full Name: Thomas Lanier Williams III
Born: March 26, 1911
Died: February 24, 1983 (age 71)
Missouri Hometown: St. Louis
Region of Missouri: St. Louis
Category: LGBTQ+ Persons, Writers
Tennessee Williams is widely regarded as one of the greatest playwrights in American history. Between the mid-1940s and the early 1960s, he wrote several award-winning plays, including The Glass Menagerie, A Streetcar Named Desire, and Cat on a Hot Tin Roof. Known for gritty characters and heartbreaking themes, these plays combined poetic language with dramatic flair and are recognized today as American classics.
He was born Thomas Lanier Williams III on March 26, 1911, in Columbus, Mississippi. Known in his early life as "Tom," he was the second of three children born to Cornelius Coffin Williams, a traveling salesman fond of alcohol, crude language, and late night poker games, and Edwina Dakin Williams, a straight-laced minister's daughter. In 1918 Cornelius got a job as a manager at the International Shoe Company in St. Louis, Missouri, the area that became the family's permanent home.
Cornelius and Edwina fought constantly. Cornelius felt tied down by his family, but Edwina, overly attached to the children, smothered them with attention. This situation got worse when a bout of diphtheria swelled Tom's throat, partially paralyzed him for two years, and left him with a lifelong fear of suffocation. Tom was close with his older sister, Rose. Their troubled home life was the root of emotional and mental problems that plagued them both, and the source of many characters and themes in the plays later written by Tennessee Williams.
Small and shy, Tom was cruelly teased during his first years at Eugene Field Elementary School. He struggled so much that he was sent to live with his grandparents in Mississippi for a year. Upon his return, his mother bought him a typewriter and he began writing. His first article, "Isolated," was published in 1924 in the Ben Blewett Junior High newspaper.
Tom attended University City High School where his writing started to get attention. He published two articles in national magazines and wrote a collection of stories for the school paper that were so popular he was asked to continue writing them even after graduation. In 1929 Williams enrolled in the journalism department at the University of Missouri in Columbia. His first known play, Beauty is the Word, won an honorable mention in the school's annual Dramatic Arts Contest.
In 1932 Tom's father forced him to leave the university and get a job in the shoe factory in St. Louis. Tom kept writing and had a comedy staged by a small theater group in Memphis while visiting his grandparents. In 1937 two of his plays, Candles to the Sun and The Fugitive Kind, were staged in St. Louis. Later that same year, Rose had a mental breakdown from which she never recovered. Tom enrolled at the University of Iowa. He worked in the drama department and graduated with an English degree in 1938.
After graduation, Williams submitted plays to a competition in New York. Since the age requirement was twenty-five, he changed his birth date from 1911 to 1914, and his name to "Tennessee" Williams. He won a special $100 prize in the contest and was, from that time on, known professionally as Tennessee Williams.
Williams then started a lifelong habit of travelling. During this period, he realized he was homosexual. All of his attempted relationships had ended in heartbreak. Sadness, loneliness, and the search for love all became themes in his plays. In 1940 his first professionally produced play, Battle of Angels, flopped. Broke and in debt, he traveled constantly, working numerous odd jobs and living off the support of family members and kind strangers.
Williams's breakthrough hit, The Glass Menagerie, was filled with characters based on his own troubled family. It opened in Chicago to great reviews in 1944 and moved to Broadway the next year where the opening night audience cheered through twenty-four curtain calls!
The Glass Menagerie won the New York Drama Critics' Circle Award in 1945 and was the first in a long string of successes for Tennessee Williams. A Streetcar Named Desire won the New York Drama Critics' Circle Award and the Pulitzer Prize for Drama in 1948. The Rose Tattoo won the Tony Award for Best Play in 1951. In 1955 Cat on a Hot Tin Roof won the New York Drama Critics' Circle Award and the Pulitzer Prize for Drama. Williams's last major success on Broadway, Night of the Iguana, opened in 1961 and won the New York Drama Critics' Circle Award.
Williams's longtime love and personal secretary, Frank Merlo, died of lung cancer in 1963. After this, Williams sank into a deep depression made worse by drug and alcohol abuse. His writing career declined and never fully recovered. In 1969 he suffered a mental collapse and was admitted to the psychiatric ward at Barnes Hospital in St. Louis. Although he got better, he continued to struggle with substance abuse for the rest of his life. On February 24, 1983, Tennessee's childhood fear of suffocation became a terrible reality. High on drugs and alcohol, he accidentally swallowed and choked to death on the cap from a bottle of eye drops.
Tennessee Williams's plays changed American theatre. Many of his plays were successfully adapted into award-winning movies and television programs. Several have been revived on Broadway and in theatres all over the country many times, and are considered American classics. The city of New Orleans puts on the annual Tennessee Williams Literary Festival, where people can participate in a shouting contest dedicated to a famous line from A Streetcar Named Desire.
Text and research by Todd Barnett
References and Resources
For more information about Tennessee Williams' life and career, see the following resources:
Society Resources
The following is a selected list of books, articles, and manuscripts about Tennessee Williams in the research centers of The State Historical Society of Missouri. The Society's call numbers follow the citations in brackets.
"The Burial of a Playwright." Columbia Missourian. March 6, 1983. p. 1A, 8A. [Reel # 7847]
"The Kindness of Strangers: Parts 1-5." St. Louis Post-Dispatch. July 21-25, 1985. [Reel # 43720 and 43721]
"Playwright's Bitter Days Here Recalled." St. Louis Globe-Democrat. February 26-27, 1983. p. 1, 12A. [Reel # 40903]
"Tennessee, His Epitaph: He was the Greatest American Playwright. Period." St. Louis Globe-Democrat. February 26-27, 1983. p. 4E. [Reel # 40903]
"Tennessee Williams." St. Louis Post-Dispatch Sunday Magazine. February 27, 1983. p. 1D, 12D. [Reel # 43644]
"Tennessee Williams Comes Home." St. Louis Globe-Democrat. April 24-25, 1965. p. 3F. [Reel # 40517]
"Tennessee Williams a Perfect Gentleman Caller to Local Audience." St. Louis Globe-Democrat. February 25, 1974. p. 10A. [Reel # 40730]
"Tennessee Williams Was Alive and Well and Living in St. Louis." St. Louis Riverfront Times. July 22-28, 1987. p. 4B.
Books and Articles
Hale, Allean. "Tennessee's Long Trip." Missouri Review. v. 7, no. 3, (1984), pp. 186-200.
Hale, Allean. "Tennessee Williams at Missouri.'" Missouri Alumnus. v. 74, no. 3 (January-February 1986), pp. 18-19.
Leavitt, Richard F., ed. The World of Tennessee Williams. New York: G.P. Putnam's Sons, 1978. [REF F508.1 W6751l]
Leverich, Lyle. Tom: The Unknown Tennessee Williams. New York: Crown Publishers, Inc., 1995. [REF F508.1 W6751Le]
Rasky, Harry. Tennessee Williams: A Portrait in Laughter and Lamentation. New York: Dodd, Mead & Company, 1986. [REF F508.1 W6751r]
Smith, Bruce. Costly Performances: Tennessee Williams: The Last Stage. New York: Paragon House, 1990. [REF 921 W6751s]
Tharpe, Jac, ed. Tennessee Williams: A Tribute. Jackson: University Press of Mississippi, 1977. [REF 812.5 W675]
Williams, Tennessee. Memoirs. Garden City, New York: Doubleday & Company, Inc., 1975. [REF 921 W6751]
Williams, Tennessee. The Theatre of Tennessee Williams. New York: New Directions, 1971-1992. [REF 812.5 W675th]
Outside Resources
These links, which open in another window, will take you outside the Society's website. The Society is not responsible for the content of the following websites: